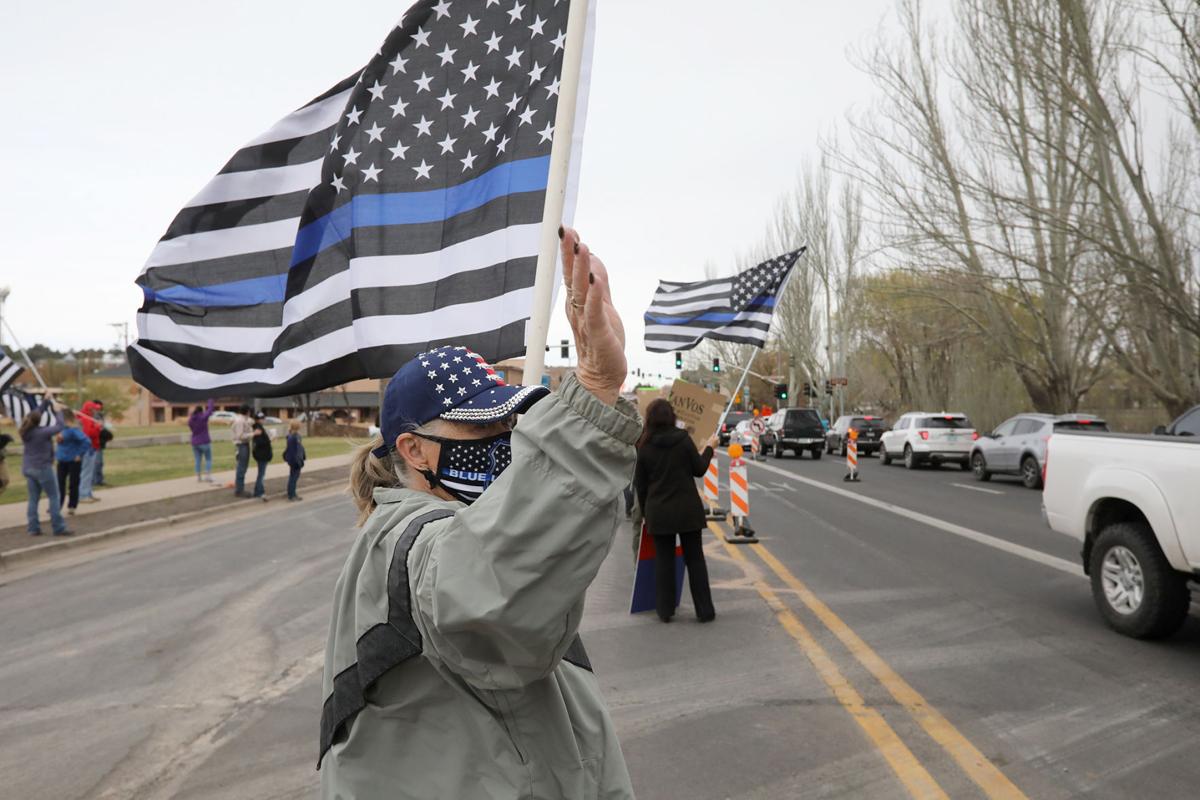 Flagstaff City Council could be looking to alleviate some local concerns over policing in the community, but the city won't be cutting the department's budget.
Instead, councilmembers said they want to support officers by funding an alternate response model.
Council held a special meeting Monday to discuss the police department's budget and operations as well as social services -- hearing almost three hours of public comments in the process. Before the meeting began, city officials had already received hundreds of comments calling for an overhaul of the Flagstaff Police Department's budget.
After listening to dozens of calls both in support and in opposition to police defunding, a majority of Council said they do not support a reduction in funding for the police department.
In recent weeks, some local progressive groups have asked Council to reduce the police department's budget by up to 55%.
Only one councilmember, Adam Shimoni, suggested reallocating funding from the police department in the upcoming budget for the fiscal year.
"I know our police department has been struggling," Shimoni said. "Officers have been asked to respond to a large number of calls and have become the catch-all for the community's needs. This isn't fair to our officers and this isn't fair to our community at large. I think we can do something about this."
But even Shimoni suggested only reallocating 10% of the department's budget.
The majority of Council, including Austin Aslan, Jim McCarthy, Miranda Sweet, Regina Salas and Vice Mayor Becky Daggett, did not support defunding the police department to any extent. Mayor Paul Deasy was similarly hesitant to take such an action.
"I'm not interested in defunding the police by 55 percent, not whatsoever," Deasy said.
The police department's budget currently accounts for a small portion of the city's entire proposed budget for the 2021-22 fiscal year. It receives a significant amount of its funding, however, from the city's general fund, which is one of the most flexible and important funds in the yearly budget.
The police budget accounts for 27% of the total general fund and is projected to have an operating budget of $20,421,028, according to the draft budget provided to Council.
Callers supporting a budget cut said they were concerned with racist and violent police operations in the community. In addition to defunding the department, many asked for that money to be reallocated to social service programs.
Council also received an outpouring of support from residents saying the city should retain police department funding. Many in support of retaining police funds said the department is already undermanned. A large crowd also turned out to support police during Monday's demonstration.
McCarthy pointed out that even with a high degree of tension throughout the discussions, there was common ground among both sides.
"To the casual observer what we've gone through tonight might be considered a very polarized discussion. But I think to a close observer they would find that there really is no disagreement. There is disagreement on details, but not on goals," McCarthy said.
Unfilled officer positions
Aslan said considering a reduction of police funding was not appropriate until the police department was already fully funded, noting that the agency was understaffed and underpaid.
During the meeting, FPD Chief Dan Musselman told Council his department is currently short 13 officer positions. He added that the department has struggled with officer retention recently.
The last time the department was fully staffed was in June of 2020, Musselman said. Since then the department has seen a steady decline. Last year, a total of 17 officers left the force, including seven that retired, two that left police work, five that left for other agencies, three that failed to complete training. There was also one officer who died.
With the money that would have typically been used to pay the unfilled positions, Musselman said, the department is paying staff overtime and bringing on additional staff, such as police aides, to help with operations.
Musselman explained that the department has seen a recent uptick in candidates who have had to be let go or were unqualified for officer positions, usually "because they did not meet our level of professionalism." That trend is indicative of a labor shortage that is occurring at police agencies nationwide, he said.
Deasy referred to the department's personnel struggles as an "emergency." He suggested that if those positions remain difficult to fill, they could be shifted to create new positions for the alternative response model.
"We are facing a staffing emergency at our police department. Officers are being worked into the ground," Deasy said.
City Manager Greg Cliffton said the city council has already supported better compensation for officers -- whether that's through pay or incentive programs -- which could alleviate some of the hiring and retention concerns.
Alternate Response Model
By the end of Monday's discussion, it was clear that a majority of councilmembers were eager to implement an alternative response model in the city, even if there was little desire to reallocate funds from the police department to do so.
An alternate response model looks to reduce the police response to low-level calls for service, including calls related to public intoxication, mental health and petty crimes. Instead, the model utilizes behavioral health specialists and care providers to de-escalate mental health crises and provide shelter to those in need.
After discussing ways to fund the center during last week's budget talks, city officials presented Council an updated plan to fund the center for its first three years, including both initial and operating costs. The updated funding is in addition to tax money collected from recreational marijuana sales, which was discussed at last week's budget retreat.
A plan to implement this model in the form of a care center or mobile response unit is already underway, city officials said.
Last month, the city released a request asking local service providers to submit proposals for a brick and mortar care center, a mobile response unit, or both. Council has not approved a proposal yet, but there has been interest from service providers.
"We are not adverse to going in whatever direction the Council and the mayor gives us," Clifton said. "But we do have an RFP [Request For Proposal] that has been submitted and there are proposals being evaluated."
Cliffton added that in comparison to where the city stood with an alternate response model last year, he is encouraged with the recent action the city has taken.