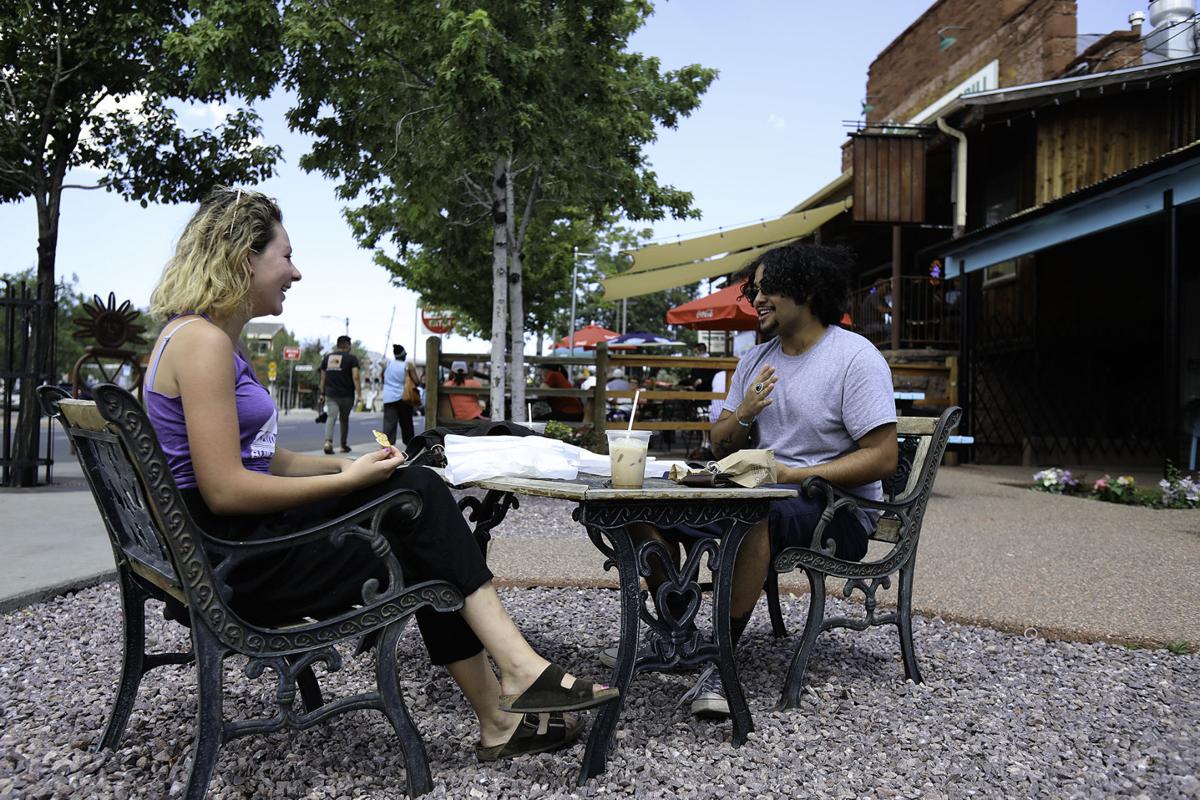 As residents look forward to Friday and a new year, business owners across Flagstaff and the state are preparing for another increase in the minimum wage.
The local law that voters approved in both 2016 and 2018 will set the minimum wage in Flagstaff to $15 an hour for most employees on Jan. 1. For tipped employees, the hourly wage will increase to $12. Meanwhile, the Arizona minimum wage will increase from $12 to $12.15.
The wage increases will affect nearly every employer in Flagstaff, other than Northern Arizona University, which is only required to operate under the federal minimum wage.
According to a spokesperson for the City of Flagstaff, including the cost of benefits, the city will be paying out an additional $119,794 in 2021 to city staff making the minimum wage because of the increase.
That number does not include the potential costs of correcting wage compression, an ongoing issue the city has grappled with and that at times has impacted retention.
For many business owners, the increase in minimum wage comes at the end of a difficult year, one that has been much less profitable than they may have hoped in March.
Mark Harris, the general manager at Terry Marxen Chevrolet Cadillac, said the wage hike will increase the dealership's personnel costs by about $65,000, not including overtime or other raises to avoid wage compression.
Harris said he is happy to see his employees making more money, but is concerned about the issues his business may have when competing with other dealerships across the state.
"I'm all for everybody making $15 an hour. What I'm not calling for is that Flagstaff is the only one doing it because it puts us at a competitive disadvantage. If the whole state was at $15, it's a no-brainer," Harris said. "I'm going to spend close to $200,000 extra in labor for the same number of labor hours in 2021 than my nearest competitors, and that puts us at a competitive disadvantage. That's my biggest concern."
Harris said that will mean making some changes to how they operate, but it won't mean laying people off.
They may defer new hires if current employees leave to see if they can simply redistribute those duties, Harris said. They will also have to find ways to reduce overtime and the hourly rates they charge for service will increase.
One thing Harris said won't happen: raising the cost of the vehicles they sell. Because they are competing with dealerships across northern Arizona and even around the state, they can't simply increase the price of the vehicles without running the risk of losing out on customers.
"I can't just increase the cost of the new Silverado and expect to sell that Silverado, because people are going to be willing to go down in the Phoenix area and buy down there," Harris said. "The fact that you're buying locally, you're not paying any more than you would if you were to go to Phoenix or something like that because just from an economic standpoint, we have to stay competitive."
However, that's not the case when it comes to other industries, such as Karan Patel and Steve Alvin, who operate the Northern Pines restaurant and Dirty Birdies Sports Bar and Grill.
"It's been a just a rough year. And to just start off 2021 with a $15 minimum wage is just another kick in the pants," Alvin said.
Neither wanted to go into specifics on how much their personnel costs would be going up, but they said it hasn't helped that the pandemic has also meant the cost of food rising as supply chains are disrupted.
Patel didn't want to elaborate on their strategies to deal with the wage moving forward, but said it could either mean increases in their overall prices or the inclusion of a service charge to every bill. He said they are planning to adapt to the higher wage in a different way for both of their restaurants and then determine which strategy is working best.
But Patel and Alvin both said they worry that Flagstaff simply can't sustain a wage as high as $15 in the same way a larger city might.
Patel said as they were researching what restaurants in other cities have done to adapt to higher wages, they have seen many customers leaving bad reviews online and complaining that the food was overpriced. Patel said he worries restaurants in Flagstaff could be hit by a similar problem from both locals and tourists who have no knowledge of the city's wage law.
"It's like a gut check, man -- it's just trying to run a business and try to do the best that we can, and then get a one-star review because our prices are dictated by minimum wage," Patel said.
Patel said he also wished the city would have done more to educate the public that the wage increase was coming and help businesses adapt.
Per the law, the minimum wage will increase another 50 cents in January of 2022. It will then hold steady at $15.50 unless the state minimum wage increases. As the law is written, the city's minimum wage will always be at least $2 more than the state's, so should the state wage increase, so would the city wage.