The Flagstaff Eagles boys basketball team heads into the new season searching to replace the production from a key cog lost to graduation.
Eagles head coach Nick Walton sees a mix of returners and new talent filling the voids left open by Troy Yazzie, who finished his senior season last year averaging nearly 20 points per game and was both the Grand Canyon Region's 2018-19 offensive player of the year and player of the year.
Walton said his team has a chance to be deep on offense and scoring could come by committee.
"We have multiple guys who have the ability to step up and make it happen," Walton said after a Friday night scrimmage against Page in the Eagles' War Memorial Gymnasium. "The game seemed to flow through Troy a lot last year, even though that wasn't our plan. Our plan wasn't everything we do is going to run through Troy, it just kind of happened because he got hot almost every night. Now we have guys who can step up, shoot the ball well and contribute."
Even with Yazzie razzling and dazzling last season, the Eagles finished the power-points schedule at 6-13 overall, missing the 4A Conference postseason. They were fifth in the region on a 5-7 mark at the close of last season out of seven teams. Not a single player behind Yazzie last year finished averaging five or more points per outing -- when including tournament games played outside the power-points slate.
In all, Flagstaff has seven returning to its roster of 15 total players this season, including two who were brought up late last year in junior Josh Lenners and sophomore Nick Sneezy.
A slew of seniors will look to lead the team as it gains experience and develops chemistry in the early goings. Senior Christian Lancaster returns after averaging 4.7 points and one steal per game a year ago, along with senior Walter Downs, who registered 4.5 points per game and two rebounds per game as a junior. Chance Kortsen, Tyler Centner and Luke Thompson are also back as seniors after playing varsity minutes last season.
Senior leadership will be important to the growing squad.
"We want them to bring their experience. They have that game-time experience," Walton said.
You have free articles remaining.
Walton said tryouts and the offseason workouts went well considering the number of participants. He added that some of the faces to varsity are out to make noise and make sure they earn their spot on the roster. The hunger from the new guys should continue to make practices intense.
"Keep everything competitive -- which is what we want," Walton said.
The Eagles open the regular season on the road in Winslow on Tuesday.
A player who could make a big impression quick is Nick Morrow, a sophomore who skipped JV and went directly from the freshmen crew to this year's varsity squad. Standing as the tallest player on the team, and coming off a fall of football, Morrow clearly provides the Eagles with an inside presence it hasn't had in a few seasons.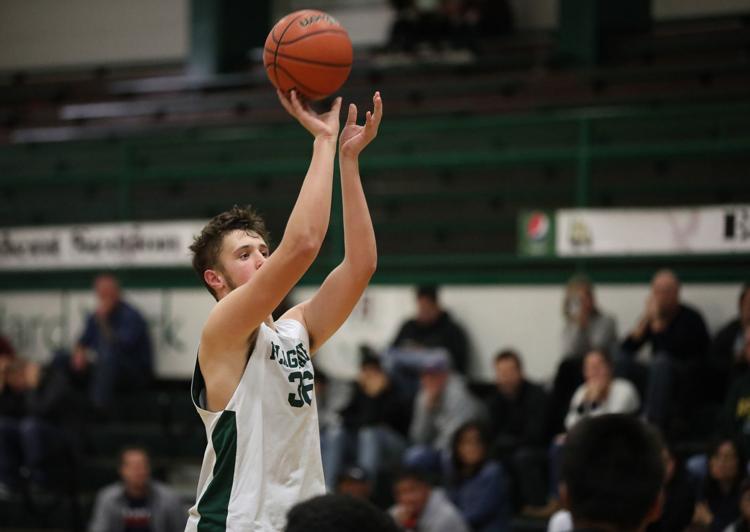 But it's not clear weather the Eagles will try to work inside-out with Morrow, let alone entirely how they want to approach games.
"I think we are still trying to figure out what that is, but there's a drive with this team. I think they have potential to do something great. They are hungry and they want to work hard," Walton said.
They'll get their first chance working toward an identity against the Bulldogs for a 7 p.m. tip-off.