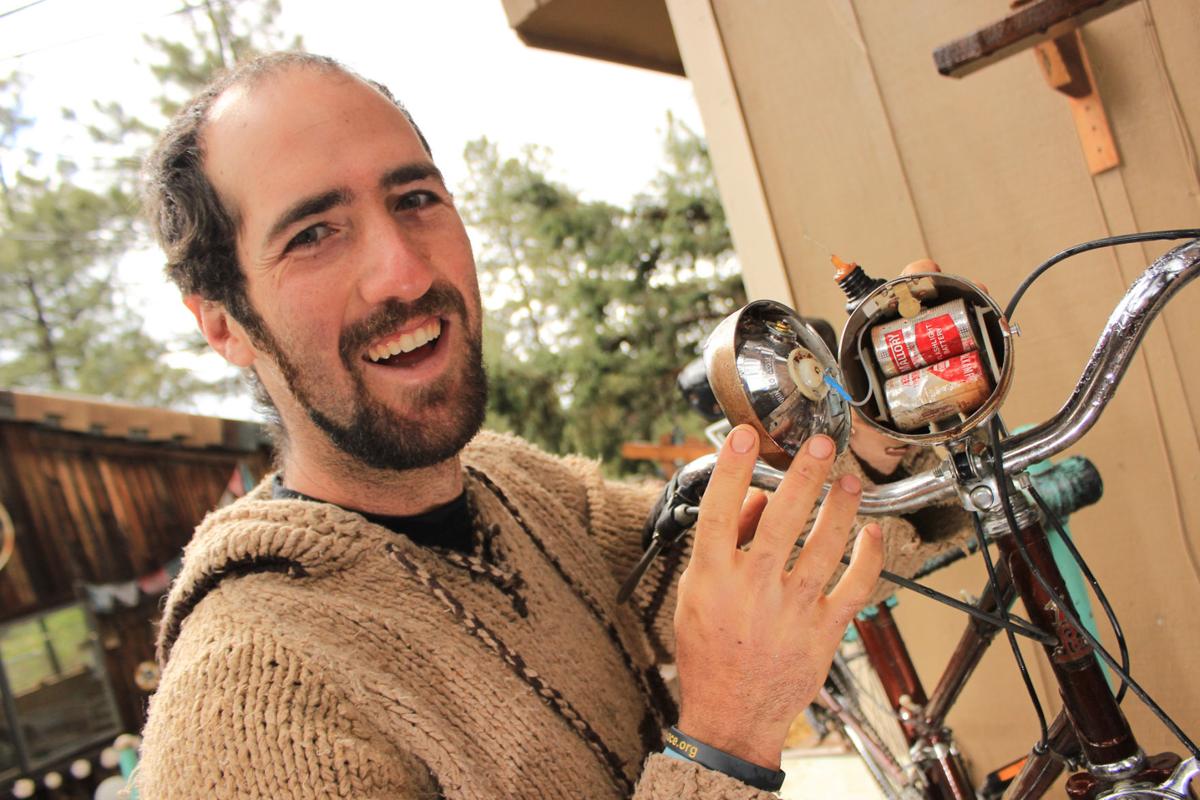 An hour before a tow truck ran a red light and collided with a group of bicyclists in Flagstaff, the riders had embarked on an organized outing to promote cycling safety.
But witness Nick Jones said that even with multiple safety measures in place, none of the riders could have prevented the accident that left 29-year-old Joanna "Jo" Wheaton dead and five others injured at the intersection of Butler Avenue and Beaver Street on Friday.
Jones, who was seconds from entering the intersection when the accident occurred, described just how visible the riders were when the accident occurred in the hours before dusk. He said dozens of bicyclists attending the ride were wearing safety vests and protective equipment and some even fastened orange traffic cones to the top of their helmets.
"It is the most visible many of us had ever been on a bicycle and it still happened," said Jones, who wore a bright reflective jacket that night. "It really has this chilling effect, because nothing has changed since Friday night to prevent this from happening again."
Jones said the ride was organized by local group FLG Bike Party to promote safe riding and de-stigmatize cycling. In the days that followed, the bicyclist's calls for safety echoed throughout the community with renewed urgency.
Flagstaff City Councilmember Adam Shimoni was one of many members of the community that expressed a desire to see changes made to shared roadways.
"If this can happen to a group of over 70 cyclists riding together for safety's sake, it can happen to any of us," Shimoni said during Tuesday's city council session.
Shimoni then listed his concerns regarding bicycle safety, as a councilmember and a cyclist himself. He said traffic incidents are occurring at an unacceptable rate and that distracted driving needed to be addressed.
Flagstaff has seen an average of 52 bicycle collisions annually, nearly half of which are 18 to 24 years old, according to data from the Arizona Department of Transportation accumulated in a city report from 2009 to 2018.
The report also identified certain areas in the city that are increasingly prone to bicycle collisions. Two out of every five bicycle crashes occurred in the Central South district, which includes the Southside and Northern Arizona University campus, the data suggests. Milton Road is another street in addition to Butler Avenue with a high incident rate.
In comparison, there are very few pedestrian and bicycle crashes in the communities outside of Flagstaff, such as Kachina Village or Doney Park, according to the report.
Flagstaff local James Holeman, who moved to the corner of Butler Avenue and San Francisco Street in 2007, created a public Facebook page the day after Friday's accident calling for the speed limit on Butler to be reduced to 25 mph, generating interest from locals online.
But even before the accident, Holeman recounted a long history of attending neighborhood meetings and making public calls to suggest the speed is reduced along Butler from Milton Road to Lone Tree Road.
In an open letter to the Flagstaff City Council published on Saturday, Holeman called the street a "mad mix of tourists, locals and students driving, walking and biking," particularly on busy days like this recent weekend.
"Last night that mix took a deadly turn," he said in the open letter. "I'll stick my neck out again and say the city needs to make some changes."
Jones, like Holeman, noted that Butler Avenue has become a major thoroughfare in recent years despite running alongside residential neighborhoods. Holeman suggested that some even utilize the street as an alternative to Route 66, and both are calling for the city to implement measures to enhance cyclist safety.
For Jones, some of those asks are as simple as implementing more roadway space dedicated to bicycles. But he is also asking for bicycle safety to be a priority among Flagstaff leaders.
"In terms of a bike-friendly city, I think that we have an incredibly diverse and strong cycling community," Jones said. "But I think that what we need to see is the city stepping up to really meet this challenge."
Shimoni said bicyclists need to be separated from auto vehicles by more "than just a line of paint." He looked to the city's upcoming Active Transportation Master Plan for potential solutions to safety issues.
Some of those solutions include implementing design standards in the city's code to create separated bicycle lanes, installing better street signage and exploring both speed and traffic mitigation.
The conversation comes at the same time the city looks to address climate change, in part by reducing Flagstaff's dependency on gas-powered vehicles. According to Shimoni, that will require prioritizing the safety of all modes of transportation.
But if you ask Jones, prioritizing safety should have occurred a long time ago.
"We needed these changes last week, but certainly this can not happen again. And it's every single member of the community's responsibility to push for those changes," Jones said.
Riders, community still recovering
Not much is publicly known about the injured cyclists as of Wednesday, but family members of a few of the victims have provided the community with an update on the recovery process.
Sarah-Grace "SG" Crocco, one of the injured cyclists receiving medical treatment at the hospital, is still recovering from multiple bone fractures and a concussion, but is making small improvements everyday, according to comments made by Katherine Anne Crocco-Kahn to the Arizona Daily Sun.
"They continue to experience some physical pain as well as deep physical pain at the loss of their friend, Jo," Crocco-Kahn said. "Having close loved ones come to visit has done so much to lift their spirit."
Crocco-Kahn said her sibling is determined to heal and is getting stronger each day. They are looking forward to resuming climbing, hiking and engaging in the community.
"They receive daily updates from their family and close friends on the continued outpouring of love and well wishes. They have expressed deep gratitude for all the support from the community," Crocco-Kahn said.
As of Wednesday afternoon, a fundraiser for Crocco had raised more than $17,000 in less than five days. A pair of fundraisers organized to support all of the injured cyclists had raised a cumulative total of more than $130,000.
It appears that among the victims being treated in the hospital is community member Andres Adauto, better known to many as "Dapper Dre," according to posts on social media.
The burgers and shakes at the locally owned joint are tasty, sure, but the reason for the mass of humanity was a fundraiser owner Bernadette Chavez created to benefit the victims of an accident Friday that killed 29-year-old Joanna Wheaton and injured four others participating in a bicycle safety event hosted by the advocacy group FLG Bike Party.
Adauto's family released an update on his condition Friday stating that his injuries were serious and his road to recovery will be lengthy.
"We share the worried heartache as the other families that were impacted and our hearts break for the family whose loved one took her last ride that evening," a portion of the statement read. "We are grateful to already experience the return of his wit and charm and are comforted knowing he has created such a strong community of friends who will be by his side to get him back to doing all the things he loves and is so good at."
Shimoni spoke publicly regarding Wheaton's passing at Tuesday's meeting. Wheaton, a local activist, was a member of the city's housing commission and was known to meet frequently with elected officials to discuss social issues.
"Jo had passion and cared deeply for others," Shimoni said. "You will be missed."
The City of Flagstaff announced on Tuesday that a memorial for the cyclists was moved because it posed a public safety hazard to the intersection. It now sits nearby in the credit union parking lot.
Days earlier, local leaders and some residents held a short vigil for the victims the morning after the accident. The small crowd walked their bikes from Flagstaff City Hall to the Flagstaff Medical Center, where some prayed for the victims.
That vigil came after a previously scheduled climate change bike ride planned for Saturday was canceled in recognition of the tragic events. Shimoni, who participated in the vigil, said it was "incredibly powerful."
Another vigil is planned by the family of Wheaton Thursday night at 7 p.m. at Wheeler Park. Those attending are asked to bring their own battery-operated candle.
As the community continues to heal, Jones said the FLG Bike Party is looking to remind witnesses and those impacted to reach out for support. He said the group has already been contacted by dozens of professionals eager to assist in any way possible.
"This is an unimaginable trauma that our community is going through. And just because you weren't one of the ones injured doesn't mean that your community isn't also there for you if you need help," Jones said.
The FLG Bike Party is in the process of setting up a website to host fundraisers and provide resources for support. Additionally, the group is formalizing an effort to become a nonprofit organization to further their advocacy.
As for when and how the bike party's mission will continue, Jones said it is too soon to say, "but the wheel is in motion."