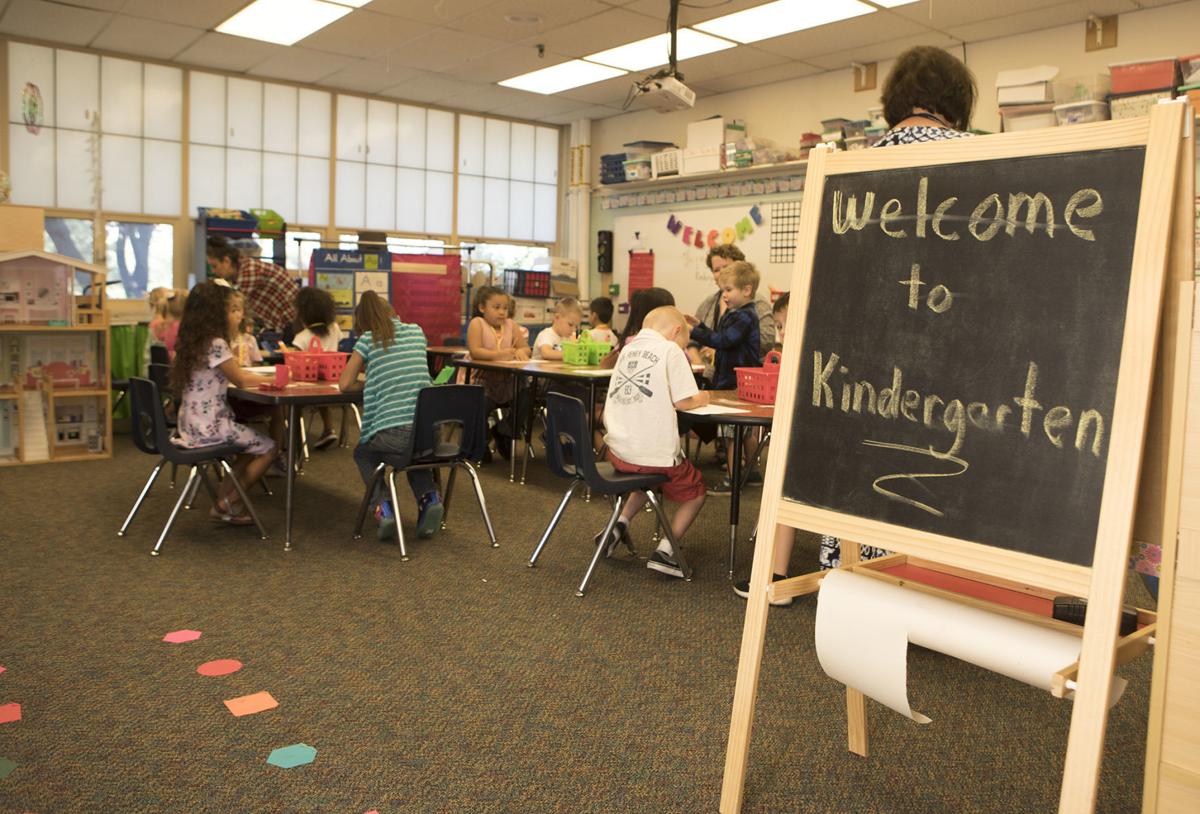 The Flagstaff Unified School District Governing Board sent the plans for the fall back to the drawing board after a discussion Tuesday evening.
More than 150 viewers were watching the live video of the meeting as the board discussed the 11-page document, which was released last week and drew criticism from the board and community members alike for its lack of specifics regarding subjects such as employee safety.
The plan offers three options for FUSD students: in-person learning, flexible remote learning and online learning through the district's existing online school. Students can transition between in-person and remote learning in the event schools must be closed or if the COVID-19 situation improves. Remote activities will be graded.
For those attending school campuses, social distancing will be required, as well as frequent hand washing, and sanitization of touched equipment and surfaces. Because the plan notes classroom furniture will be spaced apart, it calls for face coverings outside of classrooms when physical distancing is not possible, but not in class, during physical activity or for those who have difficulty breathing. Students will also have their temperatures checked before boarding school buses or entering the school.
In flexible remote learning, the plan notes students may have a different teacher than they do in person and will be able to interact with their class through videoconferencing.
All FUSD students starting in kindergarten will be provided with iPads this year as part of the district's 1:1 technology initiative approved in the November 2018 bond. The devices will be new for elementary-schoolers; middle- and high-schoolers first received their iPads in January.
The district will also be purchasing an additional 500 hotspots with data to provide internet to students who do not currently have access. The new hotpots are updated versions of 60 hotspots that were in use during this school year -- which will now be allocated for employees.
Northern Arizona Distance Learning (NADL), FUSD's third option for the fall, is only available to students in grades 5-12 at semester or yearlong intervals. Credits from the online school can transfer to any FUSD school as well as Arizona colleges, universities and military programs.
Extracurricular activities will be modified and offered to students participating in each of the three options at their normal FUSD school.
"It's got a lot of detail in some areas and in other areas it's just so wide open that, as a parent, I wouldn't know," said Carole Gilmore, clerk of the board, when discussing the plan.
The plan states that input was received from surveys on remote learning sent out to staff, students and families in May. This version is described as a living document and notes there will be opportunities for the district to answer questions.
FUSD Superintendent Michael Penca said Tuesday that the goal of the plan was to have just enough information to be able to respond to employees and families in time for student registration.
"We don't write out every single procedure we do in a school every day. It's hard to write that out. That's this challenge," Penca said. "We have to rethink every[thing], to the simplest thing we do: how we enter a school to how we get on a bus, how we share equipment."
Families were scheduled to begin selecting their preferred option on July 7; however, this date may be modified as the board waits to approve a plan that includes more details and perspectives from employees and parents.
Derek Born, president of the Flagstaff Education Association, explained in a letter submitted for public comment that, to his knowledge, FUSD educators had not provided any direct input on the plan.
As a result, numerous teachers sent in their own letters expressing concerns about returning to in-person learning.
"I am one of many [teachers] who will have a hard time returning to the classroom unless I can be confident that my students are going to be safe, their families are going to be safe and I can be guaranteed my family and I will be just as safe," wrote Ben Proctor.
Alongside concerns about the logistics of socially distanced classes, sharing supplies, contingency plans and no masks required in classrooms, teachers said they want the option to teach digitally instead of in-person, especially for those with chronic medical conditions or high-risk family members. They also suggested in-person alternatives such as two-day school weeks, with different groups alternating between school campuses, and having teachers develop two-week-long plans for substitutes at the beginning of the year in case they become ill.
"We are asking teachers and students to accept getting sick because we get sick every year with colds and strep and stomach bugs, but now we'll be getting sick with a disease that has no treatment and no vaccine." wrote teacher Rachel Perugini. "… Never before have I tried to worry that my getting sick would lead to the death of a student's loved one or my colleague down the hall. That thought now keeps me up at night. Our state's numbers are increasing daily so it is not a matter of if a staff member gets sick, it's when.
Parents who submitted letters similarly called for more detail and clarity in the plan, asking the board to consider the difficulty of maintaining a child's hygiene in the plans for in-person learning.
The board recommended district administrators contact a sample of families and teachers to discuss their comfort level about returning to school. Approval of the plan will be discussed again in a special meeting Wednesday, July 1 at 5 p.m., which will be available on the FUSD Facebook, Twitter and Vimeo pages.
Concerned about COVID-19?
Sign up now to get the most recent coronavirus headlines and other important local and national news sent to your email inbox daily.