Flagstaff Eagles boys and girls cross country head coach Trina Painter has added to her list of awards from the past season.
The longtime leader of the Eagles program was named the United States Track and Field and Cross Country Coaches Association boys and girls cross country coach of the year for Arizona two weeks ago and, on Tuesday, Painter claimed the national cross country girls coach of the year by the National High School Coaches Association.
"As I think through it, I feel like I was humbled by the first one, I was a little shocked by the second and now I'm just completely overwhelmed almost with this national award," Painter said Tuesday night.
Painter said that the award would not be possible without the community, and family, support she has gotten during her time coaching at Flagstaff.
She is the first Arizona coach to be awarded the NHSCA's girls coach of the year honor, according to a press release sent out Tuesday by the organization.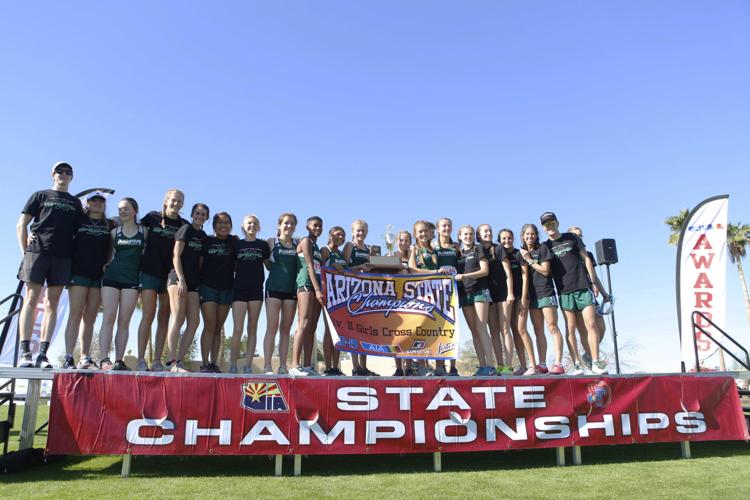 "This award really belongs to everybody. This award came by the support of my family, my husband and my kids allowing me to coach and spend all that time doing that," Painter said. "All the athletes that have passed through the program, the different assistant coaches I've had, the parents, the support staff at Flagstaff High School and just the running community itself has contributed because they raced and supported. Flagstaff as a city has just become this mecca of runners and athletes and I feel like we all got caught up in that wave."
You have free articles remaining.
Register for more free articles
Stay logged in to skip the surveys
"While my name is on the award, I feel like it's a shared award for everyone who's been involved," she added.
The most recent awards come after Painter led Flagstaff to its fourth straight title in both girls and boys cross country this season. Painter was named Arizona Coach of the Year for girls cross country by the National Federation of State High School Association earlier this month.
Jeannine Brandel, Flagstaff High's athletic director, said she had yet to hear that Painter won the national coach of the year award.
"Trina is so deserving. She's a phenomenal coach and is so positive with the kids," Brandel said Tuesday. "You couldn't ask for a better coach and we are just so fortunate to have someone like her as part of our program. I tell you the real beneficiaries are our students. They gain so much from her."
Painter has a long history of success with the girls program in individual title holders to go along with the team titles as well. Just this season, Hanna Hall finished in first place with a time of 18:07.48. In 2015, Courtney Lewis was Flagstaff's title-winner, following up Tatiana Gillick's three straight championship-winning races from 2011 to 2013.
"She has established both the girls and boys teams as the best in Arizona," said Eric Hess, executive director of the NHSCA, in the release. "She exhibits a strong dedication to supporting and developing her high school student-athletes in the classroom and outside of it."