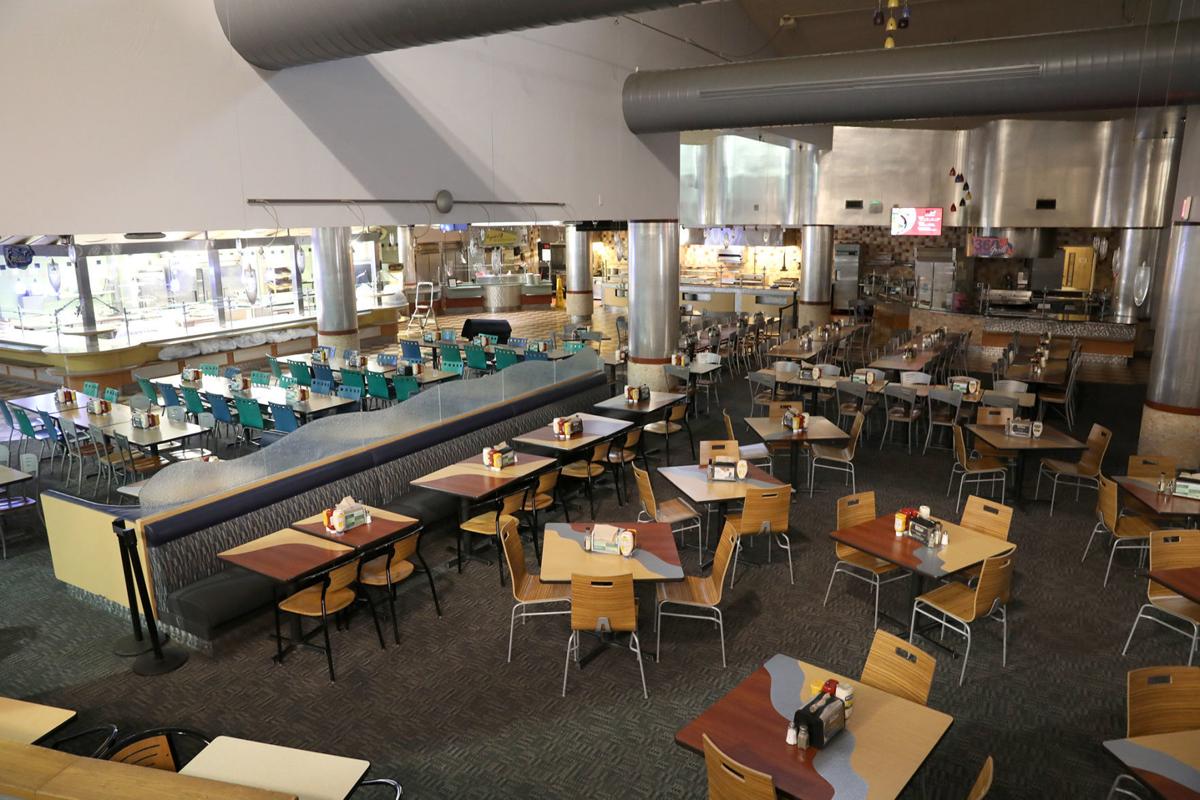 Although Northern Arizona University continues to operate as the cases of COVID-19 increase in Flagstaff, only a small percentage of students have remained on the Mountain Campus to finish the semester online.
Of the 8,000 living in NAU-owned residence halls, fewer than 1,300 remain on campus, said NAU spokesperson Kimberly Ott.
"These represent International students who are staying here for the entire semester, out-of-state students who chose not to travel to a potential hot spot over spring break, those that do not have any other personal housing options, as well as students who have family at their homes who are in the high-risk category," Ott said in an email.
The numbers do not include students in the American Campus Communities facilities on campus.
NAU announced March 12 it would transition to online instruction for at least two weeks, starting March 23, and that campus would remain open and operational, including university housing, food and health services and research labs. Employees were instructed to return to work as normal.
Now a week back into the semester, although more than 80% of students are no longer in their university dwellings, NAU is not currently refunding housing or campus meal plans.
"I don't think it is right because if we're not living there, we shouldn't have to pay," said Payton Romney, a freshman journalism major who has returned to Phoenix for the remainder of the semester. "In every email, they say the situation is flexible, so why are they not working with us?"
Romney has started an online petition asking for refunds for the month of school students are not attending. In three days, the petition has gathered nearly 1,400 signatures. Another petition, similarly asking for refunds or credit to apply to the next semester, has more than 2,300 signatures.
Romney fully moved out of his dorm in Sechrist Hall on Monday. He had been planning to stay, until the cases of COVID-19 in Coconino County surpassed 15. An email from a university housing representative informed him students would need to "fully withdraw from NAU and check-out of their housing" to avoid paying for the month's housing.
Ott said the university has not asked students to leave campus and is currently prioritizing health and safety.
"We are examining the financial implications of COVID-19 and the possible relief for unused services as the situation improves," Ott said.
Roommates Tyler G. and Madi T. have remained on campus since the beginning of spring break, foregoing planned trips to Phoenix and Mexico to help reduce the spread of COVID-19. The two have since remained in their room as much as they can.
"Campus is pretty dead. I work at a campus office … and beforehand when I walked to work, the walkways were always packed, but now I'm seeing maybe five people on my walk to work," said Tyler, a freshman political science and journalism major. "I was very thankful they kept the campus open because I know for a lot of students, going home is not an option, especially with such short notice. We have such a large international population, it would be hard for them to go home."
Madi, a sophomore from Maine studying Spanish secondary education, said social distancing has not been a problem for the roommates because of their private bathrooms at The Suites, one of the American Campus Communities buildings not included in NAU's latest count of students remaining on campus.
They noted campus restaurants have switched to to-go services and in the University Union on North Campus, all seating has been removed. In the du Bois Center on South Campus, when a student leaves a table, it is sanitized by dining staff.
Ott said common gathering areas and dining areas in academic buildings and residence halls have been closed. Cleaning efforts and communication about national health guidelines have been increased throughout campus.
Though within walking distance of their class locations, the two students are adjusting to remote learning much like their classmates who have left campus.
"It kind of feels like I don't have school anymore. I can just Zoom in and do things from my bed," Madi said, referring to the remote conferencing service used by some faculty to host online classes. "I'll stay in my PJs all day and Zoom into my classes."
Tyler added, "It's interesting when we do Zoom classes to see where everyone is when they turn on their cameras."
Concerned about COVID-19?
Sign up now to get the most recent coronavirus headlines and other important local and national news sent to your email inbox daily.