Lines crawled down San Francisco Street as hundreds of shivering-cold partygoers arrived at the crack of dawn to welcome back Flagstaff's booze-filled Homecoming tradition.
Across the train tracks, some wore costumes as they jam-packed the patio seating of local bars downtown. Others shed their coats as they took to the dance floors inside, drinks in hand.
After a yearlong hiatus, Tequila Sunrise returned with the usual slew of stumbling and celebrating that precedes Northern Arizona University's Homecoming football game and festivities.
Following the trend of recent years, the party remained "on the calmer side" as crowds spread out across the Southside and downtown area. The event resulted in two arrests and one party citation, Flagstaff Police Chief Dan Musselman said.
"We've made great strides over the last 10 years," Musselman said. "We still had calls but not necessarily to the extreme that we've seen previously."
The arrests from this year included one minor in consumption and one DUI. Musselman said most of the activity died down by about 9 a.m., which corresponded with the start of the NAU Homecoming parade on campus.
"We appreciate NAU campus holding events. They did a carnival last night and a bonfire, so that helps keep folks on campus and gives them alternate activities to attend," Musselman said.
He added that certain hotspots downtown did not see the same level of crowd congestion as they did in previous years, and there were few concerns regarding vehicle traffic.
On the corner of Leroux Street and Aspen Avenue, an intersection that has previously seen closures during Tequila Sunrise, the streets stayed open and the lines were mostly confined to the sidewalk. Five police officers stood nearby observing the crowd of mostly students, alumni and out-of-towners.
One officer said there were no plans to close the streets, in part to keep the alcohol confined inside the bars. Even still, empty cans and plastic shooters could be seen scattered about the sidewalk by individuals waiting to join the party inside.
Security guards working for The Mayor, a popular bar south of the tracks, were busy picking up the litter as they ensured nobody attempted to cut the line. Staff said they arrived at work around 4 a.m. to move chairs and tables to make room for the festivities.
Recent NAU graduate Chad Hoeers said he woke up at 3:30 a.m. to eat breakfast before heading to The Mayor around 6 a.m. He traveled to Flagstaff from Scottsdale with a group of friends to stay for the weekend.
"You gotta come back, you know," Hoeers said. "This morning we had some eggs, bacon and bagels, and of course, tequila. You have to do a few shots while you're cooking."
The Mayor received multiple noise complaints about a DJ who was playing music on the rooftop patio, but the volume level did not result in a citation and staff were cooperative, Musselman said.
At 7:30 a.m., the line was still growing outside of Collins Irish Pub & Grill. Some who had already made it inside were hunched over or being helped as they exited the pub. In the streets, Uber and Lyft drivers stopped to drop off and pick up groups of partygoers.
Flagstaff local Johsten Marquez participated in Tequila Sunrise for the first time dressed in a pink unicorn costume as he waited to enter Collins. After enduring social restrictions brought on by the pandemic, Marquez said, it was good to "get out and socialize."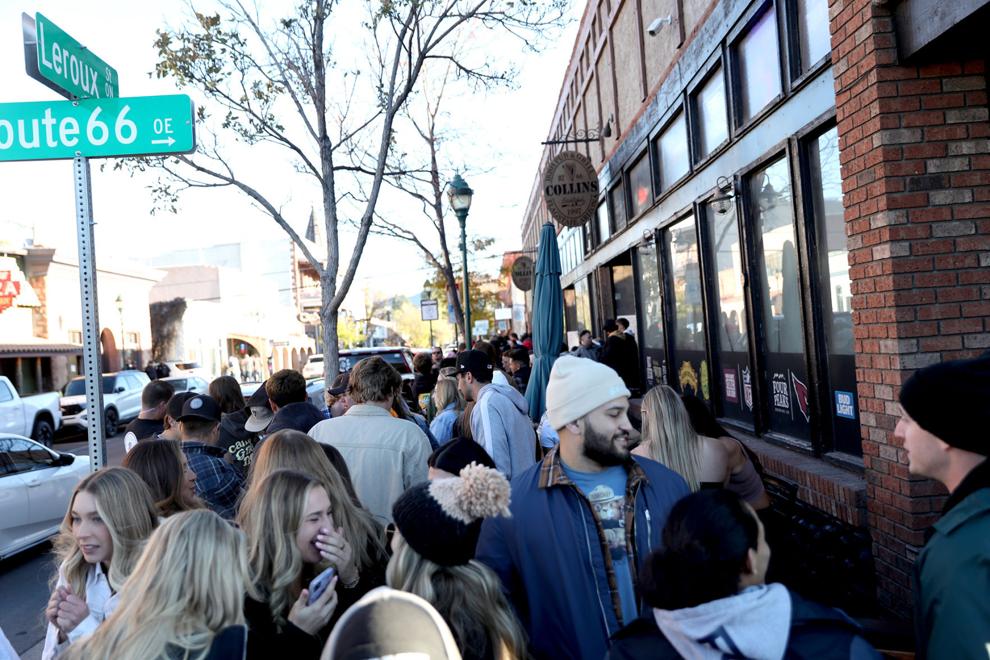 "It's been a beautiful morning," Marquez said while waiting outside of Collins Irish Pub & Grill. "What a beautiful place to get drunk. It's gorgeous here, really refreshing."
Eddie Karner, director of operations at Collins, said the morning had gone by without any major hiccups. He said it was nice to "keep things running smoothly" after the festivities were canceled the previous year.
Most of the businesses that participated chose to open their doors around 6 a.m. on Saturday, Early risers were greeted with drink and food specials, including deals on the namesake cocktail that combines tequila with orange juice and grenadine syrup.
NAU senior Mady Fisher was one of the many students who participated in the annual bar-hopping event.
"I'm just really drawn to hanging in the sun and having a good time. It is my first year being 21, so I'm just excited to see downtown and everything that goes on this weekend," Fisher said.
Fisher explained that she was planning to head to campus soon for an NAU football tailgate. Like many, she hoped to attend the big game later in the afternoon.
"We were preparing for the worst and hoping for the best," Musselman said. "We are pretty thankful to see no fights, no assaults like we have seen in previous years. So that's a blessing."