Evolve Flagstaff's co-owners Brian Kinslow and Abby Chan may be getting married at the end of the month, but their physical therapy and nutrition practices have already tied the knot with the opening of their integrated clinic in 2017.
Over the summer, Evolve was relocated from a small office on Route 66 to a larger, more prominent location on Birch Avenue. They renovated what used to be Peak Results Fitness after the long-term owners retired, adding new rooms, re-painting the walls a bright blue, replacing the flooring and bringing in all new fitness equipment.
In July, Evolve reopened to include their same physical therapy and nutrition practices, with the addition of a strength training gym and a meal prep program.
Chan believes the gym setting will help ease people who are coming for her or Kinslow's practices.
"The majority of people have been in a gym before -- it's better than going into a doctor's office sometimes -- so we just wanted to make it really accessible and welcoming to people," Chan said. "Hopefully even just entering the space people are realizing that this is going to be different than other medical experiences that [they] have probably had before."
The couple met in Flagstaff while competing graduate school programs and both spent time working at Flagstaff Medical Center. During their first few dates, they discovered they had similar ideas on healthcare.
"I think the traditional medical system is really closed off and people get really intimidated by it, so what we wanted to do was blow open the doors, make it really transparent and make it really accessible to people," Chan said.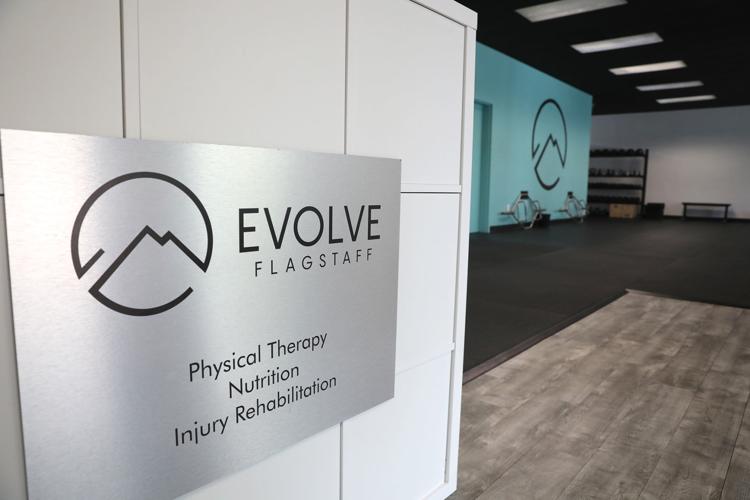 "Fitness culture is becoming a bigger and bigger thing in our society which overall is good – but there's a lot of pieces to keep yourself healthy long term," Kinslow said, referring to Evolve's pillars of performance training, which include individualized resistance training, science-based, body positive non-diet nutrition guidance, cardiovascular fitness, injury rehabilitation and prevention, healthy lifestyle and habit support, and a community of positive, like-minded individuals.
"So that's something that a primary care provider is not equipped to deal with. They can maybe touch on some of [the pillars], and a lot of gyms or workout classes touch on the movement piece, but not on the rest of it," Kinslow said. "And that's why we have all of those different services. We have the gym, we have nutrition, physical therapy, and then we have the meal prep program because we're trying just to look for ways people can get [all their key health needs met.]"
Chan also shared that Evolve is focused on overall health, not physical appearance, which our culture often pushes.
"Common things in fitness culture is really looking at just aesthetics and looking at just weight loss or things like that, whereas I'm looking at the bigger picture of, can we actually make you healthy, and it doesn't mean you necessarily have to look a certain way," she said.
The couple have 90 clients who range from young professionals out of college to individuals in their 60s. Some are trying to transition back to exercise after an injury, some are new to fitness, and others just want the individualized attention that Evolve offers.
You have free articles remaining.
Register for more free articles
Stay logged in to skip the surveys
"When new clients come in, Brian meets with them one-on-one for an hour to determine injury history and goals. We set up a personalized program that's appropriate for them because sometimes gyms are not accessible – either way too hard or way too easy –and so we want to put out an appropriate program for people for where they are."
Clients then have access to come in the gym during open gym hours and complete their individualized workouts. The gym is open three times a day for two hours each in the morning, the afternoon and the evening during the weekday, and from 9 a.m. to 12 p.m. on Saturday. Usually there are around five to 15 people at a time during the open hours, with strength coaches always on hand.
Evolve members use an app while at the gym, which shows them what their workout plan is for the week, with each exercise and the equipment used demonstrated in videos by Kinslow. The program also tracks their past workouts and their weight progress.
"If some reason they're traveling and are in a different gym, than they have the ability to be like, 'okay here's what I'm supposed to be doing,'" Chan said.
Though a smartphone makes it easier for clients to tune into their programs, Chan and Kinslow generally encourage clients to unplug.
"People are plugged into their phones, they don't have inputs in their communities and so from a health perspective we've seen people drive to chronic pain, different food-related conditions because they're stressed so their body becomes more sensitized," Kinslow said. "From a public health perspective, getting people to unplug, connect with themselves, connect with people around them, have a community that is supporting them and healthy behavior is essential to being healthy."
The connections Evolve members make with each other and staff are essential to creating a motivating community, Chan and Kinslow agreed.
"It makes people a little bit more consistent because they have that community and they can come from work and they can come and chill and have a chat with someone and come down from their day a little bit instead of just going home, going to the gym and plugging in headphones," Chan said.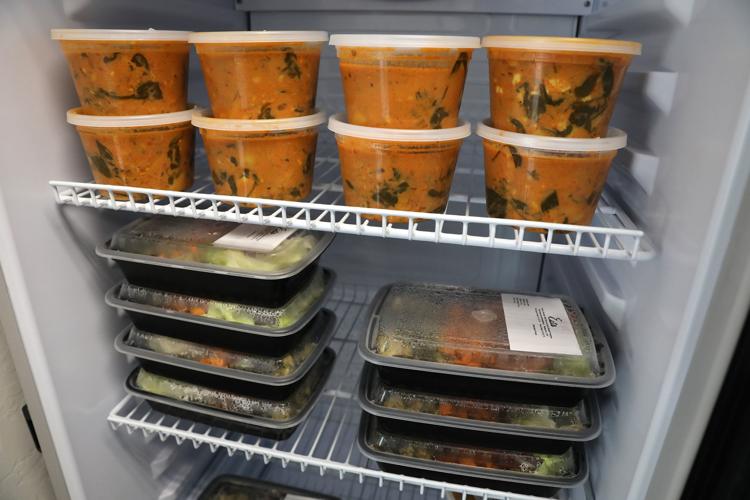 Like Evolve's gym program, Chan's meal prep takes the guess work out for clients, so they can get healthy in a stress-free way. Chan grew up cooking and worked for years in the restaurant industry. When she noticed that her clients were struggling to cook healthy meals, she started renting out a kitchen on the east side of town and experimenting with gluten and dairy-free recipes.
"From a nutritionist standpoint, my goal is to balance every meal," she said. "I'm looking at is there enough protein in there, is there enough fat, is there enough carbs and fiber, and can we also make this taste delicious. It's more than just a chicken breast and broccoli and brown rice."
Chan's top two biggest healthy eating tips are to eat more vegetables and stop dieting, while Kinslow urges everyone to get at least eight hours of sleep a night and learn strength training – which is the number one way to increase longevity and quality of life, he said.