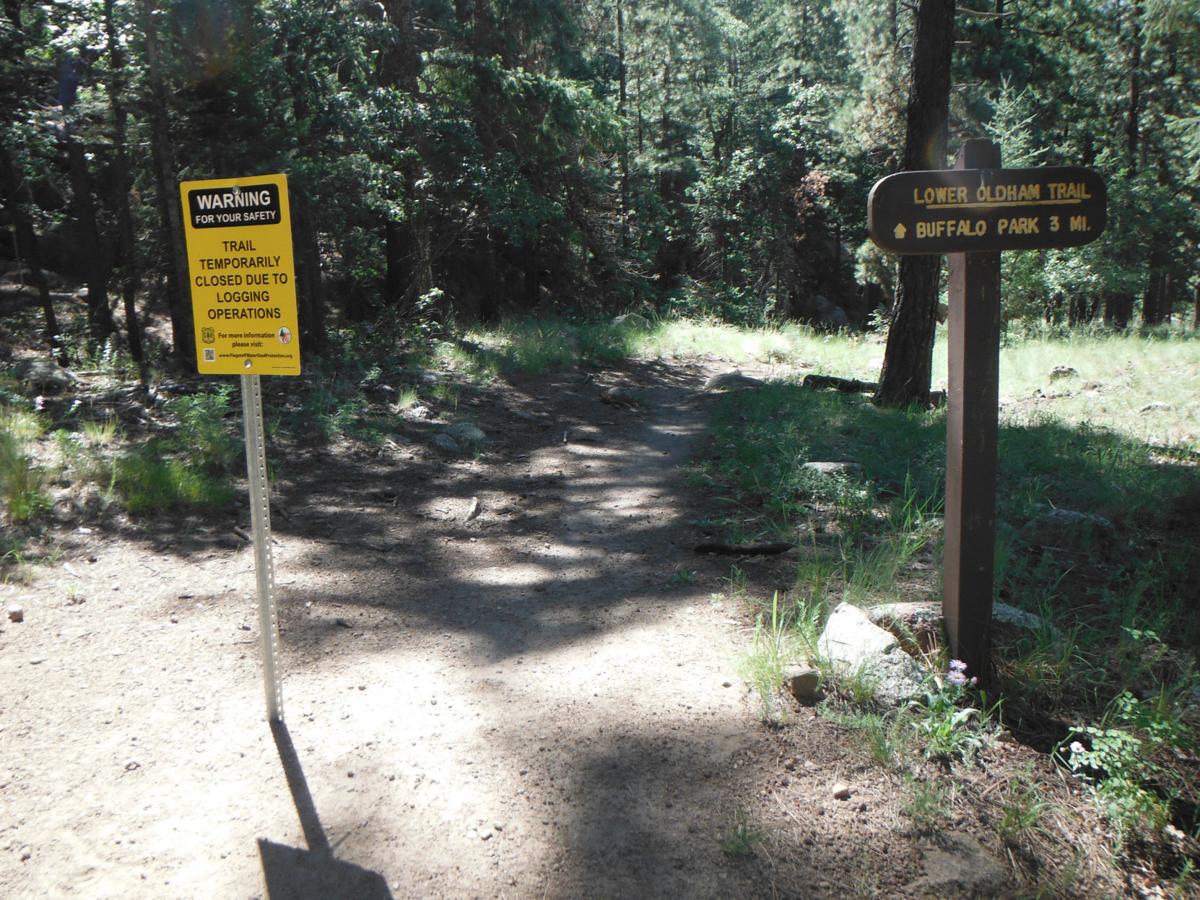 People who know the trails in the Mount Elden, Dry Lake Hills (MEDL) area know they are some of the most beloved places in Flagstaff to get out and get covered in dirt.
It's called Flagstaff's backyard for a reason, as many social trails connect neighborhoods and even homes directly to the beloved rocky slopes. In the summer, the hills bustle with chirping birds and leaping lizards that are protected by the forest's green grasses and shady trees. In the winter, people still love to snowshoe and cross country ski through the frigid wilderness.
The Mt. Elden Environmental Study Area also protects 400 acres of land as a bird sanctuary and outdoor classroom, with four designated trails for student and public learning.
However, since many of the trails were hastily built from jeep roads, pack animal trails and even game trails in the 1980s, a lot in and around MEDL has changed.
Even before pandemic spikes in recreation, Flagstaff and northern Arizona have only been getting more love from the region. According to a Flagstaff Trail's Initiative report, 58% of Coconino County residents use the trails at least once a year, and visitors use hiking and walking trails 56% more than any other attraction. Millions of people around the state look to Flagstaff as a way to escape the triple-digit heat in the summer and dive into snow in the winter.
Additionally, the Flagstaff Watershed Protection Project is close to finishing its work thinning Flagstaff's forests in the Dry Lake Hills, while the Museum Fire burned nearly 2,000 acres of Flagstaff's backyard.
In response, the U.S. Forest Service is looking to revamp the trail system made up of 14 official trails and untold miles of unofficial trails. The Flagstaff Ranger District released their first attempt at the new trail system recommends building, relocating or adopting 55 miles of new trails, according to Pat McGervey, a Flagstaff District recreation and wilderness staff member.
"I hope people have a chance to look at it and make a comment, to make sure they know the purpose and need of the process," McGervey said.
Recommendations
The Forest Service nominated several local special interest groups to create a shared vision of the trail system's future, understanding that they would not always come to an agreement.
The Flagstaff District did feel, however, that the shared vision would help get its first proposed plan closer to the mark using invested community engagement. The group spanned conservation, hiking, biking, equestrian, climbing, municipalities and trail advocates and submitted a 32-page recommendation to the Forest Service.
The Arizona Daily Sun examined their recommendations and found the most common reason the group didn't agree on a trail was either because it impacted wildlife or was likely unsustainable. Some were also concerned that if the Forest Service closed certain trails, some trail users might not follow the trail guidance.
Joe Hazel, a trail coordinator of the Flagstaff Biking Organization, said the organization contributed to a majority of the working group's recommendations. He wanted to contribute because the plan would likely have a big impact on the area for years to come.
"We don't want this to be somebody else's problem five to 10 years from now. We want to get it right, now," Hazel said.
If the federal government gets it wrong, the prevailing notion among trail advocates is that people will create illegal trails when users' needs aren't being met, undoing a lot of the time and money being spent on the area.
Illegal trails are a problem because they are many times built with little thought, can disturb important animal habitat, erode mountain sides during rainfall and in some cases be dangerous for trail users. Given the Forest Service's low congressional funding, many local conversationalists know there is little ability to enforce illegal trail-building, said Alicyn Gitlin, a local activist who said her views didn't necessarily reflect her organization, the Sierra Club.
"There really needs to be a cultural shift in our recreation community that people don't see it as: If I don't get what I want, I'm going to go build it," Gitlin said.
As of early September, nearly 100 people and organizations have submitted comments to the Coconino National Forest about what they hope to see in the area. Comments ranged on topics from keeping trails or nixing them, protecting flora and fauna, and building trails for the types of activity they want to continue to find in MEDL.
Of the proposed action's 55 miles of new trails, the system includes 29 newly constructed miles, 16 adopted miles and 10 miles of realigning trails, according to McGervey.
Equestrians are expected to get 10 miles of trails, directional mountain biking will get 4 1/2, hikers and climbers will get 9 1/2, while 6 1/2 miles of trail will be designated for highly developed urban trail users. The rest will be open for multi-use trails.
Officials also want to build six trailheads, including relocating Little Elden and Schultz Creek trailheads, expanding Elden Lookout and Sandy Seep trailheads, and creating trailheads at Oldham Basin and The "Y." The Forest Service also wants to improve the Schultz Tank trailhead by replacing vault toilets and resurfacing the parking lot.
Science of trail building
Every user has a trail that is close to their heart.
Gitlin said her favorite trail is the Heart Trail, but believes it is unsustainable and trail building in the area should cease. She liked parts of the Forest Service proposal, but felt authorities were planning to build too many trails. She wanted to ensure local wildlife had a place to stay wild.
"I don't think there should be no new trails. I don't want to say that," Gitlin said. "I think this project needs to start with: Where shouldn't there be trails? Where are there no trails now? Then, respecting those areas, work around them. I want to see the needs of nature come first."
Hazel said his job was to advocate for more trails, but added that he felt there needed to be a balance between being protectionist and exploitative of the landscape. Hazel acknowledged that some trails currently bisect wildlife habitat, but felt there was a way for user experience and wildlife to co-exist.
Hazel also felt that accuracy of the working group's recommendations was limited due to the COVID-19 pandemic. The group wasn't able to meet together out in the Dry Lake Hills to compare their suggestions to the actual topography.
This limitation is a difference between the working groups' suggestions and the Forest Service's plan of action. After officials review people's comments on the proposed action, officials will eventually hike out into the hills and begin the process of trail planning based on ground truth.
The proposed changes to the trail system at this point are just concepts, and nothing is finalized, McGervey emphasized.
"The trail lines on the proposed action we put out there, they're approximate. The lines haven't been field trooped 100%," McGervey said. "When we talk about adding 10 miles of loop trails in the loop area, those 10 miles aren't set in stone. There is flexibility during implementation."
One area that will need to be continually surveyed is the fire-damaged area from the Museum Fire. The blaze burned 8.75 miles of trials, with 2 miles of trail burning at a moderate or high severity, according to the Forest Service.
The working group recommended decommissioning a lot of those trails, for the most part. The Forest Service team, however, decided to move forward with adopting burned social trails such as the Ginger Trail anyway.
McGervey said the Forest Service learned a lot about rehabbing burned trails from the Little Bear Trail that has been rebuilt three times after the Schultz Fire in 2010.
"In those areas that have moderate- or high-severity burns, we wouldn't be running out in 2022 and putting trails on unstable slopes," McGervey said. "We will likely wait for a few years down the road, once we stop seeing debris flows from rain events."
McGervey said at this point, some trails are being designed for only one type of use, although other users won't be legally prohibited from entering. That means bikes might be allowed on the new Devil's Seat Trail that is designed as a hiking alternative to Mount Elden Lookout Trail, but it's expected to be so steep that the route isn't safe, or even fun, for mountain bikers to use.
In their mind, designing trails for specific user types might reduce the amount of trail conflicts on the mountain.
"I think a lot of the user conflicts that I hear about are busy trails," McGervey said. "Will those trails be less busy with a plan like this? We seem to think so. Maybe by giving more opportunity to disperse use, we'll see a decrease in conflicts."
Going forward, the Forest Service will have the deciding say in what occurs on the public lands, but their environmental assessment required by the National Environmental Policy Act requires them to listen to public input and make specific recommendations. Once the plan is completed, the Forest Service will need to acquire funding to build, realign and decommission different trails in the MEDL area that could take years.
The comment window closes on Monday, Sept. 28.
"We all want nice trails. We all recognize the impact on the resource, but the trick is how do you get [those trails built]?" Hazel said.