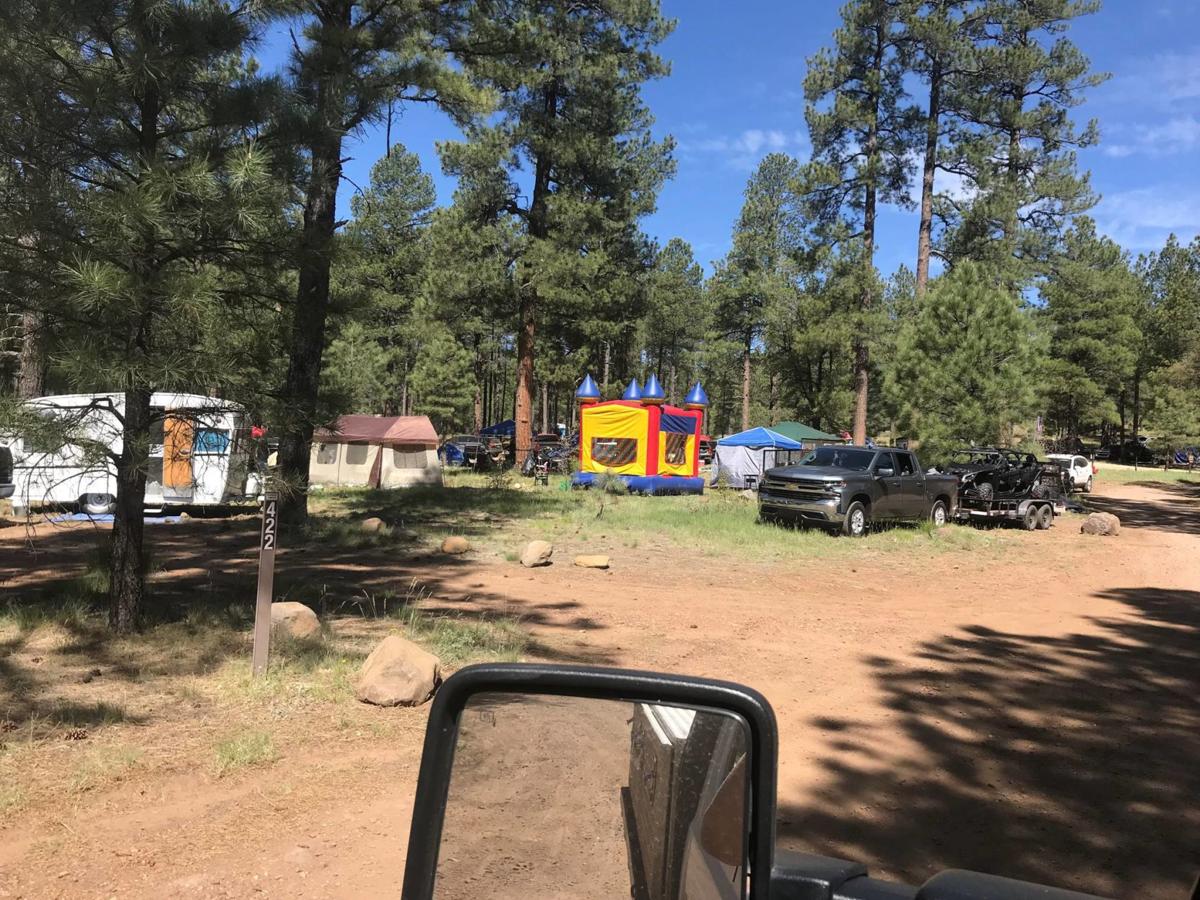 On Memorial Day weekend, the forests near Flagstaff were packed with people dropping trash, trampling meadows and leaving hot coals after illegal campfires.
Anecdotally, one forest authority described Lake Mary as having more people than they've ever seen on the shores and on the water this past weekend. Knoll Lake, a secluded 75-acre lake 108 miles from Flagstaff on the Mogollon Ranger District, counted over 500 cars coming and going within a 24-hour period. Earlier in May, a forest authority reported people trying to make their way to Fat Man's Loop, a popular Flagstaff trail, had illegally parked on the sidewalk when the parking lot was full.
Some are experienced campers and some are in the forests for their first time, according to Andrew Hostad, fire prevention officer. Some people are abiding by social distancing parameters, and some are not. Meanwhile, many public officials warn about the underlying possibility of a second wave of COVID-19 spreading through Arizona communities.
Hostad and other forest staff told the Arizona Daily Sun these huge crowds have become the Flagstaff Ranger District's new normal as the state reopens. Staff are hoping people become more responsible by hauling out their trash and not lighting illegal campfires. He said May's already large crowds simply ballooned over the Memorial Day weekend.
"We've been experiencing that level of visitation for well over a month. It's not just been this Memorial Day weekend like it always is," Hostad said. "Due to this present situation, we've been experiencing Memorial Day weekend visitation [levels] for the past month."
This increase in public use of forests has left Flagstaff District Ranger Matt McGrath with conflicting emotions. He's happy to see people using their public lands, but is scared about the spike in trash and human-caused fires. Negligence could be especially dangerous as people flee the state's high temperatures, which the National Weather Service forecasts could reach over 80 degrees in Flagstaff over the next few days.
Last weekend alone, over 30 illegal campfires were reported, and all of the fires were human-caused, according to Lindsay McElfresh, assistant fire management officer. The Forest Service has been receiving at least 20 reports of illegal campfires each weekend in May. Some of the fires spread from their original fire pit, she said, but all were managed before they severely endangered anything or anyone in the forests around them.
"It wasn't just Memorial Day weekend. It's been consistent, which is abnormal," McElfresh said.
The increased use of public lands illustrates a new coronavirus concern for wildland firefighters to consider: Anyone who violates fire restrictions can endanger even more people than expected if there are more people in the forest. Currently the southwest region has banned igniting, building, maintaining, attending or using fire on all six national forests in Arizona until June 30.
"The fact is there's so many more people out there that if one of these illegal fires becomes a wildfire, there's that many more people that we potentially have to get out from in front of this," Hostad said. "It's just a huge public safety situation."
In response to firefighter safety and wildfire concern, some people have called for the closing of the forests.
But in some cases, keeping things closed has only helped mildly. The Lava River Caves is a developed area on the Flagstaff Ranger District that has been closed because of social distancing challenges, McGrath said, but that hasn't stopped people from showing up.
"Every time our folks drive by, there's 50 to 70 cars, and that site is closed," McGrath said. "It's a cave. And it's an example where people can't be socially distant in a cave."
In the forests, illegal fires and dumping of trash are the leading complaints the public affairs team has been receiving over the past month, McGrath said. In closed developed ares, toilets are off-limits and many dumpsters have been taken away, but people still expect service and are still leaving behind all of their remains.
McGrath said their staff size isn't getting any bigger. The district's staff is unable to keep up with what the public is asking them to do by leaving their trash and campfires unattended.
"We've got a lot of great folks that work here. We've been asking so much of them, but they're stretched so thin," McGrath said. "The scary part is that there's not an end in sight."
Concerned about COVID-19?
Sign up now to get the most recent coronavirus headlines and other important local and national news sent to your email inbox daily.