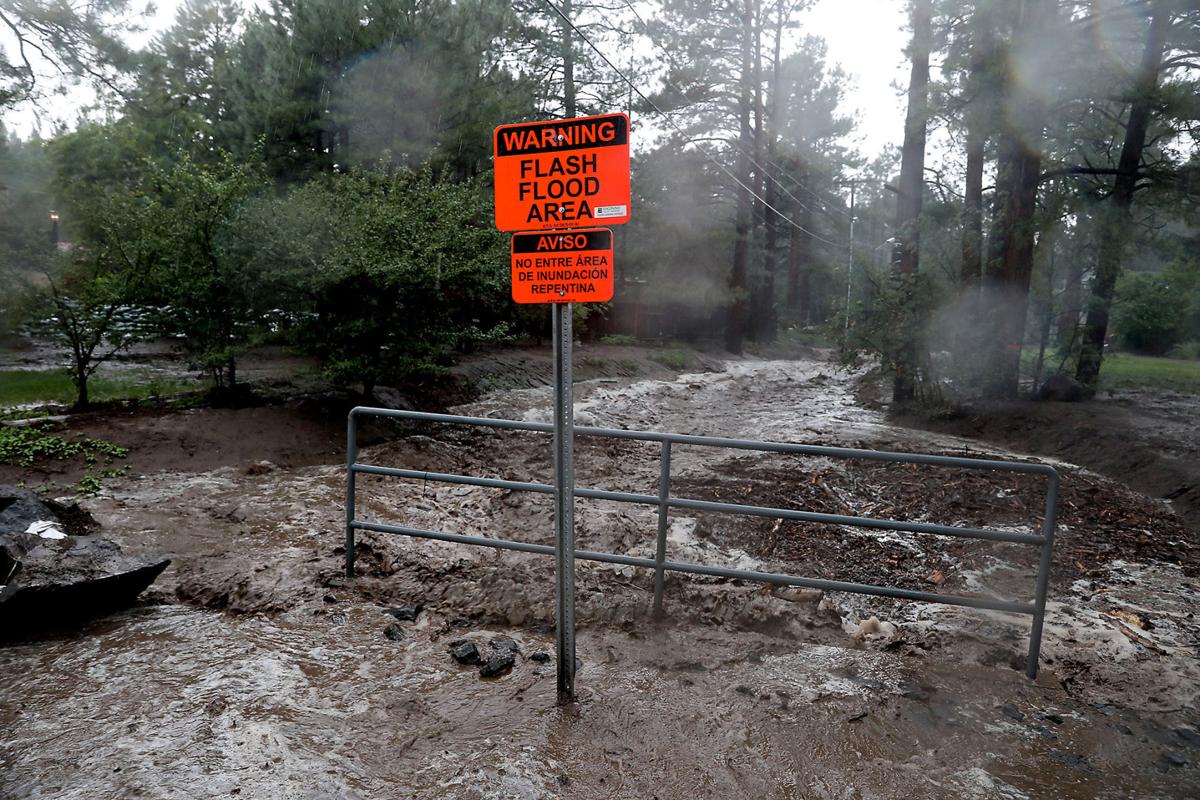 Local officials say they have new ideas on how to better mitigate flooding off of the 2019 Museum Fire burn scar in the long term after an engineering summit that took place last week.
After parts of Flagstaff's east side had seen extensive flooding throughout this monsoon season, local officials organized the brainstorming event on Thursday and Friday. A similar summit was held in the aftermath of the Schultz Fire and subsequent flooding.
While officials came away from the summit with several new ideas for what could be done to help further mitigate flooding, they also warned that this is still only the beginning.
Indeed, just earlier in the week, Lucinda Andreani, deputy manager for Coconino County, warned a joint meeting of the county's Board of Supervisors and members of the Flagstaff City Council that it may take several years before projects could be constructed and for residents really to feel the results.
Andreani pointed to the previous efforts to mitigate flooding coming off of the Schultz Fire burn scar.
"We started that process in 2010. By the time we were able to secure all the permits, funding, easements, everything that was needed, we began construction in 2013, so it took about three years," Andreani said.
"Unfortunately this is a tough, long slog, but I think well be able to peel off certain pieces of this puzzle and implement them as we go along and ultimately create a system that will provide much greater mitigation than we have today," Andreani said after the summit.
Officials have also warned that not every idea that came out of the summit may be feasible to construct. Within the already built environment of the city, building additional infrastructure may prove to be far more expensive than it would be otherwise.
That may prove especially challenging as local governments seek federal and state grants to fund projects. Those grants often require a cost-benefit analysis, and other projects across the country may be seen as providing better bang for the buck.
And Andreani again emphasized that perhaps the most important long-term way to address flooding is continued forest restoration efforts as a way to prevent catastrophic forest fires. 
Potential projects
Julie Leid with Peak Engineering summarized many of the ideas and proposals that emerged from the summit.
Many of those involved had previously worked to mitigate flooding off of the Schultz Fire burn scar. Leid said that experience was helpful for the group to look back on during the summit, but there are some real differences that make addressing this more recent flooding a daunting challenge.
What proved to be most beneficial to help address Schultz flooding was the creation of alluvial fans -- essentially large, somewhat flat areas where the water could slow down and drop much of the sediment it is carrying. That reduced the total volume of flows as well as their power.
"This worked great for the Schultz watershed; it may not work as well for the Museum flood area and the Spruce watershed. We don't necessarily have wide channels with gradual grades to be able to do that type of channel restoration," Lied said. "But there are opportunities in a few locations where we could do this for some mitigation of that debris and sediment loading."
Leid said they have identified at least two areas between Mount Elden Estates and Linda Vista that could be good sites for either some kind of alluvial fan or detention basin. Detention basins may be able to lessen the load on infrastructure by containing some water before meting it out to make it less impactful.
And that kind of infrastructure could go some way to making existing stormwater systems in Flagstaff work better. Less sediment and debris means culverts and drains less likely to become clogged.
Leid said the Coconino National Forest also approved the widening of the channel on forest lands adjacent to the top of Paradise -- which could help prevent waters from overtopping barriers in that area.
More complications normally arise once waters reach the more built-up area at Linda Vista. Leid said there was unanimous agreement at the summit that some way had to be found to better handle the flows that cross at Linda Vista and often overwhelm that drainage, flooding streets and threatening homes.
But Leid said they all also agreed that simply increasing the size of the Linda Vista culvert would do nothing but cause even worse flooding in parts of Sunnyside and Cedar.
Instead, Leid said, the project will require "pretty extensive infrastructure improvements," such as an additional underground storm water system that could divert a portion of the flows away from the current channel.
For such an extensive project, Leid said, a lot more work would need to be done before officials could know if that was possible or what it would take to accomplish.
In Sunnyside, Leid suggested there were similar issues.
There already exists a 60-inch storm drain designed to carry water from the northern section of neighborhood all the way south to Route 66.
Additional underground infrastructure could be built to divert water away from the main channel at Cedar to other areas. For example, pipes could be added or upsized, running under streets in the west or east of the neighborhood in order to lessen the load on the main channel, Leid said.
Leid said another improvement that was discussed would be to harden portions of the above-ground channel that runs through the northern portion of Sunnyside. That would likely mean lining those areas with concrete, something that might somewhat increase capacity by allowing water to travel more quickly through and out of the area.
At an earlier meeting, city stormwater manager Ed Schenk had pointed to a stormwater project already planned on the center of Sunnyside on grounds of the Killip Elementary School that the city is constructing in collaboration with the school district.
That project will involve the construction of a large detention basin that will be able to capture flood water and then meter it back out, Schenk said.
Adrian Skabelund can be reached by phone at (928) 556-2261, by email at askabelund@azdailysun.com or on Twitter at @AdrianSkabelund.