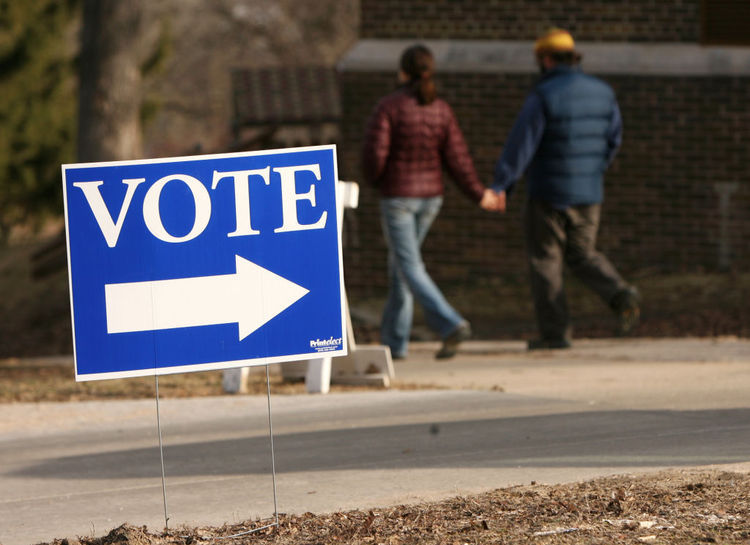 It's a race for expanding rural opportunities in Arizona's Congressional District 1 this year, with Democratic incumbent Rep. Tom O'Halleran and Republican candidate Tiffany Shedd set to face off on November's ballot.
In interviews with the Arizona Daily Sun, both candidates said they will support small-town economies, forest management, expanding internet access and addressing uranium mine hazards, among other goals for CD1, which encompasses much of eastern Arizona, from just outside Tucson through northern Arizona. Historically, the district's representation has flipped between red and blue.
O'Halleran, who lives in Sedona, has represented the district since 2017. Previously, he served three consecutive terms as a state representative followed by a term as a state senator, both positions he held as a Republican before switching parties in 2014. He is current the co-chair of the Blue Dogs Coalition, a centrist U.S. House caucus focused on fiscal responsibility.
Shedd grew up in Arizona, in Pinal County, where she and her husband are now the fourth generation to farm their land in Eloy, about 50 miles northwest of Tucson. She attended college and law school at the University of Arizona, and has worked as a bilingual kindergarten teacher, natural resource attorney and homeschool parent. She is also a Republican Party Precinct Committeeman and firearms coach.
In the primary, O'Halleran beat out former Flagstaff City Councilmember Eva Putzova, who had 200 more Coconino County votes, and Shedd topped Nolan Reidhead's votes in both the district and Coconino County.
Tom O'Halleran
O'Halleran said the issues faced by northern Arizona are ones he has worked on before but need additional attention, including increased funding for education, more equitable health care, cleaning up uranium mines and forest and water management.
Of his achievements in office, O'Halleran emphasized his efforts to expand broadband internet access in rural areas -- which he said helps numerous groups -- providing more resources for schools and businesses while also improving healthcare options by allowing rural residents such as seniors and veterans to use telehealth services.
"Whether it's on tribal nations or within our smaller towns and counties within the state, I think there's been a disparity in how we pay attention, as a country, to those areas in Arizona and across our country than we do to urban areas. That's just not right," O'Halleran said. "Everyone in America — every American child, every American senior, every American family and every American business — should have the same competitive abilities, and we should not have one treated differently than others."
He referred to rural small businesses that might have been able to recover from recent economic hardships if they had access to online customers like similar businesses in urban areas.
With wildfires burning throughout the western U.S., O'Halleran also stressed the need to recover from decades of forest mismanagement, referencing the need for forest thinning projects like the Four Forest Restoration Initiative (4FRI).
He said additional funding is still needed for schools and the efforts to remove the hazards of northern Arizona's uranium mines, which affect not only the area's residents but also its visitors.
"We're not going to find any more private money. They've all been sued, the lawsuits are over with and we can't find anybody else," O'Halleran said, explaining his goal in addressing these mines is to go after funding from the federal government, which historically supported the mines.
Overall, O'Halleran's reelection campaign focuses on "a hope and vision for our children's future, the need for an economy that works for everyone, concern for our veterans and an attachment to our natural resources and our unmatched scenic beauty," according to his campaign website.
O'Halleran said he plans to continue working with bipartisan groups to try to find answers to America's problems — including COVID-19. He says America has a long way to go still in its testing and contact tracing efforts. He expressed his disappointment in the Senate's delay in approving additional COVID-19 relief for Americans.
"My overriding concern is we need to be able to, as Americans, sit down at the table and try to find ways that we can come together. We have to be able to work with one another," he said. "That doesn't mean we all have to believe the same thing, but we all do need to be able to sit down at the table and work with one another through the process that our country needs."
Tiffany Shedd
Shedd said her current priority for the district is getting the economy back on track and people back to work — especially in small businesses that have suffered during the pandemic — without raising taxes. She said putting the COVID-19 response in the hands of local officials was the right response, though, because they are closer to their communities' situations.
She said she believes many of the issues faced in northern Arizona are the same as those of the district's southern end, such as infrastructure issues and natural resource concerns such as wildfire prevention, and both water quality and quantity. There are unique situations, too, however, like the effects of uranium mines on the Navajo Nation -- which she said is a health priority that needs to be addressed.
Shedd said she closely follows Native American issues, and hopes to partner closely with the Navajo Nation on initiatives, because her husband is a member of the Muscogee (Creek) Nation in Oklahoma, where their three children are also voting members.
Healthy forest thinning is another needed effort in CD1, she said, to help prevent catastrophic wildfires. She believes federal funding is needed to address not only wildfire prevention but also to help communities recover in the aftermath of a fire.
"In a community like Flagstaff, a huge amount of your economic income comes from tourism, and that tourism stops when the forest is on fire and not well-managed and you can't use it," Shedd said. "So it has an economic impact on everyone in the northern part of the district."
Should she be elected, Shedd said she intends to increase the number of district offices, which are currently located in Flagstaff, Casa Grande and northwest Tucson, to reduce citizens' drive time when they are in need of help.
"This job is to take care of the people of Arizona 1, and I feel it's a hindrance to not have enough offices to do that," Shedd said. "I want to be available to know, first of all, the problems people are facing on a legislative level, regulatory level, but also on a personal level."
According to her campaign website, Shedd is focused on working with President Donald Trump on securing the southern border. She is a constitutional conservative, is strongly pro-life and supports Second Amendment rights and private healthcare.
"At the end of the day, I would love to have people's votes in northern Arizona and all over CD1, because I don't just hear what people are going through, my family has experienced it as well, and I can promise that I will listen and work with communities to solve problems so that our people, our families can prosper, have great economic opportunity, good education for our kids and see rural Arizona just become a very prosperous, great place to live," Shedd said.
Get local news delivered to your inbox!
Subscribe to our Daily Headlines newsletter.