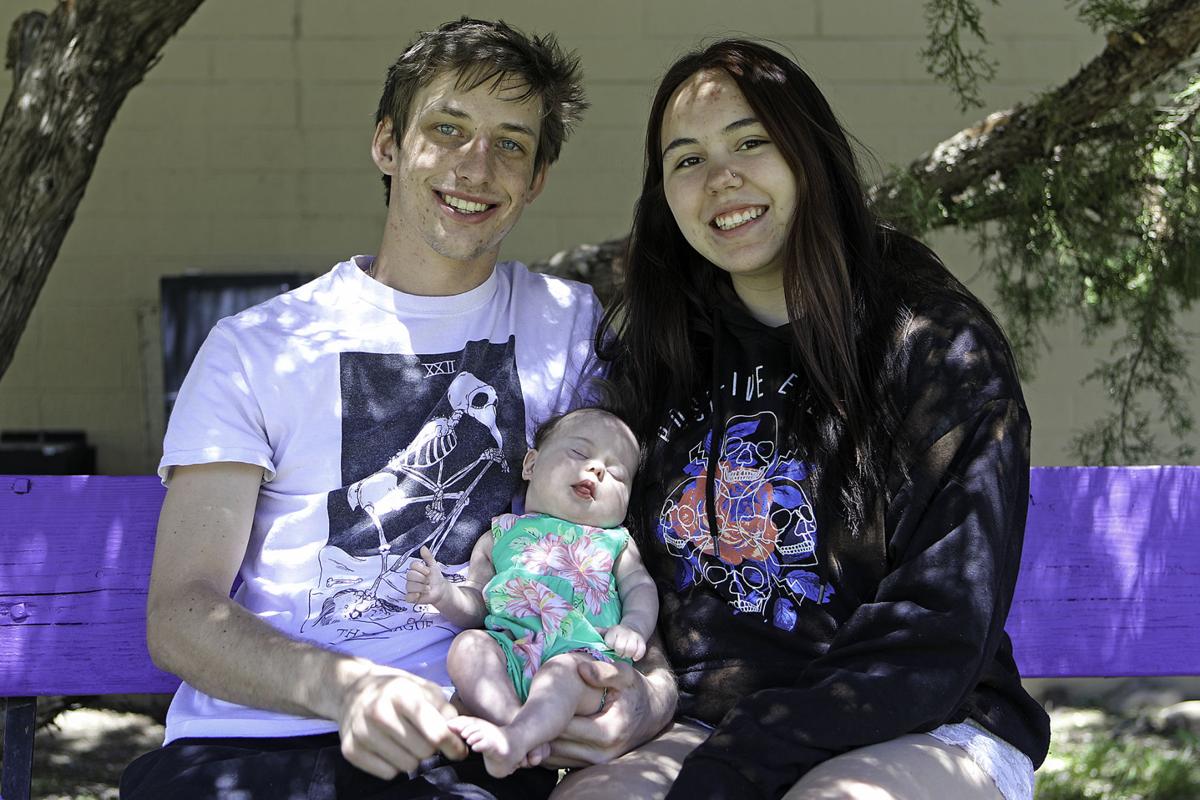 As he graduates from Summit High School this week, Garrett Hagstrom, 17, can envision every detail of his future: the company he will own, the car he will drive and the house he will build, complete with planters full of the dahlias that inspired his 3-month-old daughter's name.
"This year I've had my eyes opened to everything," Hagstrom said. "Everything is there and it's mine and I'm going to get it. That million-dollar check, that million-dollar goal, I'm going to get there, I promise you."
This teenager's fierce tenacity did not exist until recently, when it replaced his self-appointed class clown role. (The sign of a kid with both parents employed by Flagstaff Unified School District acting out, he admits now.) He attributes this transformation not to his own grit and determination, though clearly present, but to the many people in his life who have helped him succeed.
It started with his girlfriend, who convinced him to attend classes even when he lost motivation, and the teachers — districtwide, not just at Summit — who gave him their support around the clock as his life began to change.
"At the beginning, when I found out that my girlfriend and I were pregnant, it was like this long, dark tunnel that didn't have an end to it. And I was like, 'Oh, shoot. There goes all of my money for the rest of my life. I'm going to drop out and I'm not going to do anything else and just find work forever,'" Hagstrom said. "That's not how it is. I love them both; they're my favorite people on the planet."
But it was his daughter who ultimately convinced him it was time to be the role model he felt he hadn't been for his brothers.
"Fatherhood carries a lot of weight and I had no idea where to disperse that weight. I felt like I was drowning, that I was tied to this cinder block and was sinking farther and farther, and out of nowhere I've got Arnold Schwarzenegger arms and I'm swimming up," he recalled.
Now, Hagstrom has not only just endured, he feels he has had the best year of his life. While balancing school, parenthood and two part-time jobs, he has earned a diploma, a new job, and the respect of the students and teachers at Summit.
"He definitely worked hard for it. I've known him for a long time and I think his motivation has grown with having a baby," said Elexes Contreras, 17, Hagstrom's girlfriend. "He is a very loving father. He cares a lot about us."
"He's one of those kids who rock your world. This is why I wanted to be a teacher," said Michelle Cathey, a teacher within Summit's Teenage Parent Program (TAPP) and one of the many people Hagstrom has thanked for his progress. "He was your typical high school kid that was thinking about being done with high school and maybe not much more down the line, but he was like, 'I'm going to embrace being a father and my life hasn't stopped and I can pursue my dreams and our dreams as a couple along with this beautiful baby.' He is so proud and other students are asking his advice."
Following Summit's graduation ceremony Thursday, Hagstrom begins his new job at Davidson Plumbing & Heating next week to launch a career he hopes will allow him to eventually start his own business. He attributes this particular opportunity to a group of skateboarding friends who helped him realize college — though it seemed the obvious choice for after high school — would not be the right fit for him in his mission to support the family he has created and intends to stick with.
"Nothing is impossible. If you find the right people, they will help you through anything. And the right people are here," Hagstrom said of his school, "but there's people everywhere. Don't stop looking. If you find the right crowd, that crowd will just push you where you want to go."
Nowadays his dark tunnel feels more like a forest, he explained, and his message to community members is a simple one:
"What I want people to know about me and other teen parents, we're not mess-ups. We're not, just because something happened," Hagstrom said. "We're the same people as before, we just have to pick up a little more responsibility."