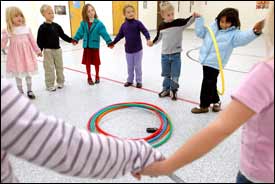 The Arizona Center for Afterschool Excellence has released the state's first set of quality standards for after-school and out-of-school programs for children.
Arizona is the 34th state in the nation to adopt a set of quality standards for out-of-school programs. 
"Whether that programming occurs in the morning, after school, on weekends, during the school breaks, over the summer, on vacation time, those children need to have constructive, productive, fun, informal learning opportunities where they can be actively engaged and enriched," said Arizona Center for Excellence Executive Director Melanie McClintock at a presentation last week to Coconino County community members.
Locally, school and city administrators expressed support for the standards and their ability to meet them.
The standards are printed in a 26-page document titled "School's Out, Make it Count." They define a "quality" out-of-school program as one that:
— provides safe and healthy environments; 
— fosters positive relationships; 
— provides intentional programming and activities; 
— promotes equity and inclusion; 
— involves family, school and community; 
— provides program management; 
— has a system for program evaluation and gathering data.
McClintock said the standards are voluntary, but are intended to apply to all public and private extracurricular youth programs in the state. 
"There is no way, as a state, we can expect our formal education system to take care of everyone's needs in addition to rigorous academic preparation," McClintock said. "Children and youth need that strong social and emotional foundation if they're to have both personal and academic success."
A LITTLE BIT OF TREPIDATION
It took more than a year for a committee of about 30 out-of-school care providers, teachers, parents, government officials, business representatives and non-profit workers to create the standards. Sylvia Johnson, Flagstaff Unified School District's director of educational enrichment, was one of the people who served on the committee.
"I did that with a little bit of trepidation," Johnson said. "One of my first comments when the whole group met was, what we didn't need is another box with all kinds of red tape and all kinds of requirements coming down from the state level that we were then going to push onto all of these programs that were already operating and say, 'Thou shalt do this.'"
In the end, Johnson, was happy with the results.
"What's so nice about this is that there are seven standards," Johnson said. "What we hope and anticipate and will encourage is that a program will take these, review them with their staff, with their stakeholders, with their parents, with the youth in the program and decide, 'What is it we're doing really well, and what is it that we'd like to work on?' They can even just pick one item and develop an action plan to work on that one item."
You have free articles remaining.
FUSD's FACTS before- and after-school programs serve between 600 and 700 elementary and middle school students every day at all 10 elementary schools in the district. FACTS Coordinator Travis Drake said he and other district officials will spend the next few weeks determining how well all the FACTS programs meet the seven standards.
"I think we stack up pretty well," Drake said. "We're looking forward to sitting down with the standards and generating goal data. We see it as an opportunity to make our programs better."
The city is also evaluating its recreation programs using the new standards. 
"I think that we meet and exceed a lot of those standards," said Crystal Warden-Gant, recreation program coordinator at the Flagstaff Recreation Center. "At the same time, I see a lot of room for improvement."
Warden-Gant said the Recreation Center has become a safe haven for the roughly 100 kids who come through its doors each day. She said the new quality standards for out-of-school programs are just another tool to help the Recreation Center staff provide the kinds of programs that will best serve the children in the community.
"What it is going to be for us is a guideline to really bring it up a notch or two," Warden-Gant said.
One organization that is less concerned with the new out-of-school quality standards is the Boys and Girls Club of Flagstaff. Program Director Randy Clark said his organization went to the initial stakeholders' meeting, but has not seen the new standards. He said the organization already adheres to strict quality standards handed down by the national Boys and Girls Club of America. The Flagstaff branch is required to use tests to measure how much its 250 young members benefit from its programs. It also has to keep the national organization informed about its operations.
"We have yearly reports that we have to send them," Clark said.
The Arizona Center for Afterschool Excellence spent last week rolling out the standards at community meetings in Phoenix, Tucson and Flagstaff. Vice Mayor and Sunnyside Neighborhood Association Executive Director Coral Evans spoke at the Flagstaff rollout meeting last Thursday. She said she is a product of the city's out-of-school-time programs.
"I learned how to tie my shoe at Cogdill Recreation Center. That was a big feat," Evans said. "I learned how to ride a bike. I learned how to play ice hockey. Believe it or not, I learned how to negotiate and compromise. I also learned how to speak."
Evans explained that she had a stutter as a child and did not talk until someone at Cogdill Recreation Center took an interest and got her into an after-school program at Northern Arizona University, where she was able to work with a speech pathologist.
Evans said out-of-school programs helped her and her family on a personal level, but they also help the city. She said out-of-school care is a public safety issue because it gives kids a safe place to stay out of trouble. She said it is a public health issues because it gives economically disadvantaged children the only chance they might have to eat dinner on a given day. She also said it is an economic development issue because it allows single parents to work two jobs or go to school without worrying who is going to watch their kids.
"I think this is not just about raising quality kids," Evans said. "To me, this is about raising quality adults because those kids are going to grow up to be quality adults."
Many out-of-school program representatives at the Flagstaff rollout meeting expressed interest in adopting the standards. The next step, said McClintock, is to spread them to more private, faith-based, tribal and home-based providers. 
McClintock's group has been distributing checklists that help parents determine whether their children's out-of-school program meets the new standards. The group is also getting ready to announce the launch of a system for tracking and publicizing which programs in Arizona comply with the standards.
The Arizona Center for Afterschool Excellence is also working on developing a rubric to evaluate out-of-school programs and creating a systematic way to deliver professional development training to providers. More information on the standards is available at www.azafterschool.org.
Be the first to know
Get local news delivered to your inbox!