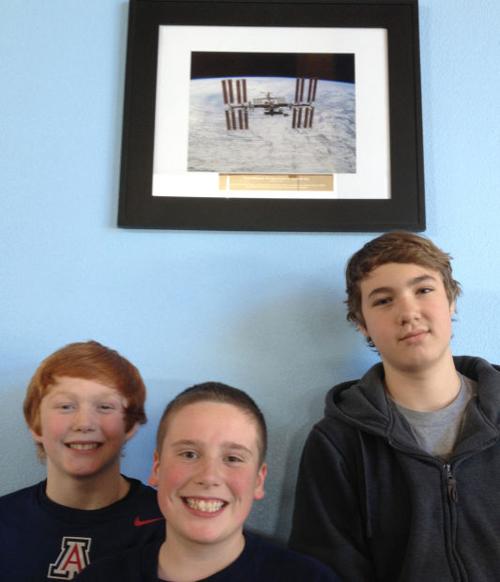 Three seventh-graders at Northland Preparatory Academy in Flagstaff have won the honor of having their experiment conducted on the International Space Station.
The selection was part of a contest carried out this semester that pitted 100 teams of students in grades 6 through 12 against each other. 
The winning project by Asa Avelar, Dylan Wachowski and Ethan Willis is titled "How does an onion root cell divide in microgravity?" It's scheduled to launch into orbit on April 14, 2014. 
The experiment will help answer questions about how food grows in space, something crucially important to future long-term space exploration. Their research, to be done in a test tube, specifically studies the cell structure and DNA in the root of an onion, searching for abnormalities and DNA breakage when exposed to microgravity.
"The reviewers are impressed with the level of sophistication of this proposal," the board of reviewers said of the seventh-grade project. "Cell replication in microgravity, which is critically dependent on DNA replication with minimal mutation, is a vitally important question in microgravity research."
After winter break, the students will start doing their testing on Earth in preparation for the launch. Then they'll have to present their research at the Smithsonian Air and Space Museum in Washington, D.C. 
The students will also get to attend the launch.
The pay-to-play project was part of the Student Spaceflight Experiments Program hosted by the National Center for Earth and Space Science Education. It was spear-headed by Kaci Heins, sixth-grade science teacher at NPA, who's had heavy involvement in past space programs.
NPA, like other schools across the country, had to pay $21,500 to secure one spot alongside many others. The high cost covers launching the test tube on a rocket alongside many other student experiments, where it is then transferred into the space station and carried out by astronauts.
Heins managed to raise half the cash from around Flagstaff thanks to the city's broad base of STEM support, but fell short $10,000 headed into the final stretch. W.L. Gore stepped up with the final amount in a STEM grant.
In an interview earlier this fall, seventh-grade general science teacher Susan Brown said the lessons students learned stretch far beyond the realm of space science. During research, the students develop critical reading skills and learn to write persuasively while preparing proposals. 
"They're not just learning the scientific method, they're learning how to write well and communicate," Brown said. "They're acting like real scientists because, in fact, one of them is going up to space." 
Be the first to know
Get local news delivered to your inbox!