According to a recent report from the National Science Foundation (NSF), the underrepresentation of women and minorities in STEM education remains a nationwide issue in America. From 1996 to 2016, only 22% of all science and engineering bachelor's degrees earned in the country were awarded to underrepresented minority men and women.
NAU has taken aim at tearing down prevailing social stigmas in the STEM community with the founding of a new research center, which takes advantage of several laboratories on campus to provide high-school, undergraduate and graduate students with access to state-of-the-art equipment.
The Center for Materials Interfaces in Research and Applications (MIRA) has no central location — it's a network of NAU faculty members with specializations in a variety of scientific fields, each of whom seek to provide Flagstaff students with extracurricular pathways into STEM education and research. Over half of the faculty members involved in the center represent women and minority groups, a quality that Chief Scientist Gabriel Montaño said is unique to MIRA.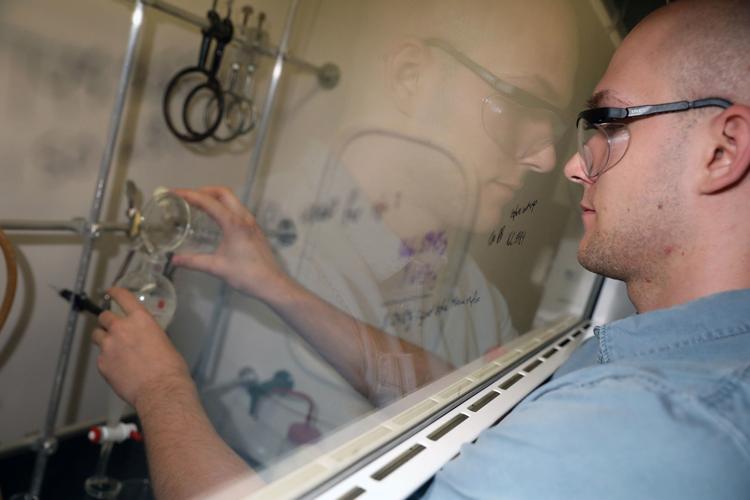 "Students want to see themselves reflected in their leaders," Montaño said. "During the school year, there are constant knocks on my door from students who want to meet me just because I'm the first Hispanic professor they've ever had. It's far too common a situation."
Mira is a Spanish word that translates to "look" in English. Montaño said his team chose this name as an expression of their dedication to diversity, and to beckon members of the STEM community to "look" and see how MIRA is pushing the boundaries of education and research.
"The nature of what the center is, even in its name, is intentional," Montaño said. "There's been a lot of thought put into what the center should be, how it should fit in with northern Arizona, and how it will bring together all that our state is and has the potential to be."
Getting women and minorities involved in STEM education does more than grant them opportunities to earn higher wages after college. MIRA faculty member Gerrick Lindberg said diverse groups of researchers are usually more efficient at problem-solving than homogeneous ones.
"It's more than just representing the overall population," Lindberg said. "When looking at a group's ability to solve a problem, if you have all white men it's not going to be as effective as it will be if you have people of many different backgrounds and perspectives … studies have shown this."
You have free articles remaining.
MIRA strives for diversity not only in terms of the demographics of its members but also in terms of its scientific pursuits. Jennifer Martinez, the director for the center, said material interfaces research draws upon all branches of science to answer questions about how materials interact with one another in everyday life.
Martinez said the study of material interfaces has numerous applications in the modern marketplace. Perhaps that is why organizations like the Department of Energy and the NSF have invested billions of dollars in materials research throughout recent years.
From cellphones to prosthetic limbs, Martinez said it is crucial for scientists and engineers to understand how the materials that comprise these devices interact with the synthetic and organic materials that surround them. For example, one group of MIRA students is currently working to develop special polymers that interact with other components within a battery to enhance its energy efficiency.
"Everything you touch and see every day of your life involves materials science," Martinez said. "There's a lot of materials science around us, and if we can understand it, we can use it to create new things."
Patrick Eckhert, a senior chemistry student at NAU, said he joined MIRA to bolster his resume and gain hands-on experience with laboratory research. Eckhert said he appreciates the freedom he's been given to explore various topics and fields of interest during the 30 hours he spends per week in MIRA labs.
"We all have leadership in our own projects," Eckhert said. "There's a lot of independence. [MIRA] has opened my eyes to a lot of different aspects of STEM that I may not have seen before."
Martinez said although the center has only recently commenced its research, the team at MIRA has big plans for its future. She hopes the center will one day receive national recognition for its discoveries and its commitment to inclusion.
"Students who are interested in getting involved can absolutely feel free to reach out to anyone of our faculty members," Martinez said. "There's a place for everybody at MIRA."