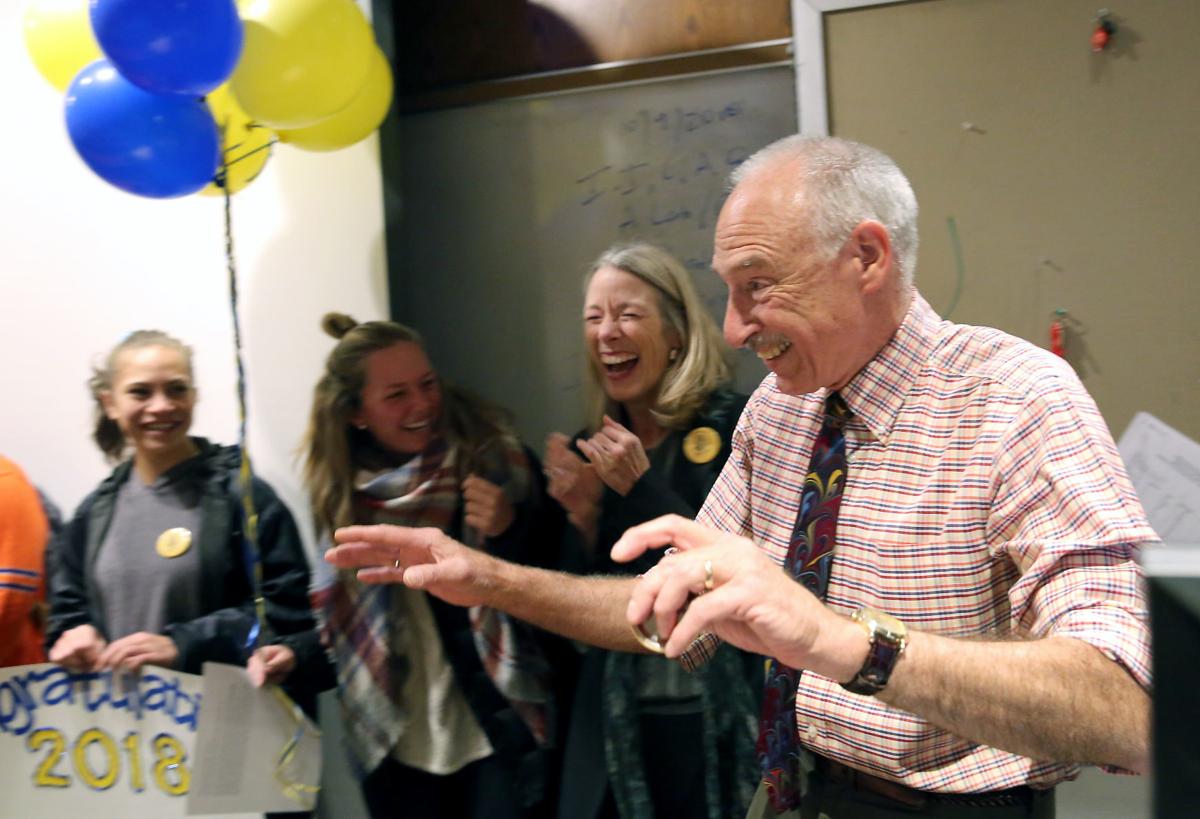 When about 15 people entered his classroom with balloons, signs and pins with his face on them to congratulate him on being the Northern Arizona University 2018 Homecoming Dedicatee, Bruce Fox was speechless.
"I was stunned," said the NAU forestry professor on Tuesday after his selection. "I had absolutely no inkling that this was going to happen ever. I certainly didn't have any specific ideas that I was being considered, and I certainly was unaware that I was selected, so stunned is an understatement."
Since beginning at NAU in 1998, Fox has held many academic and administrative leadership roles.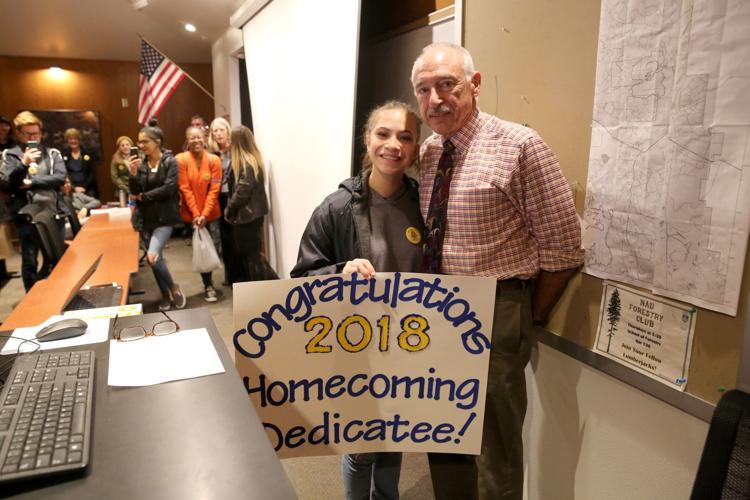 Among his contributions to the School of Forestry, including serving as chair of the school itself, Fox has been the coordinator of graduate studies, a longtime member of the Faculty Status and Curriculum Committees, and is a member of a team to develop funding for long-term studies of changes in pinon-juniper forests since Euro-American settlements.  
He also served as the director of the University Honors Program, director of the Master of Administration Program, member of the Academic Chairs Council, chair of the Liberal Studies Committee and chair of the Faculty Senate.
A 2014 recipient of the President's Faculty and Academic Professionals Award, Fox is also a consultant-evaluator with the Higher Learning Committee of the North Central, NAU's accreditation body. He was recently selected as the NAU Faculty Ombudsman, a role designed to resolve concerns that faculty may have at the lowest possible level and as informally as possible.
In their letter nominating Fox for Homecoming Dedicatee, students highlighted his authentic and engaged support for them, their projects and programs, and their organizations.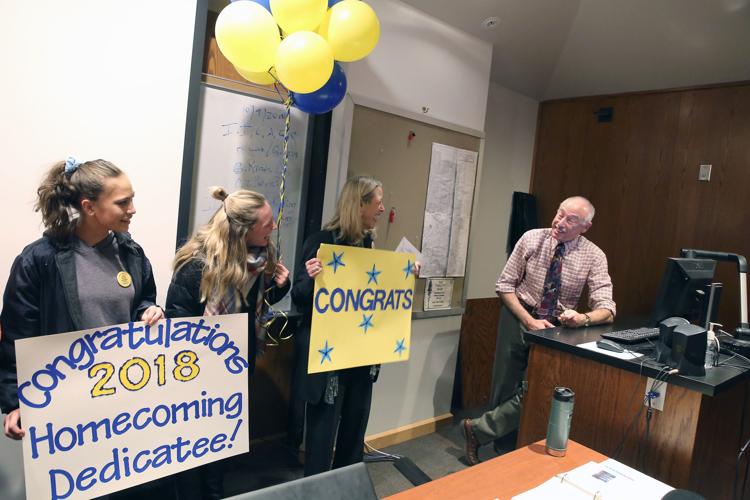 Tori O'Reilly, a hospitality and hotel management senior and the Associated Students of Northern Arizona University (ASNAU) Chief of Staff, said she nominated Fox on behalf of the student government organization.
"Bruce has been a longtime supporter of the students and is always curious about the projects ASNAU is working on," O'Reilly said during the reveal. "He took great part in the Student Regent Selection and gave great input – and helped me out a ton when I had no idea what I was doing."
She said Fox dedicates his time and energy to serving NAU each and every day, whether it be sharing his passion for forestry with his students or helping advise those involved with ASNAU.
"Something extremely unique about Bruce is that he goes out of his way to take students to lunch to celebrate their accomplishments and encourage them," she said. "In the short time I have known Bruce, he has made a huge impact on my college career, and I can't imagine the countless number of lives he has touched before me and will continue to do so after I graduate."
NAU Dean of Students Cindy Anderson said the tradition of designating a Homecoming Dedicatee goes back to 1936 when NAU cook Margaret Ann "Mother" Hanley was chosen by students, and she added that the only time a dedicatee wasn't chosen was during WWII when NAU didn't celebrate Homecoming.
"As far as I know this tradition is unique to NAU," Anderson said. "And it's such an incredible, breathtaking honor because it's the students that say, 'You represent the spirit of NAU, and we want to dedicate our homecoming to you.'"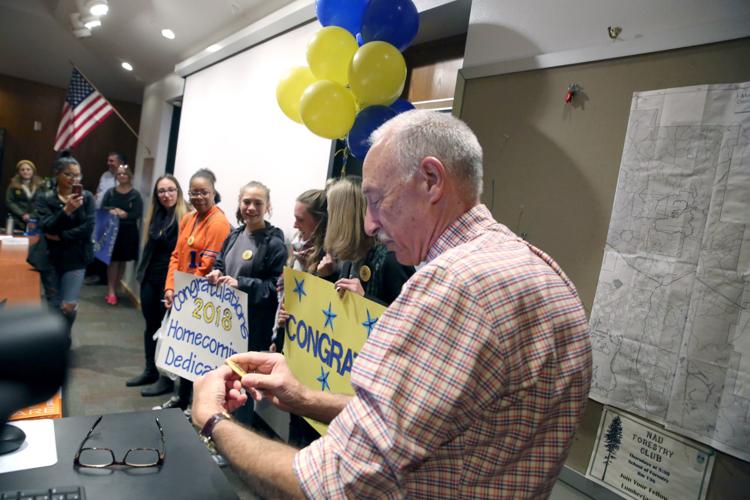 Anderson, who is the advisor for ASNAU and also sits on the Homecoming steering committee, said about 75 students representing NAU student organizations were given a list of all faculty and staff who have been at the university for more than 10 years, and their job was to whittle the list down to a handful of choices who represent the spirit of NAU.
The students got the list down to six nominees and eventually chose four, then wrote descriptions about them for a secret ballot that went to more than 400 student clubs and organizations last spring.
Those students chose Fox, and Fox said it made him feel really good.
"It's a little humbling and pretty overwhelming that so many people got to know me and think that what I do around here is valuable," Fox said.
Be the first to know
Get local news delivered to your inbox!