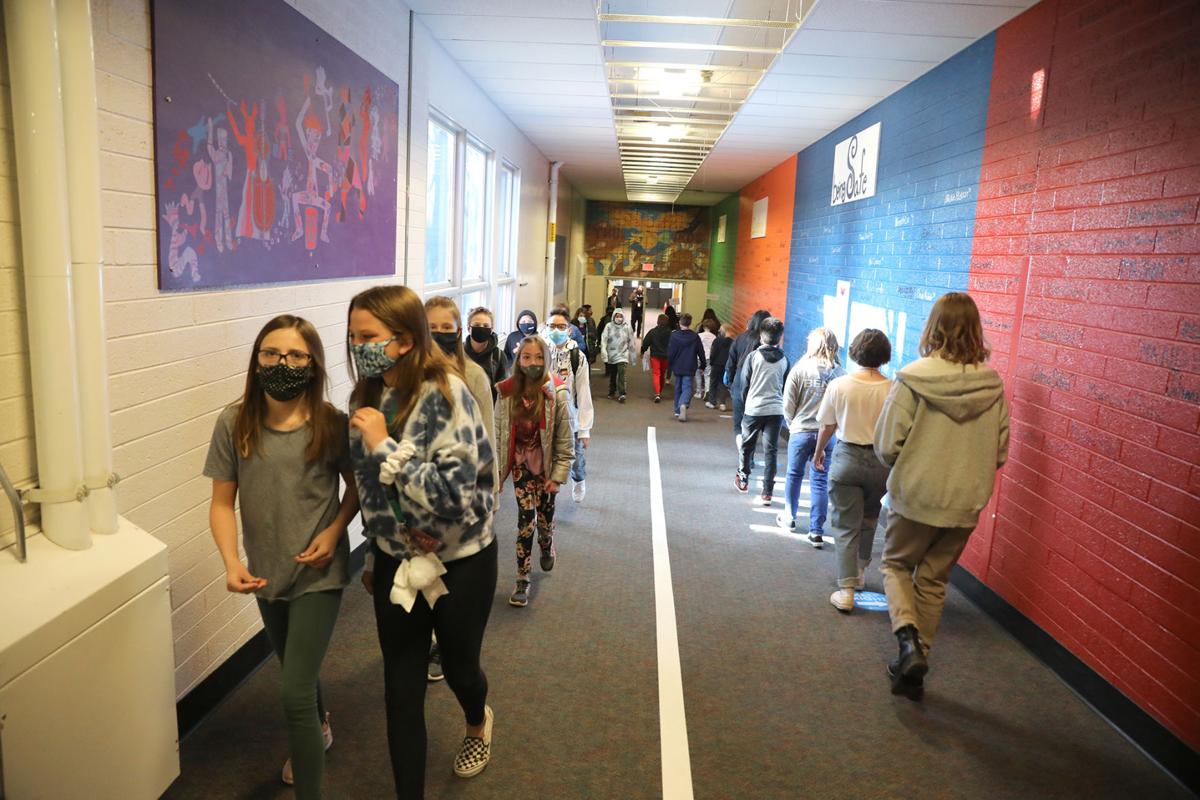 Standardized testing at FUSD will look different next year, partly due to changes in state standards and partly in returning from adjustments the district made to address remote learning.
K-5 reading and math assessments will be returned to AIMSWebPlus while middle school students will continue to use Study Island. And AzSCI, the state science test, will be administered to students in grades five, eight and 11 (during the 2020/21 school year, it was only administered as a field test).
High school assessments will be based on the ACT, with ninth grade taking the ACT Aspire, 10th taking the PreACT and 11th taking the ACT Proper. After this year, ninth-graders will likely switch to taking the Mosaic by ACT test, which is an adaptive assessment.
In its June 22 meeting, the Flagstaff Unified School District Board was presented with resul…
The biggest change in testing next year is that the AzM2, formerly called AzMERIT, will be replaced by the new AASA (Arizona's Academic Standards Assessment) for grades three through eight in the spring of 2022.
The AASA is based on new standards, said Mary K. Walton, assistant superintendent of curriculum and instruction for FUSD. She used changes to the social studies standards as an example, saying it was an area that had seen the most change. Rather than focusing on memorizing topics such as dates, people and events, the new standards focus more on critical thinking and application.
"It's deeper thought about the effects of historical events and how it happens and affects our lives," she said. "So if you get a hold of those standards and compare them, it's exciting."
Robert Hagstrom, FUSD's director of research, assessment and data, said the district had not received much information about the test and would not be able to prepare as thoroughly as they would like. He said FUSD would likely receive that information sometime during the fall semester, meaning it would be hard to make many specific preparations over the summer.
"The challenging part in terms of just the assessment is we don't have any resources [yet]...because the state has yet to put them out," he said.
He said Arizona usually publishes a blueprint for its assessments -- which tells what percentage of the test focuses on each standard. The Arizona Department of Education (ADE) website currently has "coming this fall" listed for AASA sample tests, blueprints and classroom resources.
Hagstrom said FUSD has been using the new state standards for some time. Not knowing the extent to which each standard is represented on the assessment, however, means FUSD won't be able to modify teaching accordingly. Hagstrom said the district wouldn't change an entire curriculum based on this information -- FUSD still teaches all standards regardless -- but that they might need to shift in terms of timing.
Another potential problem with having so little knowledge of the test is in the format. Hagstrom said part of preparation is getting students acclimated to the specific environment in which a test takes place, in this case a particular online system.
"It's not just the paper and pencil," he said. "... You have to know where to click ... how to zoom in on things, where are all the different tools in that system. We've typically had our students go in and practice so they are familiar with that testing environment ahead of time, so that's not one of those extraneous variables reducing the student performance on a test."
These problems are only for this year, Hagstrom said, as once FUSD has more information about the test, they will be able to better prepare going forward, and will have a point of comparison.
"Next year, this will be a different story because we already have the blueprints," he said. "We'll have taken the test and we'll have baseline data and we can do our own analysis and then really dive deeper. ...That's something that we do every year, is trying to find where we need to step it up or make some subtle changes."
Again, he said, the district needs time to make those changes, and even to analyze data from the tests, because it takes a while for data to come in, especially for the state assessments. Because next year will be the first time experiencing the AASA, he said, it's hard to predict how well the district will do.
"You can't do data analysis until you have data," Hagstrom said. "That seems like a no-brainer, but we can't evaluate how well we're going to do on an assessment until we've taken that assessment,"
There have been a number of changes to state standards and testing over the past five years, Walton said, making it difficult for FUSD to measure progress.
Needs before needs
"The whole idea of that analysis is over time," she said, "... but one test hasn't been the same as another. We haven't had a consistent year after year exam that we can compare growth over time."
Hagstrom said it wasn't really possible to compare tests done using different standards. Even if both results come in using, for example, a percentage of students labelled proficient, the measurement each test is using to determine proficiency could be quite different.
"We're not asking for [students] to do the same thing as we did in the previous year," he said.
This is why FUSD has been relying more on internal assessments.
FUSD does have its own internal standards (mainly AIMSWebPlus) -- which, since it is not changing, will give a more consistent point of comparison.
Hagstrom said those benchmark assessments will start in August, so "we can begin forming intervention groups literally in week two." Since the district has been using these metrics and interventions, it will be able to implement them much more efficiently.
"Our instructional specialists at schools know how to use the data," he said. "They know how to create those intervention groups and they know how to run the interventions, and so we can begin trying to build students up right away. That feels good, that we're not trying to learn something new when we really have to help these students out quickly."
"A bad score is not a bad thing" said Walton, in reference to the 2020/21 test results. "That tells you what you need to be doing."
She said all school sites in the district create a comprehensive needs assessment based on their scores, using them to develop individual action plans.
Interventions at FUSD take the form of a menu of tools and products used by teachers and intervention specialists. The menu is divided by grade level and subject, with about half a dozen items for each, according to Hagstrom. Instructional specialists for the district review the interventions each year, to make sure they are effective, meeting both student needs and federal guidelines.
These tools are used during the school day, in what FUSD calls a multi-tiered system of support. Students identified as needing additional support have a roughly half-hour period dedicated to "that particular intervention that is specific to their needs," Walton said. She noted middle school programs like T-Bird Time at Mount Elden (MEMS) and Pathways at Sinagua.
Many of FUSD's summer programs can also function as a form of intervention, though with a slightly different approach, because "you want summer school to be fun for kids," Walton said.
For students going into first through fourth grade, the Super Summer Enrichment program focuses on hands-on ELA and math. Middle and high school programs for the district are more academic, concentrating on credit recovery.
The district offered its summer school programs for free this year using federal ESSER funding connected to the national COVID-19 relief bills. Walton said "way more" high school students participated  this year (almost 300, which Walton said is a roughly 40-50% increase), both because it was free and in order to make up credits.
Walton said academics is just one piece of the pandemic's effects on the district. She said the social-emotional effects were also important, wondering how people who are kids now might look back on this time decades in the future.
"There was a lot of time for self-reflection on this," she said, "and I hope that doesn't go away anytime soon because there is a lot to be gained. ...There are so many factors to be considering here -- not just the academics, but social-emotional and how we are as a whole society now."