The fifth year of the Flagstaff Unified School District's Suddenlink-sponsored Teacher Supply Drive continued to show the community's spirit of giving.
Before the drive, teachers were spending their own money on supplies for students whose families couldn't afford them, said Flagstaff Unified School District Spokesperson Karin Eberhard.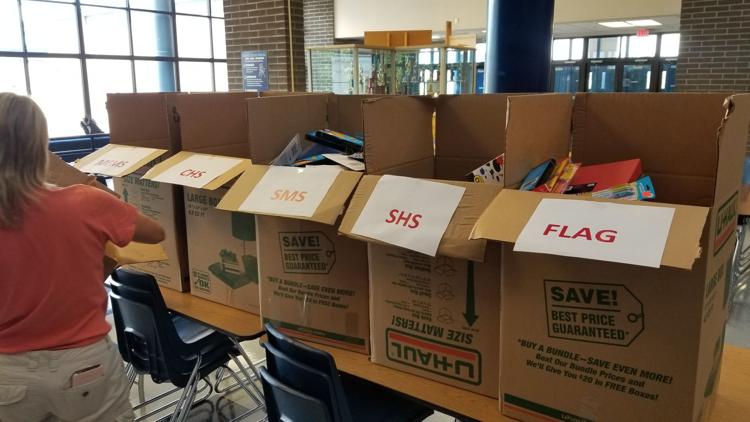 All 15 schools in the district received an 18-by-18-by-24-inch cardboard box overflowing with items including pens, pencils, copy paper, glue sticks and more.
"At this point, if a teachers see kids who don't have supplies, they can go right into the closet and get whatever they need for these kids," Eberhard said.
FUSD received between $5,000 and $7,000 in school supplies from the Teacher Supply Drive at Flagstaff's two Walmart locations. The district also received about $3,000 in funds from the hot dog sale during the drive and a Hallmark Channel Sponsorship.
The money, Eberhard said, will go toward the purchase of items the schools still need like pallets of paper, Expo markers for dry erase boards and composition notebooks.
It will also buy supplies that are a little unconventional.
"Like patty paper," Eberhard said. "The little square pieces of waxy paper that go between hamburger patties."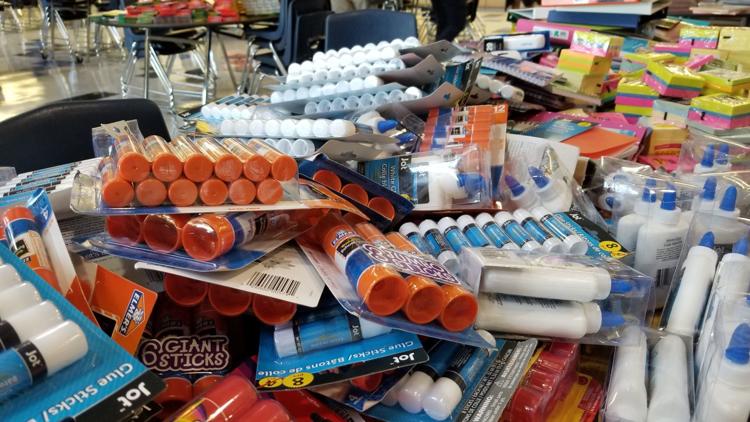 A few years ago, Eberhard was approached by the FUSD math coordinator, who said she needed patty paper.
You have free articles remaining.
Register for more free articles
Stay logged in to skip the surveys
"It's the perfect size and thickness for the math teachers when it comes to teaching geometry," she said. "And we would never expect to get this item donated, so we're able to go buy them with the funds from the drive."
Eberhard said the school district will also receive items from Target once its school supplies sale is over. When they clear off the shelves, the store will donate all materials to FUSD that can't be returned.
Recently, Eberhard said a woman who quilts called her and asked if the school had any need for fabric. She was moving and had five trash bags full that she no longer needed.
"The fashion design teacher came and got all of it, and it's all being used," she said.
Before the start of the year, the Flagstaff Rotary Club donated 2,200 Rock Candy wireless mice to the district for yearly testing, which is now done on computers. Each mouse is valued in the $20 range.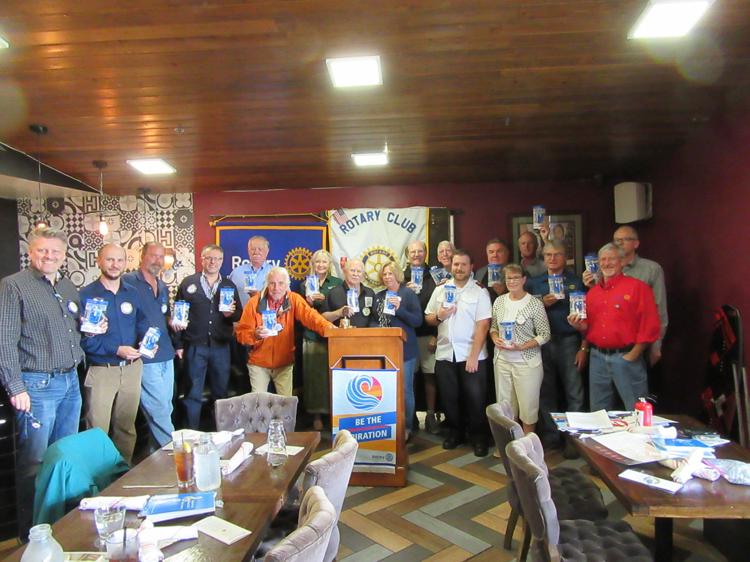 "The mice were donated to them, and they passed them on to us," Eberhard said. "They're blue and pink and purple, and they light up. They've been delivered to all of the schools already and are being used by the children."
The leftover mice are being donated to other schools throughout the county, and Eberhard said club members were excited to hear that.
While a lot of supplies are donated in the fall, Eberhard said FUSD receives donations throughout the year, and the district is known to receive anywhere between $10,000 and $25,000 in donations per year.
"We are getting supplies every day, and we are so grateful to our sponsors," she said of those who have donated.