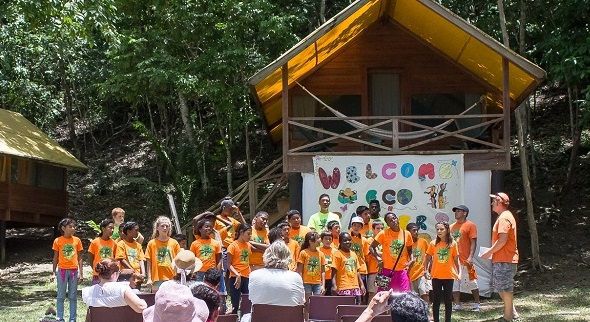 A Flagstaff High School freshman decided to forgo his summer of catching up on sleep and setting high scores on video games to travel to Belize to work as a camp counselor for a biodiversity camp.
Blake Acheson, 14, worked as a junior counselor at Chaa Creek Eco Camp in Belize, aiming to educate local children about conservation and biodiversity.
"During the camp we went to see Mayan ruins, sustainable farming techniques and talked about reducing, reusing and recycling," Acheson said.
The camp hosts 24 Belizean children, ages 8 to 13, for one week, according to the camp's website. Acheson, who arrived in Belize in early June, said organizers spent the weeks before camp preparing the crafts and activities for campers.
"We made a water bottle holder from an old water bottle, made a bag from newspapers and made a wallet from a milk carton," Acheson said.
Acheson said the trip was his first time out of the country, and overcoming some homesickness was the hardest part of being away.
"It was tough for us because we are a very tight-knit family," Acheson's mother, Joanna, said.
In addition to recycling and conservation, campers learned about traditional healing methods used in the country and how to make home remedies like natural teas, Acheson said.
The campers were selected through an application process that involved writing a 300-word essay, in English, about why they wanted to be in Eco Camp, according to the camp website. Campers received scholarships to support their participation.
Despite the fact that the campers were Belizean, most of the camp was conducted in English, Acheson, who does not speak Spanish, said.
Acheson said his favorite part of the camp was getting to know other counselors and the kids involved, some of whom were only a year or two younger than he is.
"It's hard being a leader because you have to be able to get everyone's attention," he said.
Acheson's cousin, Levi, is the director of the camp, and was the one to invite Acheson to be a counselor.
"Levi told us that this year was more difficult than usual because electronics are more popular," Joanna Acheson said. "All of the kids have cell phones and want to be on social media and playing games, instead of really being absorbed in the camp."
Acheson, wearing his neon yellow camp counselor shirt, said he noticed cell phones as a problem, but for the most part, felt like he and the campers learned valuable lessons about conservation.
"I am going to practice the three R's -- reduce, reuse, recycle -- more in my life at home," Acheson said. He said he hoped to incorporate conservation more into his daily life.
While Acheson said spending the whole summer away from home was hard, he would like to be a camp counselor there again.
"I want to travel the world when I get older, so I thought this would be a good way to start," Acheson said.