The State of Arizona released 2018 letter grades for Arizona public schools earlier this month, and five Flagstaff Unified School District schools improved by at least one letter grade.
Leupp Public School moved up from a D to a C, Cromer Elementary School and Knoles Elementary School both improved from a C to a B, Sechrist Elementary went from a B to an A, and Kinsey Elementary –with the biggest increase – moved up from a D to a B.
Eleven of the 14 evaluated schools showed growth in points earned, and the average growth across all schools was 5.31 percentage points.
DeMiguel Elementary School and Flagstaff High School both kept their Bs; Marshall Elementary School, Thomas Elementary School, Mount Elden Middle School, Sinagua Middle School and Coconino High School kept their Cs; and Puente de Hozho Elementary kept its D, but the district will be appealing its score.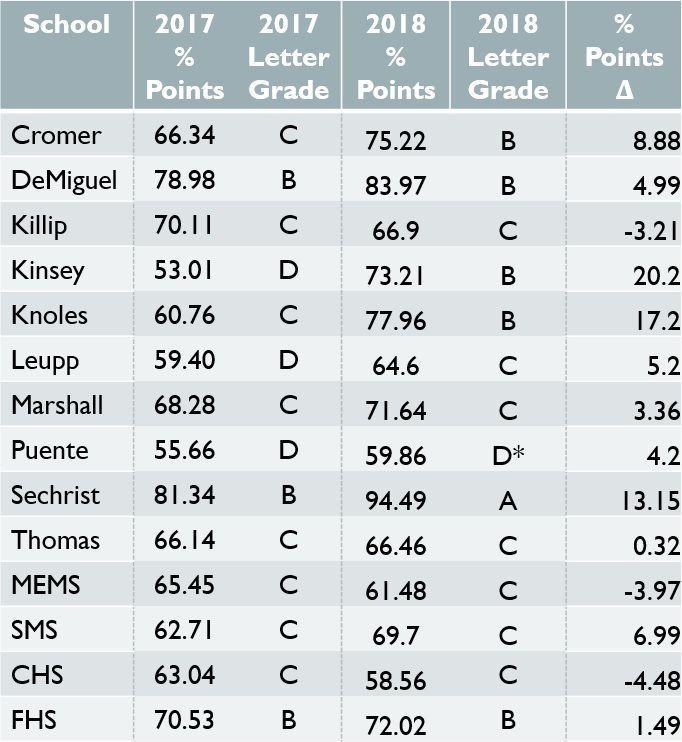 While Killip, Mount Elden and Coconino received the same letter grades they did last year, their percentage points all went down.
"There are definitely things to celebrate," said Flagstaff Unified School District Superintendent Mike Penca of the 2018 scores. "But we're not content. We see no reason that all of our schools can't be A and B schools."
WHAT WORKED
When asked what the schools did to improve their scores, Penca said the  faculty and staff looked at things they could control, dug in and made investments in their teaching.
One of the biggest contributors to the bumps in letter grades were the intervention measures.
Robert Hagstrom, Flagstaff Unified School District director of research and assessment, said there are several tiers of intervention.
Tier one intervention is the first step: universal instruction in which the class all learns the same material. Tier two, in which a lesson is taught to a smaller group of students, is for students who are not quite understanding the concept the first or second time around. Tier three is a more intensive one-on-one measure for students who need individual help with concepts.
Penca said the schools were very focused on tier one intervention last year, determining how to create the best instruction for the most students possible in an attempt to lower the number of students needing tier two and three intervention.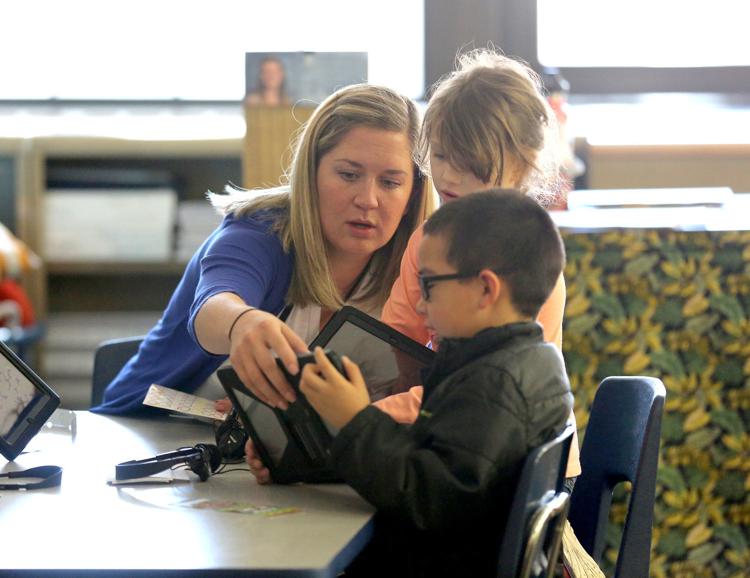 Kinsey Elementary School Principal Tammy Nelson said she attributes her school's two-grade increase to being relentless in making sure her school is creating readers, writers and mathematicians, and by implementing programs like the Walk to Read intervention.
Walk to Read has about three to six students in each group, and every teacher – from classrooms, specials such as PE and art, even the librarian – works with these groups.
If students are already reading at their grade level, they are put into groups that will take them to the next level up. If students are not at their grade level, they are split into groups that target their areas of difficulty, which include fluency, comprehension and phonemic awareness.
If a Walk to Read group teacher is out, Nelson said someone else in the building -- herself, a counselor or her secretary, who is certified as a substitute -- will step in and teach it so the students have no interruption in their schedule.
NEW TEST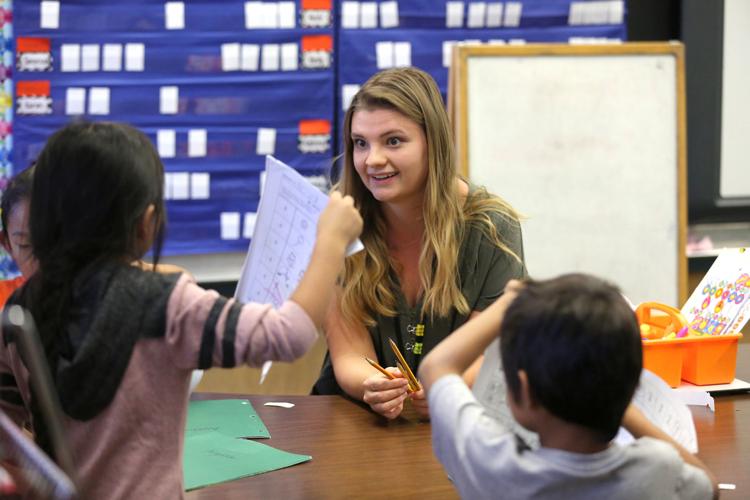 This is the second year for letter grades based on AzMERIT testing. 
The switch from the Arizona's Instrument to Measure Standards test to the Arizona's Measurement of Educational Readiness to Inform Teaching test in 2014 prevented schools from receiving letter grades for a few years.
Hagstrom said grades weren't released the first years after implementation because the test was so new and there was not enough data collection.
The grades are based on several factors. For kindergarten through eighth grade, letter grades are made up of: 50 percent student growth, 30 percent student proficiency, 10 percent English language learners' growth and proficiency, and 10 percent acceleration and readiness measures. For grades nine through 12, the letter grades are made up of: 30 percent student proficiency, 20 percent student growth, 20 percent college and career readiness measures, 20 percent graduation rate, and 10 percent English language learners' growth and proficiency. 
The first letter grades from AzMERIT testing came out last fall, and they were met with blowback from districts around the state, Hagstrom said, adding that a lot of districts -- including FUSD -- filed appeals.
Both Sinagua Middle School and Flagstaff High School appealed their 2017 grades, which were a D and a C respectively, and they were bumped up to a C and a B.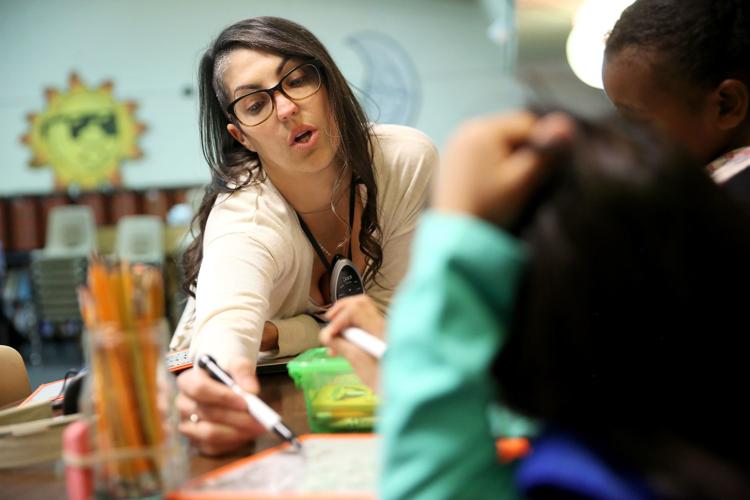 This year, Puente de Hozho will be appealing its D. At 59.86, the school is only .24 away from a C. During last spring's testing, Puente's third-grade students experienced significant technological issues with its English Language test when the computers continually disconnected from the servers, Hagstrom said.
"Fifty third-grade students experienced 500 logoffs during the testing," he said. "The kids just continued to struggle with logging in and logging out."
Puente de Hozho will be going before the state to appeal the grade in December, and both Penca and Hagstrom say it has a pretty good shot of being bumped up to a C.