On Thursday, about 10,000 students in Flagstaff went to their first day of school for the 2018-19 school year.
It was the opening day for 13 of 15 Flagstaff Unified School District schools, with the exception of modified year-round schools Killip Elementary and Leupp Public School.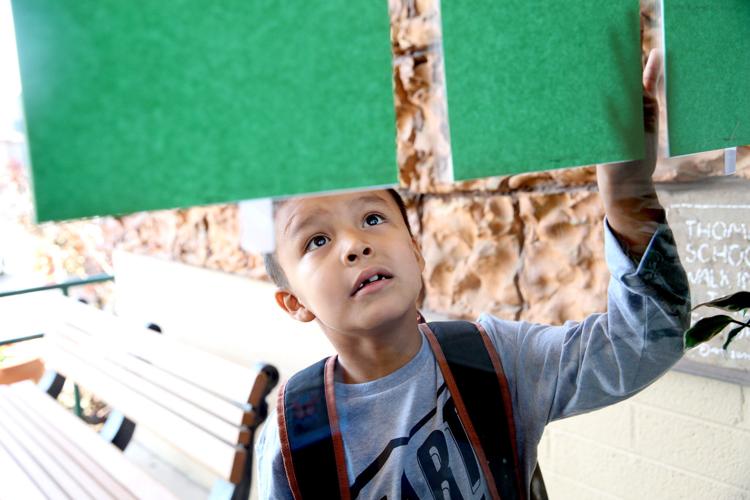 FUSD Spokesperson Karin Eberhard visited the schools throughout the day, and she said things ran smoothly. Eberhard said it was impressive to see the kids in their seats and working within 10 minutes after the bell rang.
"The teachers are really excited to welcome them back," she said. "And we are really excited to have a great and productive school year."
When Cromer Elementary School students returned from summer break Thursday morning, they were greeted with friendly faces.
Principal Traci Elam-Gordon welcomed each student individually by name, and Summit Fire Department members were there passing out pencils to everyone who walked by.
Walking up with his mom and friends, Levi Woodruff, 5, was on his way to start kindergarten.
Levi said he was excited to be going to school and was most looking forward to time on the playground and learning about planets, adding that he loves the sun.
His mom, Krystina Woodruff, wasn't so excited.
"I'm a little sad," she said of her son going into his first official year of school, adding that she was excited for her other son, who started sixth grade at Sinagua Middle School that day.
Levi then met up with fellow kindergartner and best friend Teagan Minter, 5, to take a picture underneath letters on the wall in the front of the school that read "Sturgeon Cromer Elementary School." While they stood next to each other with her arm on his shoulders, their moms snapped pictures on their iPhones and talked about their future plans.
"They've been best friends since birth," said Teagan's mom, Amy Minter. "They're going to get married. She already puts his shoes on for him."
Walking up on the other side of the school was Suger Quinones, 10, who is starting fifth grade.
Suger said she had a great summer but she's really happy to be back at school.
"My favorite subject is science," she said. "But I like everything about school."
Over at Sinagua Middle School, it started to rain as hundreds of students streamed out of the building after the final 2:20 p.m. bell.
Shonto Chischilly started sixth grade on Thursday, and gave his first day two thumbs up.
For elementary school, Shonto went Punto de Hózhó Elementary, a Flagstaff bilingual magnet school, where he studied Navajo. He said he was really excited to learn that Sinagua has a Navajo language class, and he's looking forward to taking it.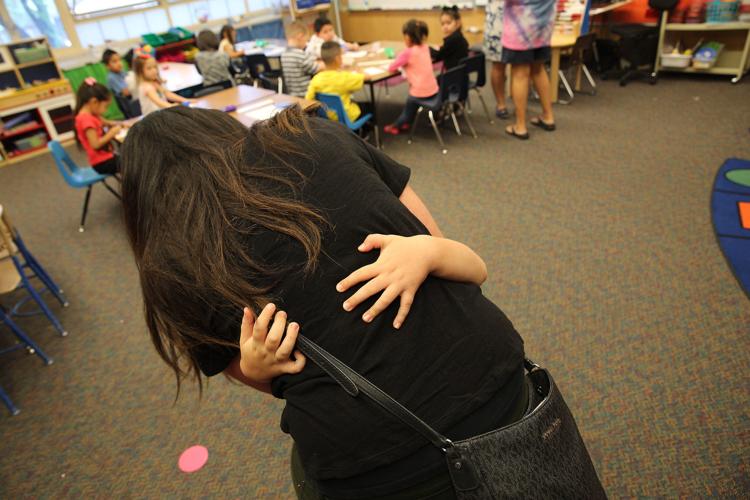 When asked if he was nervous about starting sixth grade, Shonto nodded his head.
"Were you nervous?" he asked. "If you were, you know how it is."
Shonto said he was a little intimidated last year when he visited Sinagua because of the building's size and the amount of students. With more than 400 sixth-graders at his school, he was a little worried before showing up Tuesday morning, but said everyone was really nice to him on his first day.
For a video of the students and teachers on their first day of school, go to the Flagstaff Unified School District Facebook page.
Be the first to know
Get local news delivered to your inbox!