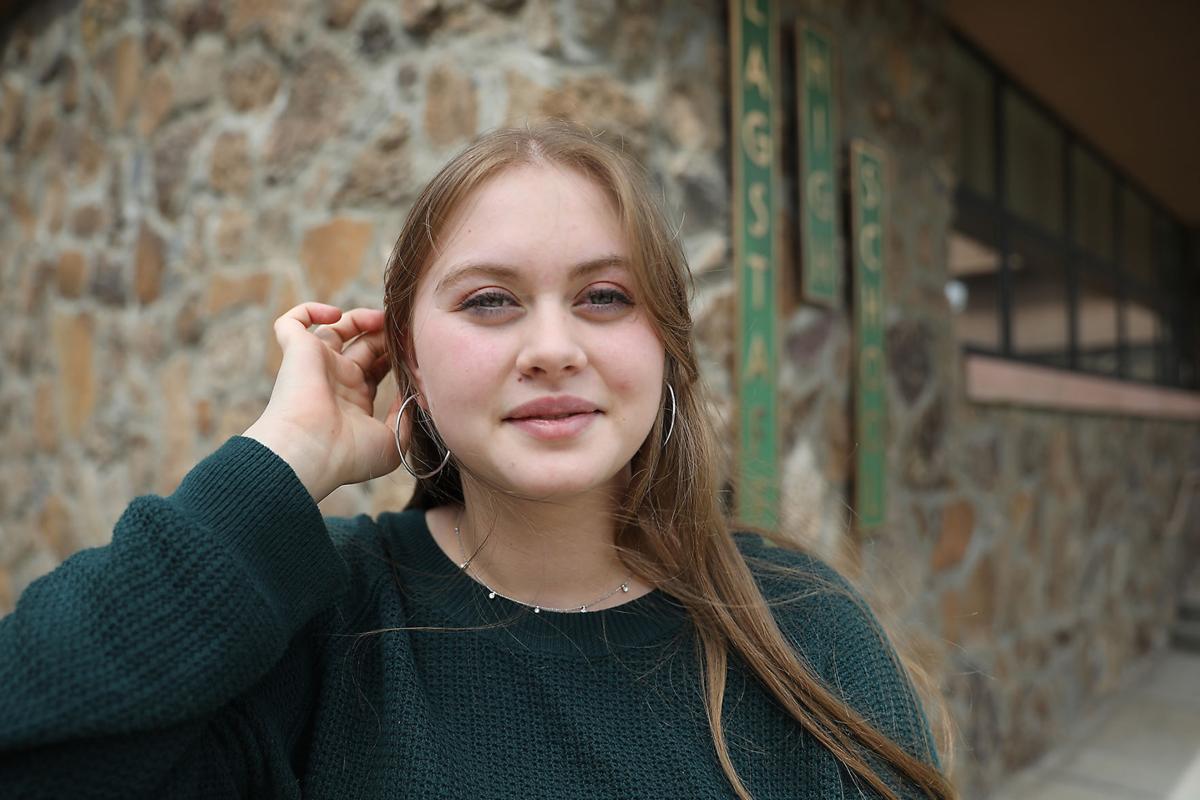 Like an athlete's agility exercises or a musician's scales, Flagstaff High School culinary student Logan Smithson spent much of her high school career running drills of recipes.
Standing cucumber salad. French omelet. Tourne potatoes.
Over and over again — for three years — Smithson, 18, practiced recreating the delicate knife cuts, meticulous plating and unique flavors of these three dishes with hopes of snagging a college scholarship through the Careers Through Culinary Arts Program (C-CAP), which hosts annual competitions for statewide culinary students.
As an added challenge, Smithson did almost all her competition preparation from home, where she participated in remote learning even after many of her classmates returned to campus to complete their senior year. But despite the missing social aspect of in-person school, Smithson said she thrived in this setting both in academics and her culinary work.
"It was nice because I had the chance to take my own responsibility, so I really had to focus on myself and have the responsibility to get ingredients and practice online. I would section off my little area of the kitchen, just set my timer, and go at it," she said.
As a result, when the C-CAP competition resumed this spring (an in-person event using new COVID-19 protocols), Smithson was named a senior finalist and received a $90,000, full-ride scholarship to Paul Smith's College in upstate New York, where she will study Hotel, Restaurant and Tourism Management after graduating from high school yesterday.
Patti Pastor, culinary arts teacher at Flagstaff High School, said four students were set to compete at the start of the year, but only Smithson saw the process to completion.
"She is tenacious and she is super chill," Pastor said. "When you do competition, I've had kids that are stress-mongers and in some ways that served them well, but some kids, it just shut them down, so the ability for her to kind of roll with it really helped her."
Smithson's success in the competition was based on her holistic culinary skills — including her preparation techniques, the taste of her French omelet, and the appearance of the three recipes she had practiced so persistently — as well as an essay and interviews with program judges.
One year after a procession of decorated cars traveled down Fourth Street to honor graduates…
Pastor said the founder of the organization even shared an image of Smithson's tourne potatoes from the competition on his social media page, praising her skills.
"When other kids were dropping like flies, Logan stood and said, 'I'm know that I'm a C-CAP kid and I'm going to go through the whole process,'" Pastor said. "She made a name for herself in her quiet little way. She's not a showy kid. She has a poised, quiet confidence about her."
Smithson was introduced to the high school culinary arts program by her elder sister, Courtney, who similarly competed in C-CAP and received a scholarship that led to a job in a five-star hotel. But while Courtney took the culinary arts route, Logan has found an interest in the industry's management side. Her dream job, she said, would be in tourism management, allowing her to work at hotels or restaurants throughout the country or world.
"I wanted to be set up like [Courtney] did and not have to worry about money and just be able to choose what I want to do through my hard work," said Smithson, who was also recognized by C-CAP last year as a Top 10 Junior. "I was so driven, I wanted to win something, and so during my senior year I just kept practicing and practicing, even though we didn't know if we were going to have a competition. I just hoped that we would."
Throughout her time in the school culinary program, Smithson said, she most enjoyed the creativity involved with plating dishes -- which allowed her to experiment with the dimensions and appearance of the numerous dishes prepared in class.
She is looking forward to the same type of experimentation in her upcoming university and career experiences outside of Flagstaff, where she has lived throughout her life.
"I am trying a different thing. I'm not just going to NAU or just some school in Arizona. I'm going further away," Smithson said. "Even though I'm getting way out of my comfort zone — a couple hundred miles out of my comfort zone — I think it will be a learning experience. I'm willing to experiment with what I've been given."