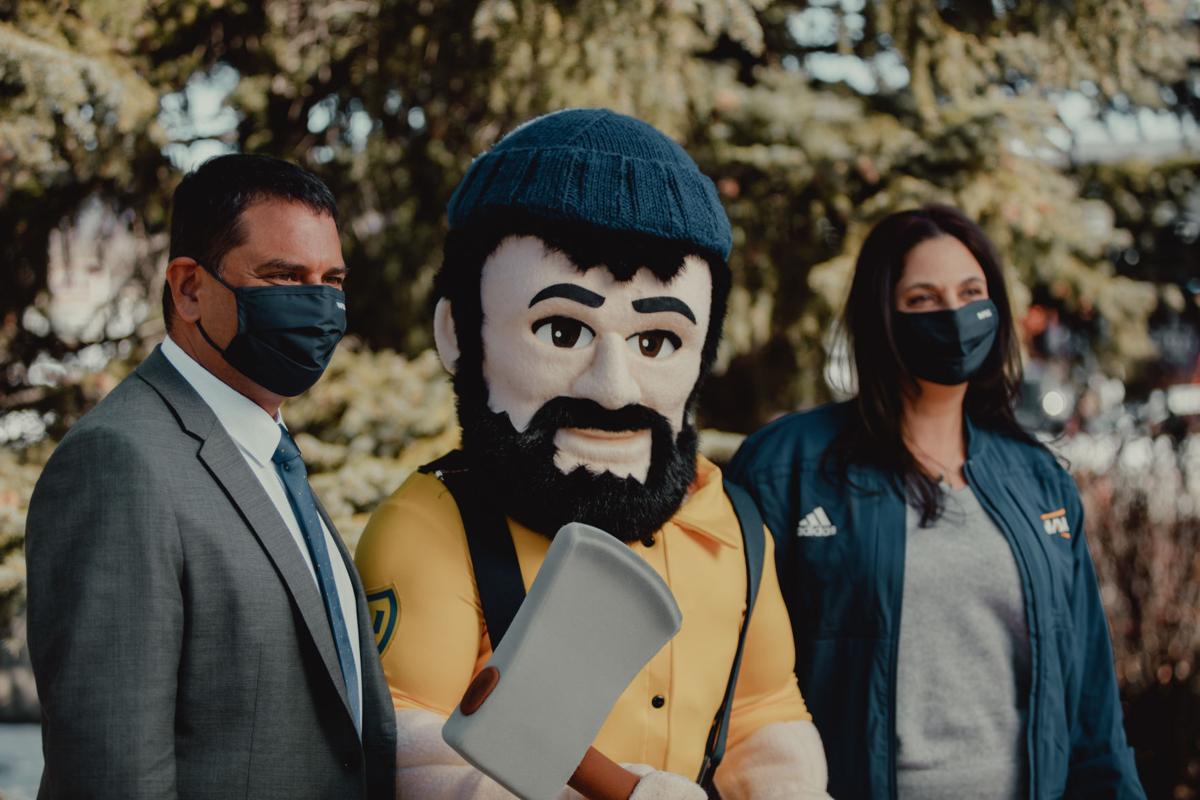 José Luis Cruz was appointed as Northern Arizona University's 17th president on Wednesday, effective beginning June 14.
The Arizona Board of Regents took action to approve both an appointment and employment contract terms during a special session Wednesday evening, unanimously approving the decision.
Cruz will receive an annual base pay of $515,000 over a three year contract. The new president also receives an annual housing allowance of $70,000 and an annual car allowance of $10,000. Employee benefits and travel reimbursements are comparable to that of other NAU employees.
In comparison, the board approved current NAU president Rita Cheng's first raise in 2018, increasing her annual salary from $390,000 to $475,000, and extended her contract to expire on June 30, 2022.
Cruz replaces current NAU president Rita Cheng, who announced in September that she would not seek an extension of her contract expiring in 2022. After an extensive nationwide search, ABOR announced Cruz as the finalist for the position last month.
"We welcome you to Arizona, we welcome you to Northern Arizona University. All of us on this board are extremely excited to have you join us here. We are really appreciative that you've made the decision to join us here in Arizona," Penley said.
Following his appointment, Cruz addressed the regents in the virtual special meeting from his empty apartment in New York City, and said he is already in the process of moving to Flagstaff with his wife and youngest child, who is 15 years old.
"I want to start off by expressing my sincere appreciation for the Arizona Board of Regents for the care, rigor and inclusiveness they brought to the process of selecting the 17th president of Northern Arizona University," Cruz said. "For providing me an honest and clear understanding of the vibrancy and vitality of the institution as it aspires to be."
The incoming president also thanked the students, faculty, staff and alumni who actively took part in the presidential search. Cruz added that he appreciated the thoughtful questions and counsel that will direct his leadership to best serve the university.
Cruz stated his commitment to "hitting the ground learning" as he visited the campus a few weeks ago. As such, the 17th president said he will share presidential transition plans with external and internal stakeholders early Thursday.
"I ask them all to join me in charting the path and blazing the trail to the bold future that awaits us," Cruz said.
Cruz said he is in the process of scheduling a series of campus visits during which he plans to hold open office hours and engage in meetings with the community. Beginning later this month and lasting until his start date, Cruz will host "virtual town halls" to discuss the transition.
"I hope you can tell that I am eager to start honoring the confidence and support that have been provided to me," Cruz said.
Cheng will also assist in the transition, along with other leaders at the university such as the faculty senate. Cruz said Cheng has been "incredibly gracious" as the transition has taken its next steps. He added that a soon-to-be-announced presidential transition commission will assist the process over the first six months of his presidency.
"NAU welcomes Dr. Cruz to the Lumberjack family. I am very proud of the accomplishments that have taken place over the past seven years at NAU, and to be able to hand over such a strong and vibrant university to Dr. Cruz," Cheng said in a statement. "We have already started to work collaboratively and will continue to do so throughout this transition. I wish him much success in the future."
Cruz holds bachelor's, master's and doctoral degrees in electrical engineering. He began his career as a faculty member in engineering at the University of Puerto Rico, Mayagüez, before eventually becoming chair of the Electrical and Computer Engineering Department and dean of Academic Affairs.
According to his curriculum vitae, he has since had leadership roles at various universities and educational groups, including provost of California State University, Fullerton, and vice president of higher education policy and practice at The Education Trust in Washington, D.C.
Cruz said he decided to leave his most recent position as provost at the City University of New York in favor of NAU because he wants to return to a more community-integrated university.
Cruz told the Arizona Daily Sun the future of NAU is intertwined with that of Flagstaff.
"It's one topic of conversation, and to be successful in building structures and routines will require engagement with the community," Cruz said. "I think that we will be able to ensure that that balance actually materializes and helps shape the trajectory both of the Flagstaff community and all of these groups."
Updated at 11:37 a.m. on March 11 with additional information.