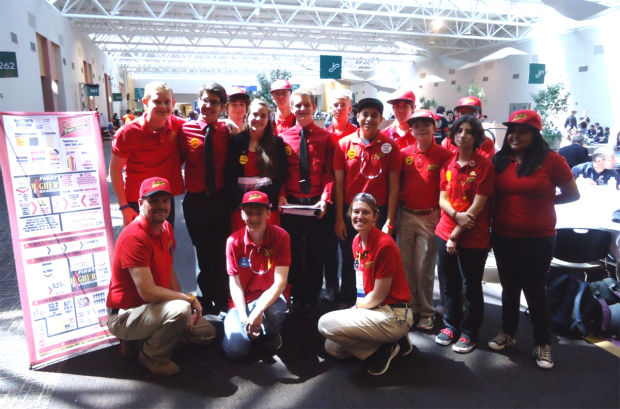 The CocoNuts FIRST Robotics Team of Coconino High School had a strong showing at the FIRST World Championship April 23 to 26 in St. Louis.
The CocoNuts finished their qualifying rounds with a record of eight wins and two losses, ranking them 11th out of 100 teams in the Newton Division, one of four fields of 100 teams each being played at the championship. They made it to the division elimination tournament at the World Championship for the first time ever but lost both matches in the quarterfinals.
CocoNuts senior Kinney Anderson was named one of only 10 FIRST Dean's List Winners, a group of students considered FIRST superstars who emulate the values of FIRST. Anderson received an extensive prize package that includes new tablets, round-trip airfare to anywhere in the nation and free admission to Universal Studios in Orlando, Fla. She will also receive an all-expenses-paid trip to FIRST Headquarters in Manchester, N.H., to meet with FIRST officials at the FIRST Dean's List Summit
You have free articles remaining.
The CocoNuts also competed against more than 60 teams for the highest honor in FIRST, the Chairman's Award. Although the CocoNuts were not the Chairman's Award winner, the team is proud of its efforts and presentation. 
The CocoNuts would like to thank all the businesses and individuals from around northern Arizona who supported their efforts to get to Championship. 
The CocoNuts have set some goals for the upcoming year that include getting more involved with state and local government, setting up a sustainable business model to support their team and outreach, continuing to get FIRST into more northern Arizona communities and piloting the two-day professional development program for teachers wanting to coach FIRST Lego League.
The CocoNuts will be seen next on Saturday at the Ahoy to Summer activities fair. Camp COCONUTS 1.0 and 2.0 day camp for Lego robotics will run this summer for students in grades four through eight. Dates will be announced via the CocoNuts website, www.fusd1robotics.org/camp, in the next two weeks. Registration will open at that time.