Northern Arizona University President Rita Cheng gave the Arizona Board of Regents a good idea where the university stands at its annual operational and financial review with board members on Sept. 28.
Cheng, who is now in her fifth year as NAU president, said through the partnership between the university and ABOR, they have explored and embraced strategic initiatives and investments that have moved NAU closer to its long-term goals.
"Now more than ever, NAU is essential to Arizona's success," she told the board members. "Our high-quality research and public service programs are improving the lives of Arizona residents. Our community engagement and partnerships are building new bridges to greater outcomes."
According to an Alliance Bank Economic Policy Institute's recent economic impact study, NAU contributes more than $2.5 billion to Arizona's economy each year. This number, Cheng said, is 25 percent higher than the estimated impact two years ago.
She said the money comes from more than 22,000 jobs supported by NAU throughout Arizona, the growing percentage of Arizona students who choose NAU for their education and the increasing number of alumni who live and work in Arizona after graduation.
"More than 99,000, or 60 percent, of our graduates reside in Arizona, and more than 70,000 of them are employed here, according to the Arizona Department of Economic Security," she said.
Cheng went on to say that 60 percent of individuals who earned a degree from NAU from 2000 until now still live in Arizona, adding that 84 percent of those who graduated last year are employed in Flagstaff, and 50 percent of households in Coconino County have at least one NAU graduate.
NAU measures its success in many ways, Cheng said, but one of the most important gauges is performance metrics.
In 2015, ABOR helped NAU establish 13 goals, and Cheng gave an update on where they are three years in.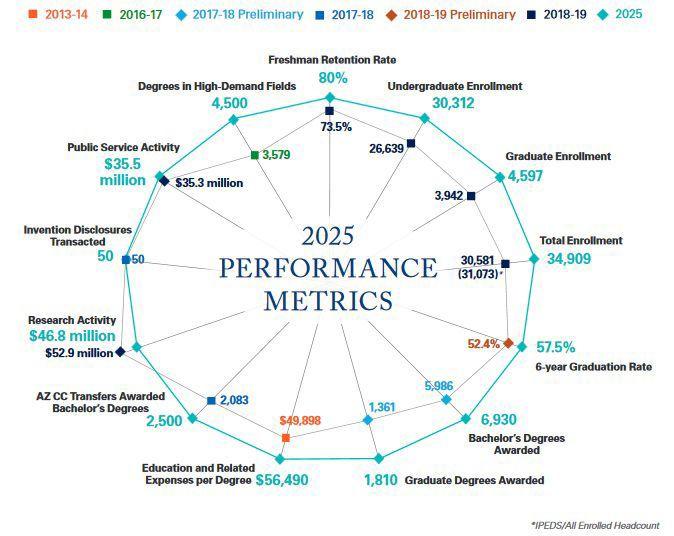 One of the goals is to increase graduate and undergraduate students to 34,909 by 2025, which represented a 27.4 percent increase from the 2015 total of 27,396 undergraduate and graduate students. The 2025 goal is an undergraduate enrollment of 30,312 and a graduate enrollment of 4,597.
The total number of enrollment as of this year is 30,581, with an undergrad enrollment of 26,639 and a graduate enrollment of 3,942. To meet its goal, NAU has about six years to raise the total number of students by 4,328.
The goal for 2025 is to have a freshman retention rate of 80 percent, which is 6.5 percentage points higher than this year's amount of 73.5 percent.
The six-year graduation rate goal for 2025 is 57.5 percent of students, which is 5.1 percentage points above where the university is currently, according to preliminary numbers from 2018-19.
NAU is expected to be awarding 6,930 bachelor's degrees and 1,810 graduate degrees by 2025, which means it would have to increase its bachelor's degree awards by 947 and its graduate degree awards by 448. Its goal for degree awards in high-demand fields is 4,500, which would be 921 more than the 3,579 last recorded in 2017.
ABOR set a goal for NAU to raise its education and related expenses per degree from $49,898 in 2014 to $56,490. It also set a goal for the university to bring in $52.9 million in research activity, up from the current $48.6 million.
Cheng said NAU reaches its goals by adjusting to ever-changing external dynamics.
"This year, our goals have enabled us to meet expectations in key areas related to undergraduate degree attainment and research," she said to the board. "While we celebrate that success, we know this chart shows the need to increase our effort in other areas, particularly student retention and graduate degrees."
Cheng said NAU is focused on increasing retention though reorganized student success initiatives, and its action plan focuses on every year students work toward graduation.
"We have established residential learning communities within each college, so we can facilitate connections between students and enhance their ties to faculty and staff," she said. "And we continue to strengthen our student support programs and make our advising systems more effective."
Cheng said NAU also increased its use of technology to support communication and outreach, and provide an extra boost of encouragement or guidance when students need it.
As far as graduate degrees go, Cheng said she knows NAU must provide advanced degrees that are needed in Arizona and expand opportunities though the university's graduate education programs.
The university also sees a continued need for access and outreach to Arizona adults who have pursued some college, but did not earn a degree, and NAU is providing online and statewide community campus education opportunities to reach them. 
"We have just completed strategic reorganizations, moving from a separate extended campus model to our One NAU structure," she said. "We now have a new dean for Online and Education Innovation who will spearhead online expansion, and our statewide partnerships are growing and opening new opportunities, like our collaboration with several Valley law enforcement agencies that we will launch in January."
Cheng said her presentation and subsequent discussions that take place at NAU's annual operational and financial review with ABOR provide an opportunity to highlight areas of success and challenges.
"I value these opportunities as they ensure we are working to meet our metric goals, including the attainment goals for the State of Arizona," she said.