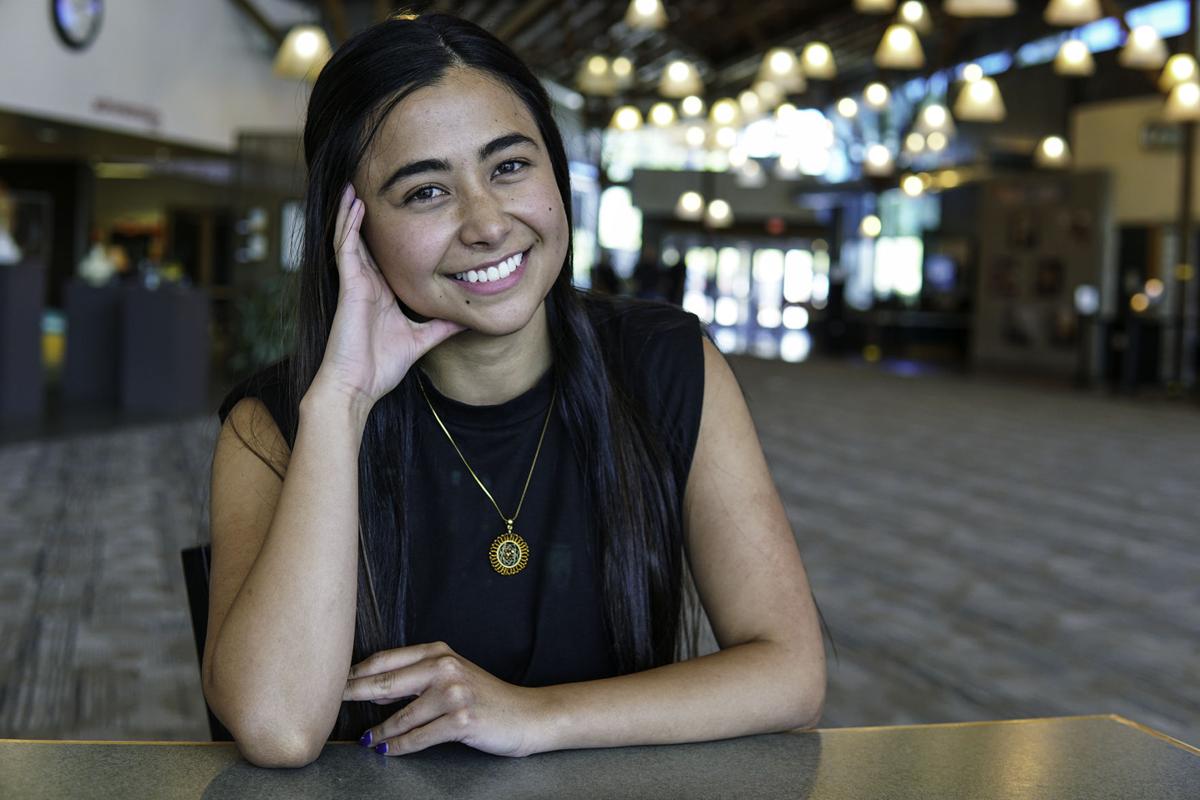 After growing up in South America, Margarita "Maggie" Gil, 18 years old at the time, packed up her belongings and moved with her mother from Medellín, Colombia, to Flagstaff. She is now a graduate of Coconino Community College.
The winter weather and ponderosa pines were quite the culture shock, she said. So was transitioning to life in a different country and learning to speak a new language.
Five years and a college degree later, Gil has mastered the new language and is an essential member of the Flagstaff community -- volunteering her spare time at a local preschool and acting as a role model for her peers.
"I love this little town," she said. "And that is why I cannot be selfish. It has brought so many gifts into my life."
After receiving her degree earlier this year, Gil was selected to speak at CCC's Spring 2021 Commencement Ceremony for graduates. And while her academic success speaks for itself, Gil is looking to use what she learned at the college to give back to her community, the country and the world.
Graduation was always the goal, Gil said. But to her, education signifies more than just an accomplishment. At commencement, she plans to tell her classmates just that before they venture into post-grad life.
"A lot of people will tell you they are graduating. You have reached the goal, but you need to give more than that. And that is not only giving to your inner self, but goes beyond that to your community, the world," Gil said. "Right now, the world really needs fresh minds to be able to help people."
For Gil, helping people comes naturally through her love of early education. It is her passion. But before moving to Flagstaff, she said, she had her sights set on becoming a microbiologist. That all changed when she began volunteering at Bambini Montessori Preschool in Flagstaff.
The preschool, which has since closed, was where she first discovered her love for education. She began as a volunteer and was eventually offered a position to work in the classroom -- which she did for three years.
By the end of the experience, the sense of accomplishment she felt was something she could not easily give up, she said.
She wanted to "be that person to embrace those kids and carry them through their early school years." When the young students struggled to express themselves, she saw in them her own experience of moving to a new country and decided to make an impact.
Gil's love for teaching goes a step beyond just math and reading lessons, too. She said she wants to help the next generation be aware of the way the world works -- from plants to animals -- and how everything fits together. She realized the importance of "creating strong foundations for the new generation."
"Being a teacher is more than teaching. Being a teacher is giving your heart and being able to educate and show how the world really is," she said. "Kids need to be protected."
After completing her associate's degree at CCC, Gil is now off to Northern Arizona University to pursue a bachelor's degree in Early Childhood and Special Education. On Friday, she will have her degree from CCC conferred at commencement with one semester at NAU already under her belt.
The transition to the state university was frightening, but Gil was met with open arms, she said. Coming from a different cultural background and speaking English as a second language, her worries of being judged were quelled by the "understanding" and "respect" from her classmates and professors.
"It was nothing like the big deal people think -- like they are going to judge you," Gil said. "It was a big transition. I just went with the flow and decided to take the risk."
One of the biggest lessons she has learned from her experience in college and moving to a new country is to be "kind" to herself. Sometimes there are barriers, but eventually, "you will reach your goal," she said.
"I was judging myself and making it hard," she explained. "I learned that everything comes in small steps."
And with patience, those small steps can lead to some pretty significant strides. Gil said she cannot believe how much she has been able to do in just five years -- from learning a new language to receiving a degree or finding her passion for education.
More than anything, Gil said she hopes her experience can serve as an example for those that are struggling to find their place in their community.
"It's OK to struggle. The important thing is you never give up the resilience and determination, and always focus on your goal. Always have your goal in the middle of your eyes and never let it go," she said.
Gil added that she hopes her experience can be an example for her home country, especially her family in Colombia.
Recent political tension in Colombia has made it difficult for Gil to visit Medellín, but she remains grateful for her upbringing. Her family, she said, is her primary source of "energy and love." From a young age, they instilled in her that "if you work hard, you're going to get good things."
She wants to break the stereotypes of Colombia being a dangerous country by sharing her experience.
"I want to be an example for the world, you know, cut the stereotypes of Colombia being a dangerous country. Yes, we have a lot of ups and downs, but I would love to cut those stereotypes," she said. "You can be very successful coming from a difficult country and just want to express my love to Colombia, my compassion."