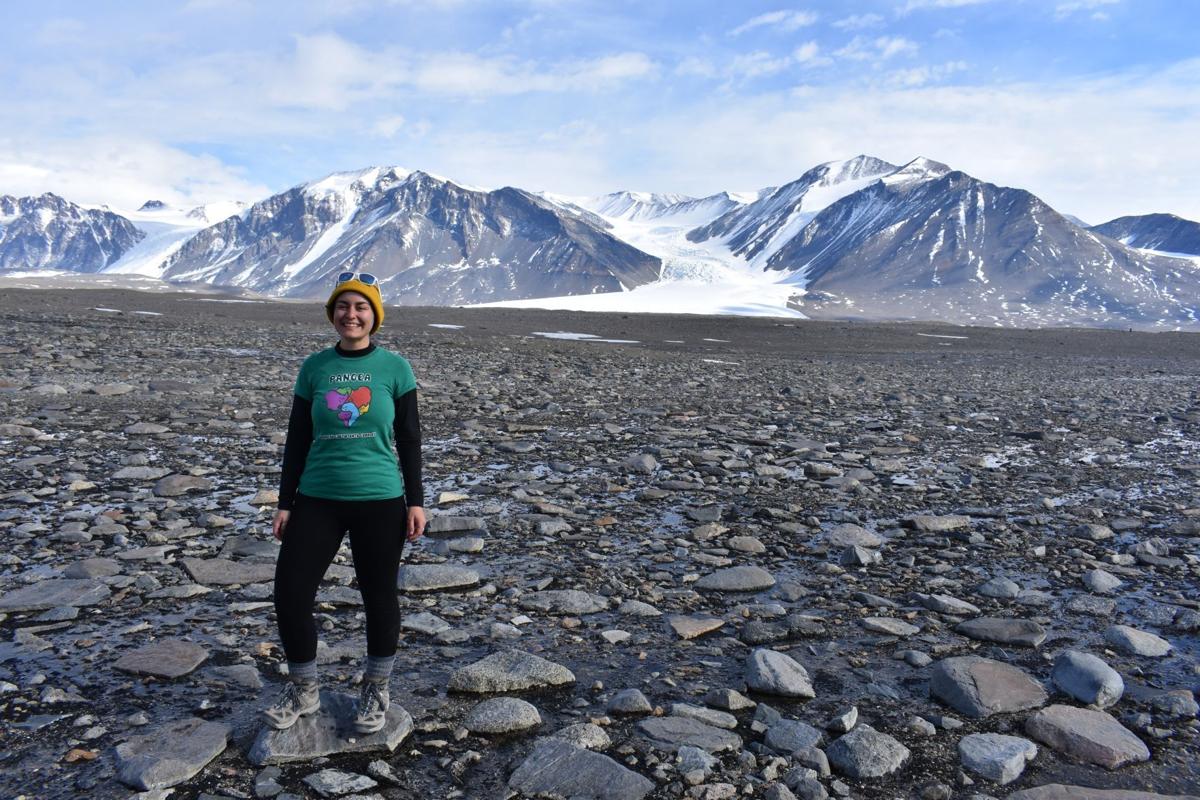 Before even starting at Northern Arizona University in 2018, Schuyler Borges received an unexpected invitation from their new adviser: the offer to do research in Antarctica.
"The Antarctic environment, it can be challenging to work in, but it was also pretty amazing to be in a place that is so selective to go to," said Borges, a doctoral student in the Department of Astronomy and Planetary Sciences. "It's different field work than any other kind of environment."
Borges' role during the three-month trip was to assist their adviser, Professor Mark Salvatore, on his research using satellite images to study Antarctic microorganisms for comparison to Martian satellite observations. The trip sparked other findings, as well, including the data Borges is using for their own research on possible life on Mars, which was awarded a fellowship from the National Science Foundation in April.
Borges was one of four NAU students selected this year for the Graduate Research Fellowship Program, which provides three years of funding for research and classes.
Borges has previously worked on Mars-related research, during their time as an undergraduate geology student at the University of California, Davis and Lawrence University in Wisconsin, where they mapped out various features of the Red Planet using geographic information system (GIS) programs.
Extreme field work
Borges admitted they knew little about Antarctica prior to the research trip, where they joined a team of about 900 people — mostly other researchers — at the McMurdo Station, the main U.S. station in Antarctica.
A small team, including Borges and Salvatore, was deployed from the station to a nearby ice-covered lake in the McMurdo Dry Valleys, where they were conducting their research. The team spent weeks hiking around the lake, looking at microbial communities to match what they saw in person with what they could see from satellite images.
"It was 63 days of not showering," Borges recalled of the experience, which lasted longer than expected because of interference from cloudy days.
The terrain was devoid of all vegetation and though the team could request more food and supplies delivered to the campsite by helicopter, Borges said they mostly ended up eating what the team had: expired fruit snacks and chocolate bars.
"It really does feel surreal, like you're on another planet," Borges said. "The rocks are also highly weathered, so they're really sharp and there are a lot of them everywhere. As far as you can see, there's mounds of rock."
As the team trekked around the roughly 3-mile-wide lake looking for these microbes, they noticed rocks covered in a strange structure that Borges said look almost like miniature trees made of rock.
"[Salvatore] was able to make this connection that these look really similar to what was found in Gusev crater on Mars," Borges said.
This crater was the landing site for the Mars Exploration Rover, Spirit.
On Earth, these rock structures, often called microstromatolites, have been otherwise found only in hot springs, where they are created by microorganisms that live in these extreme temperatures.
Biosignatures
Borges' project aims to determine if these structures, as seen in Antarctica, are forming through similar biological processes and organisms as those in the hot springs, which could have implications for the Mars research. If life is not involved in the processes, Borges said it could indicate that previous research on these Martian structures — claiming they are an indicator of life on the Red Planet — is a "false positive biosignature."
"I really like the project because it's trying to understand something new between biology and geology and how that correlates to potential life on Mars and our understanding of what a signature for life could look like," Borges said. "I was very interested in paleontology growing up and that has a lot to do with geobiology, so it's kind of like I've come full circle. If we ever do find life on another planet, it would be really awesome to be an astropaleontologist."
The project will be challenging, though, and require meticulous lab work. Borges said they have already completed some initial observations, finding what appears to be microfossils. The key to the project, though, is finding a way to determine if these creatures created the structures or if they were simply trapped inside.
"I may never be able to say [the microstromatolites] are forming under the influence of biology just because, on Earth, biology is everywhere and on Mars, the assumption is it's nowhere," Borges said. "Not having an environment that is devoid of any type of life on Earth makes it challenging, especially with regards to the project, which is trying to understand this relationship."
Their project on the microstromatolites will officially begin in August, as they wrap up their 2-year-old paper that presents findings from the Antarctica trip.