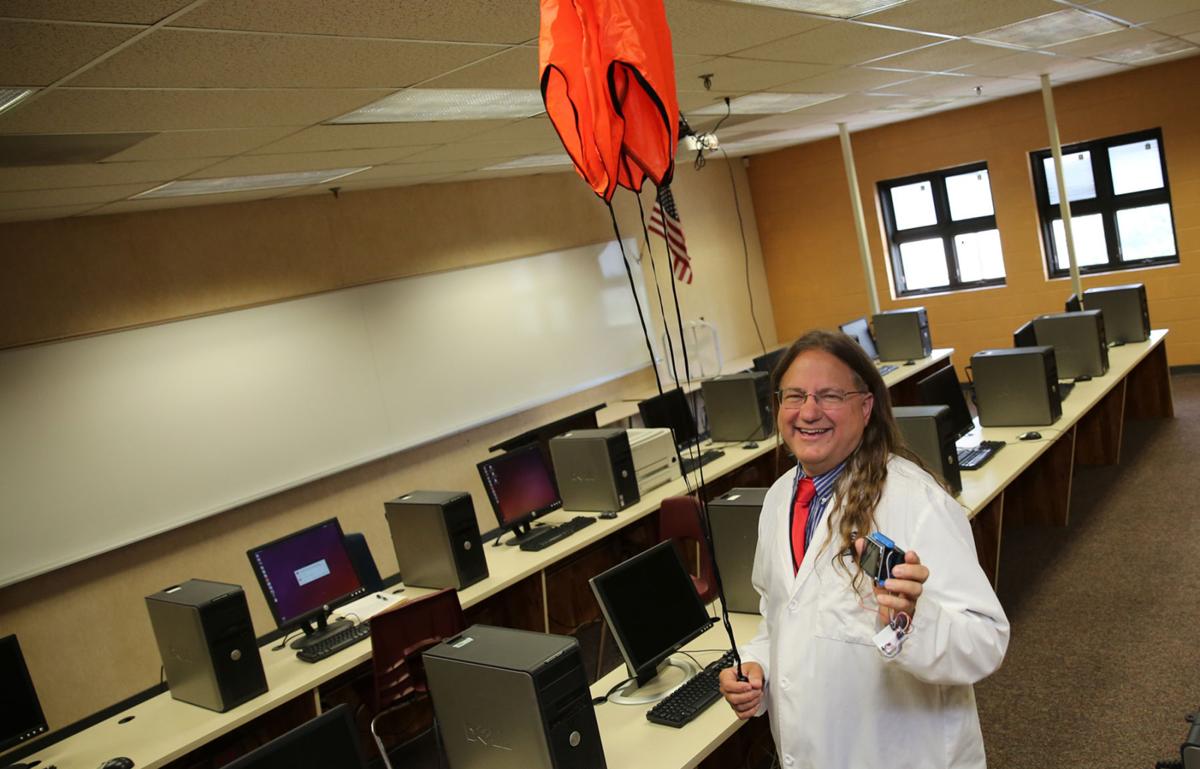 By the second day of school in Bruce Sidlinger's aerospace engineering class, students will be opening up their computer's desktop tower to add the missing parts.
Sidlinger, a pilot, research director and contractor to NASA and the Department of Defense, spent 2 1/2 years developing the curriculum for high school students, and he will launch the class next week at Flagstaff High School.
"America needs more highly technical students coming out of high school," Sidlinger said. "I have found that the best time to learn these skills is in middle and high school."
The class itself, which has 18 students and is open to upperclassmen, will focus on building a near-space balloon, which the class will launch in April. Sidlinger said the school year will be spent working on all the components that will go into the final launch.
"The students are going to learn just enough in every discipline to get the balloon going," he said. "It will involve just enough coding, just enough programming and just enough building, just in time to do each task."
Sidlinger said the final project, the balloon, will be completed as a class, with different students completing their own pieces. However, during the year, he will teach each of the different concepts so all of the students will be knowledgeable in each task.
"By the end of the year, they will leave with a list of the skills they have learned, like a résumé, that they can use for college admission or scholarships," Sidlinger said.
The skills include coding, using open-source programs and devices, programming a microcomputer, and understanding the communications and safety aspects of flying the balloon, Sidlinger said.
In fact, each student in the class will earn a Federal Communications Commission certification, which will be used in class to communicate between the balloon and the classroom, as well as to other aircraft in the area to notify about flight plans.
Sidlinger, who will be pursuing a second master's degree at NAU while teaching the course, is also a certified flight instructor for both air and ground instruction, meaning he can teach in a classroom setting, and for one-on-one training. Students in his class who aspire to be pilots can begin a logbook while in class and start keeping track of instruction hours toward their pilot's license.
While Sidlinger does not expect every student who goes through his class to become an aeronautical engineer, he said the skills they will learn will be applicable in everyday life and regardless of their college major of choice.
"At the very least they will emerge as extremely sophisticated consumers for the rest of their lives," he said. He laughed a little and said, "They will never throw away an old computer."
He said in the class's discussions of open-source technology, they will learn how to switch to an open-source operating system, which would make even the slowest of computers, running proprietary operating systems, run faster.
District spokeswoman Karin Eberhard said the diversity of the lessons in the new class could inspire a wide range of career paths for students.
"High school is about learning life skills and core areas, but it is also about the opportunity to be sparked," Eberhard said. "Maybe someone realizes they really want to be a pilot, or a programmer, and never had the experience until now. This class has 20 or 30 opportunities for different sparks."
The class does not have any math or physics prerequisites, but Sidlinger does warn that the course content and time commitment will be extensive, due to the in-class workload and the out-of-class commitments.
"This class demands a high level of professionalism," Sidlinger said. "It will be run like an aerospace company and the students are the new hires. The rubric is based on doing well in the professional environment. If you would do well in the company, you will do well in class."
Sidlinger said he hopes the course offering will inspire students to pursue engineering degrees, but said all students will come out with more engineering knowledge than most of the country.
"After this year, they are never going to look at something, like a car or computer, and not have an idea of what's inside it," he said.
"After this year, they are never going to look at something, like a car or computer, and not have an idea of what's inside it."

Bruce Sidlinger, Flag High aerospace engineering teacher