Flagstaff Eagles head coach Trina Painter had an idea that Saturday's state cross country meet was going to be a battle, and it turned out to be quite the nail-biter.
Hana Hall won an individual title and helped the Flagstaff girls secure a fourth straight Division II state championship by a slim margin, and the boys side for the Eagles also earned a fourth trip to the top of the podium in as many years.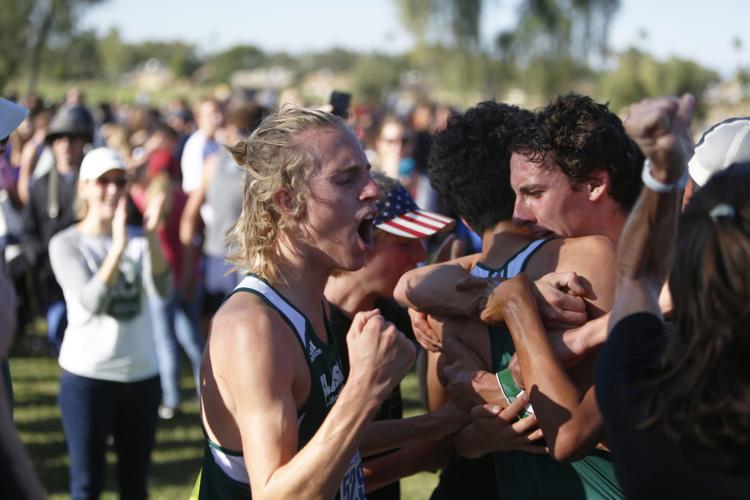 Hall finished her 5k race in a blistering time of 18:07.5 for the Eagles, who came away with a score of 94 to edge out runner-up North Canyon by two points. The junior transfer became the fifth female Eagles runner since 2011 to take gold and her time was the 13th-fastest girls result ever recorded on the Cave Creek Golf Course.
The Northland Prep Spartans boys squad was the first to go in Phoenix of the city schools and showed an amazing performance to repeat as D-IV champions, with all seven runners medaling on the way to a low score of 37 points.
And the D-III Page Sand Devils boys group kept the dominance of dynasties rolling, winning a fifth straight team title for the first time in program history with a 1-2-3 punch that helped the team to an anemic score of 35 points.
After North Canyon's Stefana Purkovic finished second overall in 18:37.7, Flagstaff's Brianna White and Katrina Vollmer played a huge role in keeping the opposition at bay. White finished seventh in 19:45.5 and Vollmer 18th in 20:30.5, breaking up North Canyon's next finishers who came in 19th and 22nd.
Flagstaff's Anna Harmon placed 27th in 20:56 flat, with teammates Breana Biggambler taking 47th, Grace Walker 93rd and Sydney Marston 131st.
"Waiting for the teams' scores was intense and exciting today," Painter said, "but what joy we all felt when they announced not once, but twice Flagstaff had clinched the team title."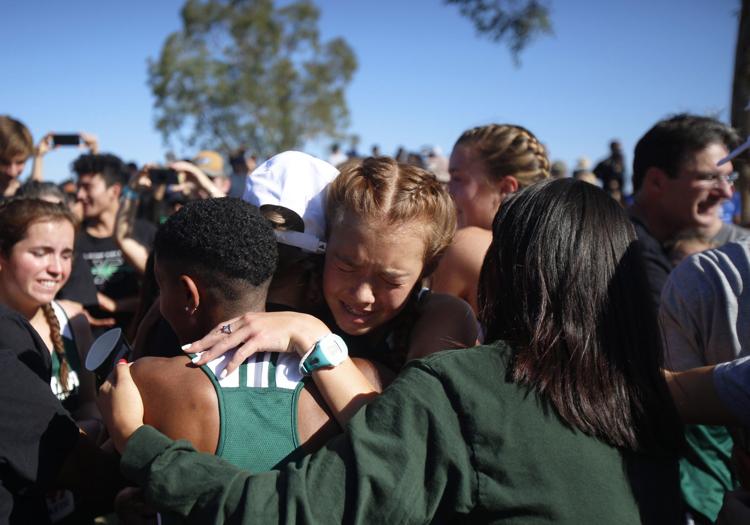 Making it the first time in program history to reach four straight crowns, the Flagstaff boys had three of their crew complete the course before runner-up Casteel had an athlete cross the finish line. The Eagles scored 128 points, with the silver going to Casteel on 144 points.
Max Davis was the first of the Eagles boys to finish, earning 10th place overall in 16:34.8. Flagstaff's Riley Human was 12th in 16:35.5 and Nate Milton was 16th in 16:50.3 before Dayton Carlson came in first for Casteel at 18th. Rounding out the Eagles seven were Zac Joyce in 37th in 17:14.7, Gabrial Harju in 59th and Ryan Hatch in 78th.
"The boys race was intense to watch," Painter said. "We did not run in the tight pack like we always do. Max and Riley got out fast and ran great with each other, and Nate kept them in sight. Zac and Gabe moved up over the last mile as well to get us in striking distance."
GREAT BLUE WAVE CRASHES THE COMPETITION
The rematch between the Northland Prep and Hopi boys ended up a blowout in favor of the repeating champions who dubbed themselves "The Great Blue Wave" a year ago.
The Wave was more fierce this year, as the Spartans put all seven of its runners in the top 20 en route to the second repeat on the boys side in program history. Hopi, whose run of 27 straight state titles came to end in 2017 at the hands of Northland Prep, scored 61 points on Saturday, but the Spartans saw three runners end their day before the second Bruins runner came through.
Spartans head coach Missy Acker said it was a goal to get all seven of her runners in the top 20, but a false start had her worried that it might throw her athletes off.
"There was a false start at the beginning of the race. The course was wet and a few kids went down and you always worry as a coach when something like that happens," Acker said. "But the gun went off again and they executed just like they were supposed to. They got out fast, got into position and kept pushing and pushing."
The Spartans were led by standout senior Micah Stanton, who finished fourth overall in 16:29 flat and crushed his 2017 state meet time of 17:56.
Next up for the Northland Prep boys was Hayden Andersen in sixth in 16:39.5, Brandon Bounds in seventh at 16:43.7 and Sailor Starcher in 12th on a 17:09.4. The next group of three were tight as well, as Nalzheii Lonetree was 14th in 17:11.9, Dana Leib-Perry 15th in 17:18.7 and Malakai Hanson in 20th in 17:23.7.
Andersen, Starcher and Hanson all finished with PRs.
"Everybody had a spot-on race today and ran so tough today, it was amazing." Acker said.
The Northland Prep young girls team took seventh place, with Kate Bailey earning a medal at 20th place on a time of 21:36.6. Freshman Abby Sperl also had a top-50 performance, hitting 22:52.7 for 45th.
SAND DEVILS KICK UP THE DUST
Last season, the Page boys went 3-4-5 for a D-III title. This year Bowen Martin led a 1-2-3 pack on the way to a blowout win. Martin won that elusive individual title in his final year of running for Page, clocking a 16:02.1 for gold after running at states since his freshman year. His teammates Morgan Fowler and Trent Holiday garnered silver and bronze, with the former going for 16:19.7 and the latter 16:37.6.
The five consecutive state crowns is the longest run of titles in Page boys cross country history. The Sand Devils fell short of the feat at four straight championship efforts spanning from 1989-92.
Page's Skyler Sandoval took 13th, Lance Harris 18th, Kaipo Uejo 19th and Rex Martin 39th.
The Page girls finished fifth with 196 points, led by Sofia Bryan's 15th-place result in 20:37.8. 
Also in the top 50 for Page were Miquedah Taliman in 36th, Nahaniya Fowler in 40th and Mikala Benally in 46th.
COCONINO COMES UP SHORT
After finishing the past two years with runner-up results, the Coconino Panthers girls team fell back a few spots to a fourth-place finish in the D-III race this year on 174 points. The Panthers were led this season again by Woodlyn Smith, who registered a 19:38.9 time for fifth place.
Kaelynn Ashley just earned a medal at 20th place on a 20:53.5, with teammates Lilia Tassinari taking 42nd and Hope Saxton 51st.
The Coconino boys ended the state meet in 14th place and were led by Taylor Taliman's 33rd place finish in 17:47.8.
BASIS FLAGSTAFF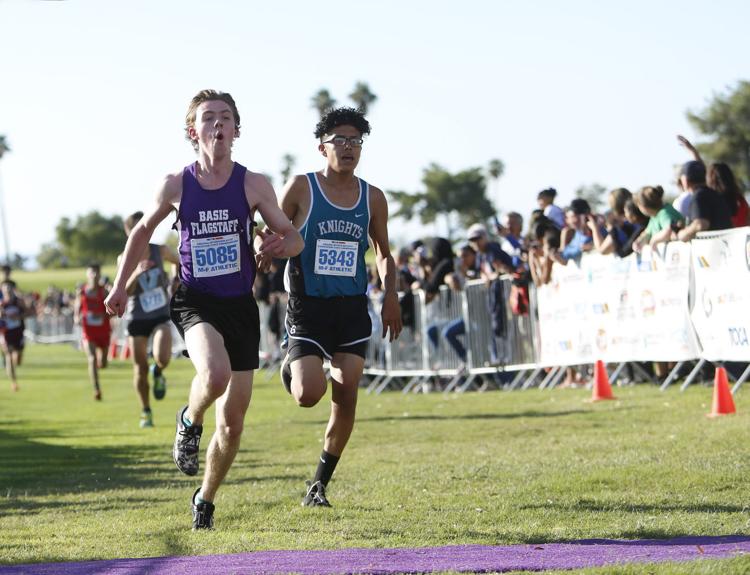 Tucker Grams improved his state meet time while racing in the D-IV field, finishing in 18:01 flat to take 25 seconds off his 2017 time and end up in 39th place. Colm Cawood just made the top 50 at 50th overall in 18:12.6.
The Basis Flagstaff boys finished in 10th place as team.