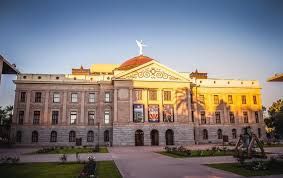 PHOENIX -- Rejecting the concerns of some neighborhood groups, Gov. Doug Ducey signed legislation Thursday to prohibit cities from barring homeowners from renting out their houses to vacationers.
SB 1350 which takes effect later this year overrides existing ordinances in several Arizona communities that specifically make it illegal to rent out property in residential neighborhoods for less than 30 days.
"There's a certain expectation about a quality of life,'' Robert Pickels, the city attorney for Sedona, told lawmakers in a bid to kill the measure before it even got to the governor's desk. He said that's why his city council adopted a ban on short-term rentals in 1995.
And Warren Woodward, president of a homeowners association in that community, chided lawmakers for even considering the issue in the first place.
"We resent being dictated to by legislators who do not even live in Sedona or anywhere near it,'' he testified. Woodward said the changes will lead to more traffic and noise.
But Scarpinato said there are sufficient protections built in.
"There's already laws and ordinances in place dealing with noise, dealing with disruptions,'' he said. "So if you're making noise at all hours of the night and waking people up, guess what? You're going to get in trouble.''
But Scarpinato said the real bottom line for Ducey is his belief that removing local laws is good for business. And Scarpinato said that includes people who have houses and want to make some money from them.
"The governor has been very clear that we need to be helping all businesses large and small,'' he said. Anyway, Scarpinato said, it's just recognizing the reality of the market.
"This is how consumers, particularly in our state, want to do business now,'' he said.
"They want to be able to be able to make their properties available,'' Scarpinato continued. "And people want to be able to have this as an option rather than necessarily going to a hotel or motel.''
The controversy goes beyond the question of whether state law should preempt what local officials decide is best for their own communities. It also goes to the scope of the measure designed largely to help Airbnb.
It started out as a computer application to hook up homeowners who had a spare bedroom -- and perhaps an air mattress -- with people who were looking for a place to stay.
Even the Arizona legislation to deal with the problem started out small.
SB 1350 was envisioned as a way to eliminate the requirement for homeowners who make some extra money from having to collect local taxes every time they rent out a room or a house.
The change first proposed would make it the responsibility of online firms like Airbnb that make the connections to collect the applicable taxes and forward them to the Department of Revenue. That agency would, in turn, send the proceeds to the affected jurisdictions.
But what Ducey finally signed into law is quite something else.
Sen. Debbie Lesko, R-Peoria, tacked on language which says cities, towns and counties cannot prohibit or restrict these rentals simply because the property is not classified as a hotel.
Jared Blanchard of the Goldwater Institute said that protects the rights of individual property owners to use their homes the way they want.
The bill has other supporters.
Glenn Odegard told lawmakers about his efforts to restore a 1898 home in Jerome which had been buried in a mudslide in 1953 and sat vacant ever since.
Odegard said he got all the necessary permits from the city to rehab the house for vacation rentals, only to have the city council change its mind and declare that was not permitted. He sued and is being represented in court by the Goldwater Institute.