The whir of a blender as it bites into ice and fruit is nothing new.
The smoothie smash-up of fruit and vegetables, consumed as a detox or supplement, has become standard stuff, but what is quality versus craze?
A detox cleanse is great way to begin a year of better choices. The benefits are a welcome change from rich overeating. Energy ramps up as excess caffeine, sugar and trans fats are eliminated. Stored wastes are purged, aiding the effectiveness of kidneys and colon, and the resulting short-term weight loss can pave the way for better eating habits. Our immune system, skin and even breath can improve. Clearer thinking and insight may lead to an enhanced lifestyle overall.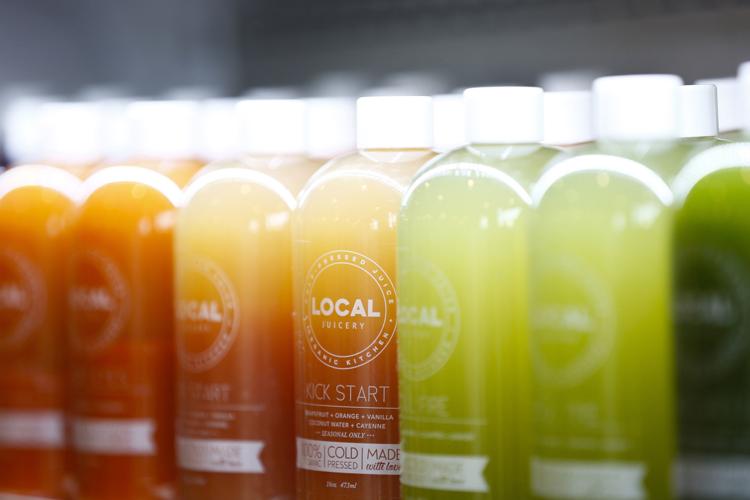 There are two ways to turn a solid into juice. Centrifugal force is most common, pulling liquid from fruits and vegetables, but it also breaks down quickly leaving high water and sugar ratios. Dr. Norman Walker invented the cold-pressed method, which uses a triturator to slowly press the pulp of produce to ensure live enzymes are extruded. Such a juice has a three-day shelf life, yet is nutrient dense. Three to five pounds of produce are necessary to fill a 16-ounce bottle. It's the kind of elixir sold at Local Juicery.
The philosophy of beautiful, organic food and juice to support or regain health is the aim of founders Summer and Mike Sanders. Summer is a certified raw food chef, author and health coach, and Mike, a former special operations Navy officer, sought healing through a course of whole foods and plant-based cuisine. They opened Local Juicery in 2014 to help others find reliable and pleasing sources of nutrition. There are two locations, one in Sedona and one in Flagstaff.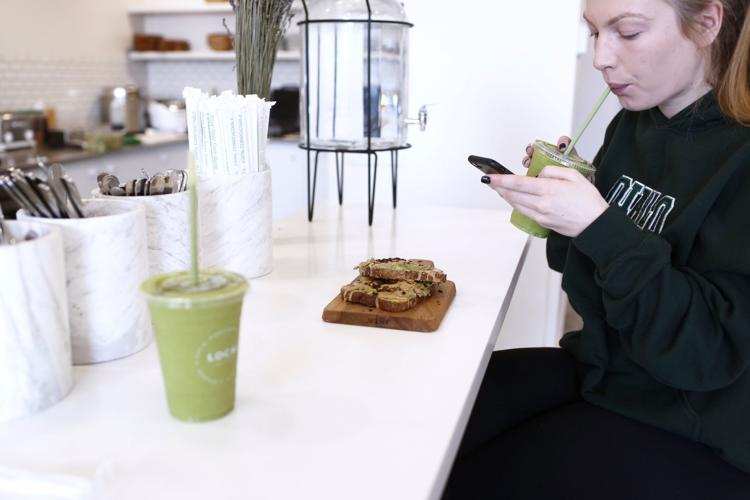 Plant-based, whole foods eating is the breakout resolution in 2018 for its two-fold mission. It transforms, adding new vitality and mental acuity in general, while recapturing health from issues such as Type 2 diabetes, heart disease or autoimmune disorders.
Eating plants and whole foods can sound like an endless salad bar. The reality is that while it minimizes meat, dairy products, eggs and highly refined flour, sugar and oil, nourishment is maximized through whole, unrefined or minimally refined fruits, vegetables, tubers, grains and legumes. Favorite recipes also can be altered to make them plant-based. Add extra beans to chili, substitute veggie burgers for ground beef and toss in tofu to a seasoned stir-fry.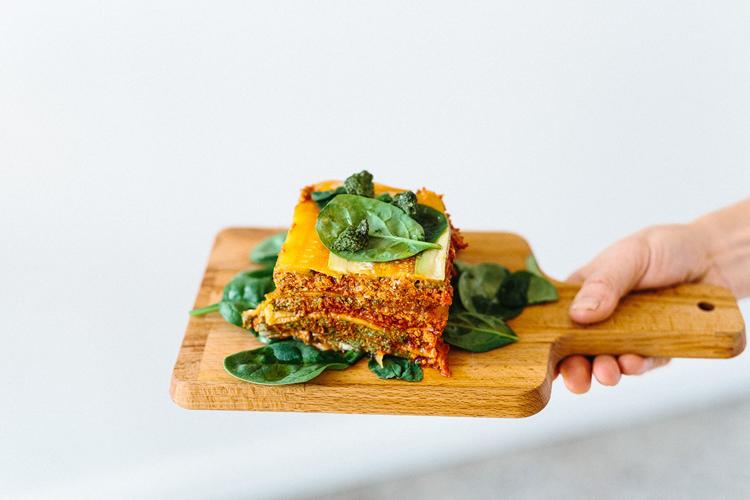 Such dietary awareness and conscious consumption need not feel punitive either. Often, when changing a diet, people focus on eating less, but a plant-based diet benefits from eating more. The more whole foods people eat, the better they feel, fueling motivation and wellbeing. Start small, adding 1,000 calories of whole grains, legumes and starchy vegetables to a normal diet to stay full and satiated. This naturally curbs the intake of animal products and processed foods.  It's important to keep calorie density low, so as not to passively up the overall intake through nuts, seeds and butters. Create a plate half-filled with plant-based food for balance. Add movement to your day incrementally for greater results. People often see effects quickly with a loss in pain, sluggishness and fat.
Is healthful eating a hassle in today's fast-paced culture? Outlets like Local Juicery provide the guidance and transition to new routines. Buying in bulk from Albert's Organics and Veritable Vegetable, the shop sources fruit, vegetables and greens from Arizona, California and Colorado. No refined sugar is used. Items are naturally sweetened with organic raw honey and mineral-rich maple syrup or coconut crystals. Labels tell all.
Register for more free articles.
Stay logged in to skip the surveys.
Three prescribed cleanses offer degrees of detox, but customized options are available from educated staff at Local Juicery. Level 1 utilizes a wide range of bright, colorful roots and fruits to provide essential vita-chemicals. A mix of colors and green veggies fulfill Level 2 with pure greens for radiance at Level 3. In addition, there are elixirs, such as the tummy tonic to ease the transition to healthy foods.
"Many clients have had bad experiences elsewhere and sought the quality and tasty options at Local Juicery to feel their best. It's about food integrity," says Ali Geter, manager of the Flagstaff location.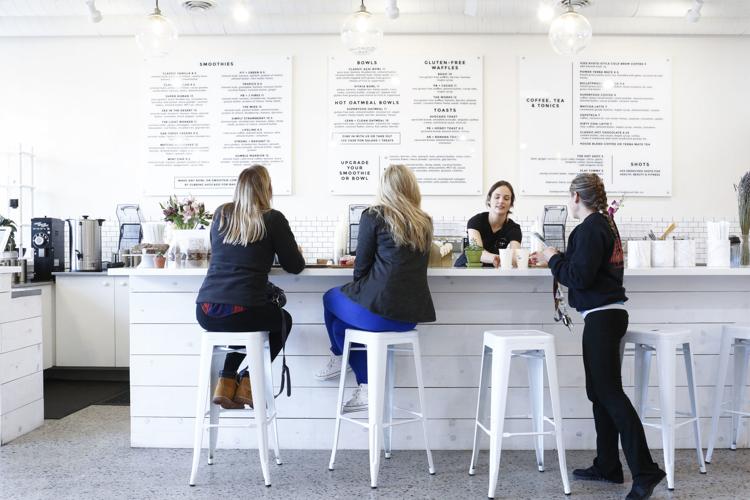 The clean bright shop with a long wood bar and spacious corner seating is upbeat with energetic music that is routinely punctuated by the sharp burr of produce being pummeled. A cold case holds a rainbow of juices and wholesome foods— salads, raw lasagna made with zucchini noodles and scratch ricotta, plus desserts, such as chocolate almond butter truffles or avocado pudding.
"Removing foods like meat, wheat, dairy, alcohol, nicotine and caffeine for three to five days pre-cleanse is challenging," says Geter. "We meet people where they are, and they can start with juices."
Post-cleanse, healthy foods are introduced, which are easier on the stomach. An example is chia pudding or kale salad with naturally lighter oils. "There is no shaming of standard eating, just a focus on how to eat," says Geter, who quotes popular food writer Michael Pollan: Eat real food, mostly plants, and not too much.
Feeling low with a cold coming on or simply spent?  The Local Juicery's highly microbial hot shot boosts both the immune system and metabolism, stoking production of stomach acid to allow better digestion. With ginger, turmeric—anti-inflammatories—apple cider vinegar, jalapeno, beet juice and oregano oil droplets atop, the red shot is a medicinal, fragrant glass of zippy heat and sweet citrus.
The shop's antioxidant matcha latte taps ceremonial grade matcha—green tea powder—for a floral hot drink sweetened with maple syrup and vanilla bean. The pick-me-up offers a caffeine substitute with no crash. The acai bowl is a bestseller with the consistency of a thick smoothie. Eat it with a spoon to gather the berries and granola for a superfood of balanced fats and fruit. Avocado toast is smashed avo on sprouted grain with a spread of nutritional yeast, cashew chipotle mayo, sea salt and pepper. The flavorful food shows care and attention to detail.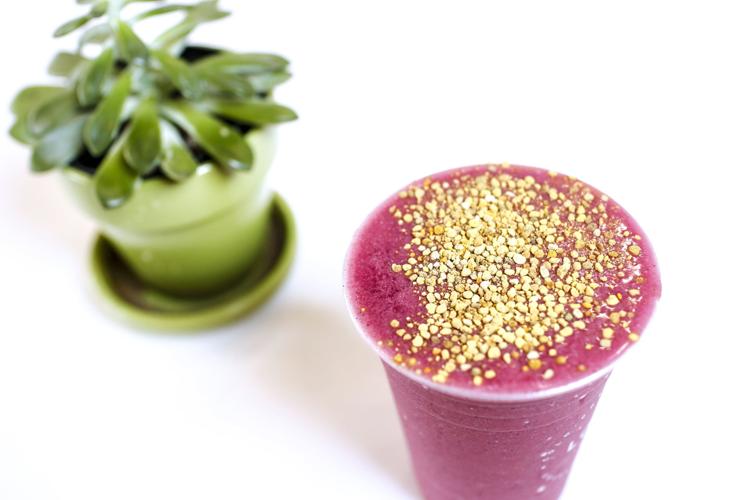 Local Juicery smoothies are the most popular items on the shop's menu board, crowded with ingredients and health information. In-house nut milk, cold-pressed produce and superfood powders create nutrient-dense drinks. Though prices are higher than the usual juice joints, value is found in a quality drink filled with fresh frozen fruit, not ice, and an array of meal items. Caring for our bodies can be delicious.