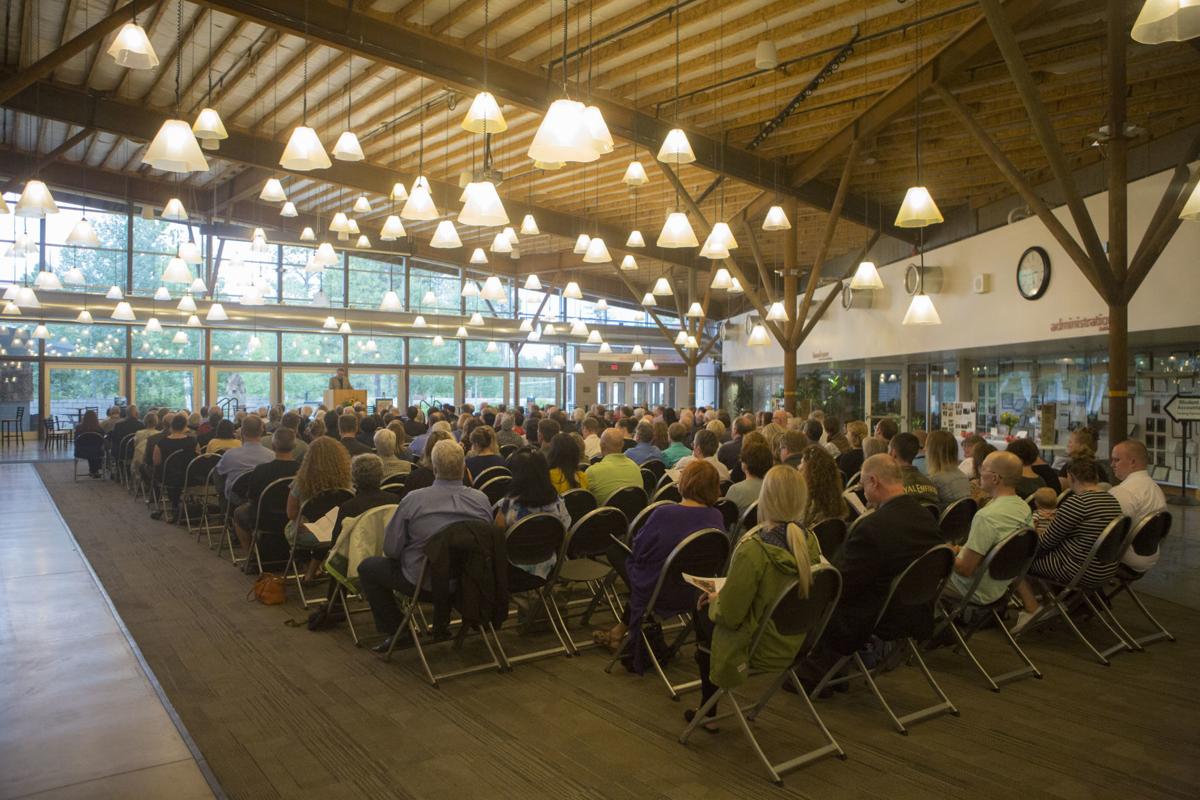 An editor who had an unwavering commitment to community journalism, civil discourse and rigorous reporting. A man who, as a child, was the ringleader for neighborhood games but always made sure each person got a chance to play. A father and a husband who embraced family traditions and had a tendency to exaggerate when recounting outdoor adventures.
Through sharing those memories and dozens of others, family and community members paid tribute to former Arizona Daily Sun Managing Editor Randy Wilson during a celebration of life Monday evening.
Wilson died suddenly and unexpectedly after an apparent heart attack on July 7. He was 65.
The news we received late Saturday afternoon that Managing Editor Randy Wilson had suddenly passed away sent shockwaves through the newsroom, …
Among the nearly 200 people in attendance on Monday were at least 20 current or former reporters who had worked under Wilson at the Daily Sun as well as city and county elected officials, nonprofit leaders, dedicated Daily Sun readers and longtime family friends.
Wilson's niece and younger brother recalled memories of him donning costumes and speaking in accents during family skits and "delegating" troublemaking tasks to escape the blame.
They also remarked on the number of people at the service and, in the days leading up to it, the comments sent in to the newspaper about Wilson's legacy in the community.
"Randy would be both honored and humbled to see all of you here," Wilson's younger brother Chad Wilson said. "The outpouring of love and affection that this community has shown has been overwhelming."
"I didn't know he was such a big shot around here," the younger Wilson said to chuckles from the audience.
What do you do when a pillar of the community, someone charged with curating and delivering the news on a daily basis, becomes the news himself?
Coworkers remembered Wilson's love for puns, his frequent use of the word "mulls" in headlines, and his tradition of handing out a carefully curated selection of used books and magazines upon an employee's departure from the newsroom.
Chris Etling, the Daily Sun's associate editor who is now leading the newsroom, spoke of how deeply Wilson cared about his employees and the Flagstaff community and the challenge of filling the void Wilson left behind.
Readers expressed thanks for Wilson's dedication to letting opposing voices be heard and his fair-minded approach to the job.
"Randy was always a gentleman," said Joy Staveley, a frequent letter writer who often disagreed with Wilson's opinions.
Neil Weintraub, who organized the Flagstaff Four on the Fourth race with Wilson every Independence Day, ended his short speech by inviting the audience to attend next year's race, which will continue in Wilson's honor.
Many spoke of the smile that seemed to always play across Wilson's face, his sharp intellect and his unending appreciation for the mountains and canyons that define this region.
I'm grateful to readers for their overwhelming response the last two days. Thousands of words have been written to this point that speak to Ra…
The memories that were shared spanned the 23 years Wilson lived in Flagstaff and worked at the Arizona Daily Sun. Before that, he worked in newspapers across the country, from California's Mill Valley Record to the Maine Times.
Bill Guise, Wilson's former pastor at the First Congregational United Church of Christ in Flagstaff, led the service that wove together prayers, a psalm and an E.E. Cummings poem that Wilson and his wife both found meaningful. The windows of Coconino Community College's common space, where the gathering took place, fittingly looked out on the ponderosa pines and aspen trees that were a constant backdrop to the outdoor adventures Wilson loved.
To the side of the room, posters displayed photos of Wilson with his wife, Lindsay, and daughter, Caroline. Other pictures showed him sitting next to his dog and posing mid-hike or mid-bicycle ride.
Beside the pictures were bowls filled with dozens of apples that attendees were encouraged to take. They were, as many knew, a Randy favorite.
Get local news delivered to your inbox!
Subscribe to our Daily Headlines newsletter.