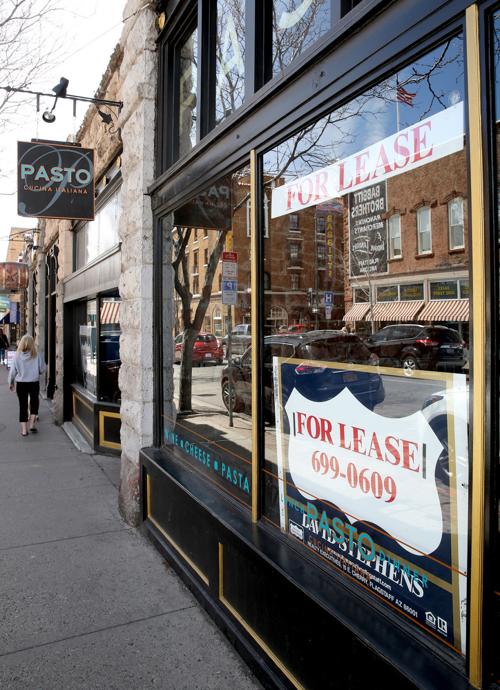 When Amanda Wilson bought Pasto Cucina Italiana in Downtown Flagstaff 10 years ago, the restaurant had already been a downtown staple for more than a decade.
But, in the last few years, the "perfect storm" of circumstances hit, and Wilson saw no other option but to break her lease and leave the business at the beginning of 2018.
"The recession hit, and then the economy started to get better and we saw an explosion of restaurants in Flagstaff," Wilson said. "Southside is now really hip and happening, and Aspen Place has become a destination for people. Downtown is no longer the unique place it used to be."
The openings of new, high-quality restaurants around town has increased competition, and other economic factors contributed to Wilson's decision to close.
"For me, it was the perfect storm in the last few years," she said. "With the minimum wage increase, all of my vendors increased their prices, and my expenses were over the roof. I just couldn't do it anymore."
The paid parking system, which officially launched in October of 2017, further discouraged some of her customers from coming downtown, and the program, called the "Parking Angels" that takes $1 off a customer's purchase when they pay for parking would have further eaten away at her profits, she said.
"It's just one more expense," she said.
A wet summer meant customers could not use the restaurant's outdoor dining patio, one of the big draws for Pasto, Wilson said. A dry winter meant fewer tourists were coming to Flagstaff to play, and eat, at all.
"By the end of January, I was like, 'I don't think I can do this anymore,'" she said.
She tried to sell, but all of the interest in the restaurant seemed to eventually fall through. The restaurant has signs in the windows advertising it for lease.
"I would have continued if it hadn't been so expensive," she said.
DOWNWARD EBB?
Jim Babbitt has been a business owner and property owner in downtown for over 40 years. He is the landlord for the building Pasto was in, on Aspen Avenue west of San Francisco Street.
"I've seen many evolutions of the downtown, and now it's going through another change, another evolution," he said. "There are ups and downs, ebbs and flows, and now we are at kind of a lower ebb."
For Babbitt, changes in consumer habits and changes in the structure of downtown seem to make it less of a destination.
Babbitt said most downtown businesses are owned and managed by locals who also work in them and probably pay above minimum wage, so he did not think the increase was as big a factor as parking.
"I think the parking deal was a big mistake," he said. "I never thought there was really a problem with parking downtown."
Paid parking downtown has also proved unsuccessful in the past.
"In my time downtown, the city has put in parking meters three times and taken them out two times," he said. "I'm not a supporter of the parking meters and I never will be."
Downtown has been through several cycles before, he said.
"Downtown used to be the commercial center of the city," he said, adding when the mall opened, downtown had a large decrease in customers. "It went through an awakening in the 1980s, buildings were renovated and it was very vibrant for a while. Now we've gone into another step. I sense it's a lot quieter downtown."
One of his former tenants, Naked Mobile, told him when they went out of business downtown that they just simply didn't see enough foot traffic downtown to sustain the business. Babbitt said regardless of reason, there is a common denominator with businesses that leave.
"Businesses sell or go out of business when they're not profitable," he said.
What used to be the main commercial center is now mostly focused on restaurants and nightlife, Babbitt said. Customers have little reason to go to a bank, when most banking is done online, and retail has shifted to an online marketplace.
"The character of downtown has developed retail and commercial to bars and restaurant and entertainment," Babbitt said. "The competition for bars and restaurants is so intense right now."
Like Wilson, Babbitt said the injection of high-quality restaurants, bars and other destinations in the Southside has increased competition for those in north Downtown.
"The Southside is drawing off business from the north side," Babbitt said. "A lot of entrepreneurs have gone there and started new, really good businesses. They've made it a lot nicer than it used to be."
A shift to more upscale dining in the downtown area could signify the area evolving into a more upscale and niche nightlife and entertainment area, Babbitt said, citing new restaurants like Lotus Lounge, Shift and La Vetta for bringing new fine dining options.
DOWNTOWN ADVOCATES DISAGREE
Terry Madeksza, the director of the Downtown Business Alliance, said it is normal for some businesses to close and others to open, but has not seen anything recently to create alarm.
"Downtown remains a preferred destination for a lot of people," she said. "I don't see a downward cycle, I see a lot of desire to get into downtown."
In her few years in Flagstaff, Madeksza said she has seen streets that used to be relatively empty, like Leroux, get new businesses and attract customers, including in buildings that Babbitt owns.
Just because a space has closed does not mean there is not activity and interest inside, she said, adding there has been interest in the space where Pasto used to be, and when another staple in downtown, Mountain Oasis International Restaurant, closed, the next day there were plans for something new in that spot.
Madeksza said it is "critical" that locals see downtown as a place for them, and not just for tourists.
"Making sure the local audience is considering downtown is absolutely important," she said. "We work on making sure residents think of downtown as part of their community."
The DBA's efforts are targeted toward locals, and the Convention and Visitors Bureau works on attracting tourists, Madeksza said.
While traditional brick-and-mortar business cannot compete with Amazon and other online retailers for convenience, they offer some things that cannot be replicated by the internet, she said.
"The experience our retailers are offering to our customers is an experience you can't get anywhere else," she said, adding there are downtown shops and restaurants that hold events like beer tastings, book signings, poetry readings and other attractions that get people to come to stores for something the internet does not provide.
"The business market responds to demand," Madeksza said. "Breweries and food are of interest right now. People want good food, good beer and high-end cocktails. Downtown provides a lot of creative cuisine and creative mixology."
John Vanlandingham, a business owner and landlord downtown, said he has not been alarmed at turnover in businesses there.
"Change is a constant," he said. "What I'm seeing now isn't any different or disturbing than what I've seen in the past."
Many of Vanlandingham's businesses are retail, and he said he has been excited to see new retail open in downtown, because often, customers come shopping and they go to several different stores in the area, instead of just picking one.
"We thrive when there are more of us down there," he said.
Before Amazon, there was Walmart, and before Walmart there were catalogues, Vanlandingham said, adding that retail has always had to adjust to different trends and a changing market.
"I'm going to get crushed if I'm selling the same thing you can get on Amazon and charging more for it," he said. "There's a feeling of place and community that exists downtown that you can never find online."
The competition for customers between bars and restaurants has grown faster than the number of customers, he said, but said he was glad to see new place to eat and drink downtown because it shows people are interested.
"I'm excited to be downtown because that's where people want to be," he said. "I think we're on an upward swing."
IN WITH THE NEW
Don Hulen and his wife had been looking for a place downtown to start their new restaurant, Bandera, featuring craft tacos and margaritas. When they found out Mountain Oasis' old space was open, he inquired about the space and got to work on converting it.
Hulen said he was specifically looking for a place downtown.
"I think it's a perfect mix of locals, college students and tourists," he said.
Hulen said he understands the challenges that face downtown, and said doing business in Flagstaff has never been cheap, but loves the feeling of the area.
"You have to create a unique experience and provide a great product, both in the food you prepare and the way you treat your guests to overcome some of the adversity," he said.
Because the new business will also be a restaurant, Hulen said he does not feel like he's adding to or subtracting from any competition in the area, but said he wants to offer something that he does not think is offered yet downtown.
"We had a concept and idea we wanted to bring and we found a space that matched," he said. "We wanted to respect the culture of downtown Flagstaff while bringing something we don't think downtown Flagstaff has yet."
Bandera is scheduled to have its grand opening on Cinco de Mayo, and will offer traditional tacos as well as artistic combinations. The restaurant will have a bar designed to look like a casita, and will have different varieties of agave-based alcohol. The restaurant will also have a full sustainability program, including biodegradable containers and straws, and water conservation efforts.
Hulen said no matter where people want to open a business, the owners have to make the experience something that people want to return to after they leave.
"Downtown is a really vibrant area," he said. "As long as we have people like Terry (Madeksza) and John (Vanlandingham) who give people a reason to come here, we are on the right track."
Get local news delivered to your inbox!
Subscribe to our Daily Headlines newsletter.