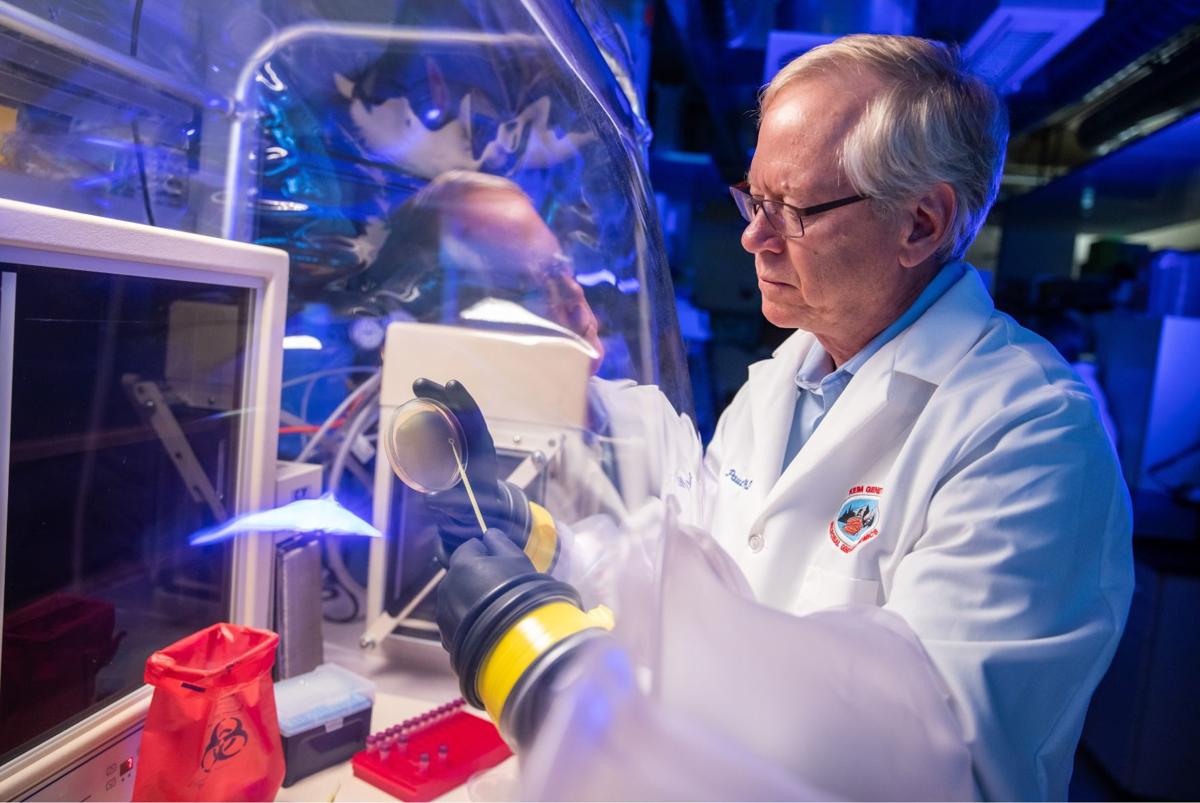 Coconino County's next positive case of the COIVD-19 disease is treated the same as its hundreds of negative tests, starting as a nasal swab and confirmed in a biosecurity lab a few days later.
As of Saturday night, the county reported 60 confirmed cases with 21 cases in Flagstaff and 14 in Page. The county is currently reporting positive cases at a rate of 11.5%, meaning about 60 of 520 total samples, including pending tests, taken from people who are symptomatic test positive for COVID-19.
But how does the testing process work?
Every day, the county submits an average 40 nasal swab samples collected at a drive-thru site now located at Fort Tuthill, not including samples submitted by local health care organizations. The samples are packaged, frozen and then sent to either the state laboratory or commercial labs such as Flagstaff's TGen North, a collaboration between the Translational Genomics Research Institute in Phoenix and Northern Arizona University.
"This is a virus that didn't even really exist until early December and certainly nobody knew about it until late December. And in that period of time, between then and now, the world has stood up the capacity to test for it in an amazing way," said microbial geneticist Paul Keim, co-director of TGen North and executive director of NAU's Pathogen and Microbiome Institute (PMI), "I know that we don't have enough testing, but on the other hand, considering we went from zero to 100 miles an hour in three months is an amazing testament to the state of the research and development field for pathogens."
Both TGen and PMI have the high-level biosecurity labs needed to handle the live virus.
Because the virus is inactive before being handled, testing occurs in a lab with less security. But if the two organizations ever plan to join national efforts to test developing vaccines, they will use high-security labs that can handle microbes that can cause serious or potentially lethal diseases.
Between the two facilities there are currently 150 people — each trained in biomolecular and biosafety methods — now working on COVID-19 testing and research, Keim said.
Although Keim is not personally conducting COVID-19 testing, the process is a standard one for pathogen research, he said. Samples are tested inside biosafety cabinets in batches of about 100 at a time.
First, each sample is purified, Keim explained, removing genetic material from the "boogers" that protect lab workers.
"It's like ripping the guts out of the middle of the virus," Keim said. "The genetic material of the virus is packaged inside of those structures that have the crowns on them, the spikes. So we have to rip that all away to get the genetic material out, and in the process of ripping that away, you kill the virus."
The genetic material is then placed in a specialized machine that can take anywhere from 90 minutes to several hours to pinpoint the microscopic viruses.
Supply shortages
Limited resources have affected health official's ability to collect and test.
With fewer specimen collection kits, also called testing kits, available nationwide, fewer people can be tested. Despite their similarity to cotton swabs, these kits cannot be homemade: They are made of synthetic fibers and must be prepared in areas meeting specific quality standards.
Keim said labs have been hit by the shortage of needed lab materials because many of their materials typically come from China, where the virus originated.
Coconino County has only received about a quarter of the total supplies it has requested from the national stockpile, including both testing kits and personal protective equipment (PPE), said Dr. Marie Peoples, Deputy County Manager and Incident Commander for the local COVID-19 situation. On Friday, Peoples said the county had 163 test kits physically in stock and expected to use 40 per day until more shipments arrive.
Despite the stockpile, Peoples stressed the importance of continued testing to understand how the disease is being transmitted through the community. She expressed concerns for the overall lack of available federal supplies, but was thankful for the limited amounts that have been delivered, including a rush order that arrived Thursday.
"It's one thing to suspect someone has COVID-19, but … without testing, we can't confirm," Peoples said.
For other health care organizations, the supply situation has been similar.
North Country HealthCare had less than five available testing kits when testing began two weeks ago, said Brandon Abbott, an physician who helped the county operate its drive-up specimen collection site on Fourth Street.
"We're looking at this kind of ebb and flow of tests where we might get really lucky and get a shipment of 20 tests in a week and then we try to order tests and are told we can only get two tests per clinic. It's really hit or miss," Abbott said.
Abbott said the drive-up testing site has helped to ration the community's resources, especially the PPE needed to conduct specimen collection and testing.
"We've got those eight to 10 people doing the testing all day long as opposed to almost every medical office in the area using their PPE several times a day for a test," Abbott said. "We would have gone through exponentially more PPE had we not had that testing site."
Now, following guidelines from the Arizona Department of Health Services issued Monday, local testing by the county and organizations such as North Country are being prioritized for health care workers, first responders and vulnerable individuals like those living in shared spaces who have symptoms and people hospitalized with respiratory symptoms.
The county's drive-up specimen collection site at Fort Tuthill has stopped Friday and Saturday and will be open from 10 a.m. to 3 p.m. from Sunday through Thursday, as supplies last. People need to have a referral from a medical provider to be tested for COVID-19.
Concerned about COVID-19?
Sign up now to get the most recent coronavirus headlines and other important local and national news sent to your email inbox daily.