Diné is a language and a culture -- and now, a program to get teachers and students to embrace both.
After a successful pilot last year, the Diné Institute for Navajo Nation Educators (DINÉ) is continuing to provide an eight-month professional development program for K-12 teachers on the Navajo Nation.
The program is the result of a partnership between Northern Arizona University's Office of Native American Initiatives and the Navajo Nation through the Yale National Initiative, a 40-year-old program designed to strengthen public schools and teaching in low-income urban or rural areas.
"Our students are losing their language and their cultural knowledge, so we need to revitalize and strengthen that. I want them to be proud of who they are, their background, their history, their ancestors. And that's why I want to tie culture into my curriculum," said Marnita Chischilly, eighth grade teacher at Wingate Elementary, a Bureau of Indian Education school just east of Gallup, New Mexico.
This week, Chischilly and 23 other Navajo Nation teachers traveled to Flagstaff for a 10-day session held at NAU, where they learned from and shared ideas with university faculty, traditional knowledge scholars and each other.
"We want teachers to grow their own knowledge and carry that to their students, so we honor multiple knowledge systems in our institute," DINÉ Director Angelina Castagno said.
Jolene Smith, fifth grade teacher at Kayenta Middle School, has attended the Yale National Institute since it first reached out to the Navajo Nation in 2010. Six years later, she approached NAU to ask if it would be interested in partnering with Navajo Nation school districts to bring the program closer to home.
This year, participating teachers started meeting in April, and began work on their curriculum unit. The summer residency session is their second time to meet – they will finalize their materials in the fall and have from October to December to use their lessons with their students and then report the results at their final meeting.
"It's not just something they write and then sits on the shelf somewhere, but it's actually being used in classrooms and kids are benefiting from that," Castagno said.
After the fellowship is completed, every created lesson will also be available online for other teachers to access.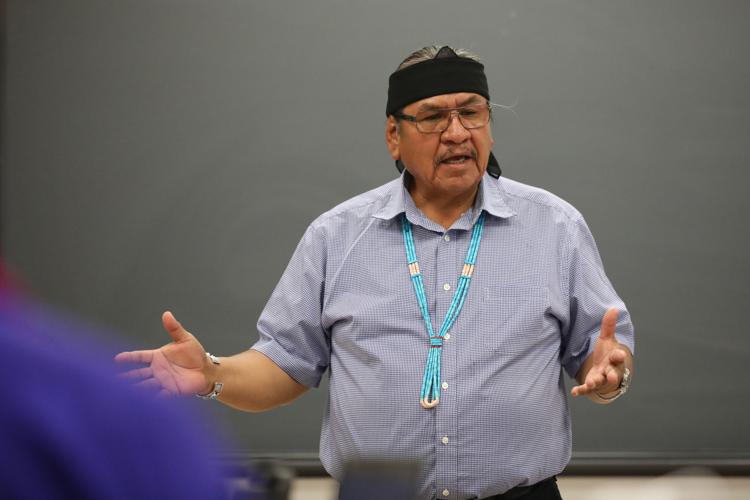 Connections
Those who have completed either the DINÉ or Yale programs agree it has made a difference in their teaching because it helps them create connections, most importantly between students and the content.
Since first introducing their custom lessons into their classes, teachers said their students are performing better on standardized tests and are more eager to learn new things.
You have free articles remaining.
Since she started attending both institutes, Elizabeth Isaac, third grade teacher at Tsaile Public School east of Chinle, has designed lessons to improve reading comprehension in her students.
She said they previously struggled on standardized tests because the content was irrelevant to them, so she started to introduce more engaging topics, like Native American historical figures, to help them improve their skills before testing.
Isaac is now working on health lessons to tie modern ailments to characteristics of the students' ancestors. She said their morning runs, as well as a diet consisting mostly of corn mush, herbs and plants, kept away conditions like diabetes. Running also helped promote mental wellness.
"I want to teach them something that can sustain their culture as well as enhance it, so they can become individual learners and apply it in their lives," Isaac said.
As a math teacher, Chischilly has had her students focus on the geometry of Navajo dwellings, explaining how cone-shaped teepees made for easy transport by nomadic peoples, while the permanent rectangular-prism-shaped dwellings of northern groups allowed them to keep their large families under one room.
Chrischilly also once hosted a mini flea market in class to have students practice saying money-related vocabulary in Navajo.
Though she is a math teacher, Chischilly is now focusing on art, like the symmetrical patterns of rugs and ceremonial baskets, to teach students that even though their ancestors did not have the mathematics of modern classrooms, they still used the same concepts in their designs.
This week, Smith said she was particularly fascinated by a lesson on how to be a better listener by feeling the surrounding air and energy and paying careful attention to the speaker's gestures.
She plans to introduce this to her students at the beginning of the year.
Through this process, teachers have also deepened their knowledge of and connections with their culture, but more importantly with each other.
Smith said different types of schools used to stay separate; however, now that they have met in person, teachers are crossing borders of all types.
"In Kayenta we have a public school across the street from a BIE school and I never used to go over there and now, because of DINÉ, I'm running across the street, talking with the teachers, sharing what we're doing," she said.
The goal is to spread the impact of these teachers, and their DINÉ-formed lessons, so that children across the region can have access to the same resources.
"As teachers, we have that control over how much they can learn. We're more unified to get these students where they need to be because we all want these students to be independent learners and responsible citizens to contribute back to their culture, to show that they are not ashamed, but they're willing to roll their sleeves up and do some work to improve the life of all," Isaac said.