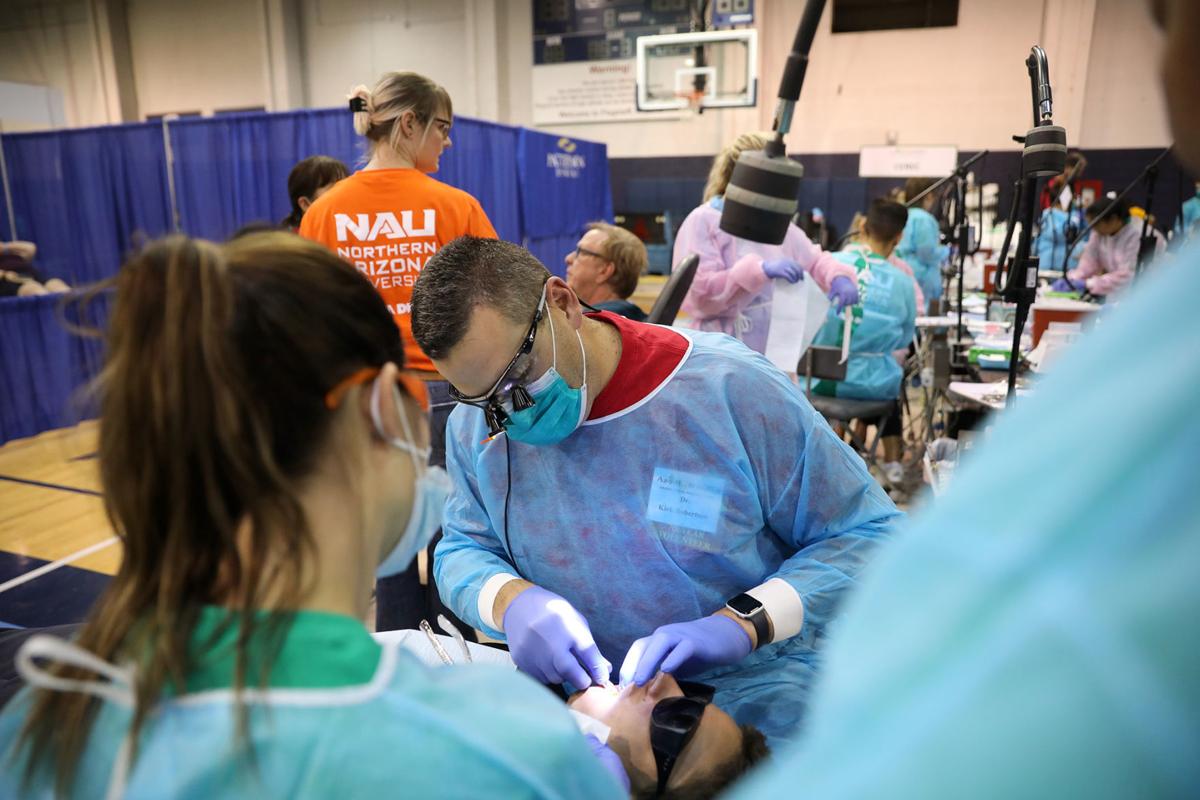 Fourteen-year Flagstaff resident and U.S. veteran Richard Tilley has been without complete teeth for 25 years because he could not afford them. In just a few hours on Friday, though, in a locker room of Northern Arizona University's Rolle Activity Center, he was able to receive a complete set of dentures, which can cost more than $5,000, free of charge.
"I'm looking forward to eating my first apple. I do miss my apples," Tilley said as he bashfully adjusted to the feeling of new teeth.
Tilley was one of 616 people served during the Arizona Mission of Mercy's two-day inaugural Flagstaff Dental Day, hosted by the Central Arizona Dental Society Foundation (CADSF). In total, approximately $650,000 worth of services in free dental care was provided.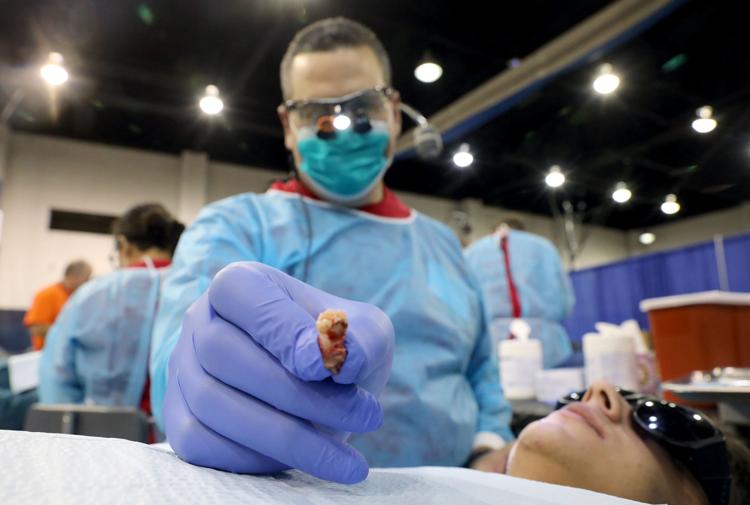 The foundation has hosted seven such events in Phoenix, once a year, and expanded to Flagstaff after two years of planning with local dentists and health care organizations. Similar events through Mission of Mercy are held in 31 states throughout the country.
Dentists, technicians and hygienists who have volunteered at the Phoenix events traveled to Flagstaff to mentor Flagstaff's volunteers. There were more than 125 volunteers who served in two days, including local specialists and those from Phoenix.
"Our vision was always to travel to different parts of the state. We want to teach them what has worked so well for us. It's a model that others want to emulate," said Kevin Conroy, executive director of CADSF. He and his wife, an endodontist, helped found the foundation nine years ago to bring dental care to Arizonans in need.
Conroy said the foundation hopes to bring the event back to Flagstaff in the future using grants from Coconino County.
A pop-up clinic
The activity center was transformed into a full-service dental clinic, with sections for check-in and -out, medical and dental triage, x-rays, post-op, sterilization and supply stations, and procedural spaces. There were also pharmacy and vision screening areas.
More than $1 million in supplies and equipment – including 50 dental chairs, three panoramic x-rays and 70 computer stations – were sent to the event by the America's Dentists Care Foundation from its headquarters in Wichita, Kansas early last week.
The services were provided to patients for free regardless of household income or other socioeconomic qualities. Only individuals with medical conditions like high blood pressure or glucose could not receive care at the temporary clinic.
During such events, Conroy said what patients save in money they spend in time.
Thursday evening, 67 waiting patients were prescreened for treatment the following morning.
John Mauro, like many other patients, arrived hours before the event began Friday morning to start forming a line. Prior to Dental Day, it had been 15 years since he received dental care, but now his teeth have been cleaned and a painful wisdom tooth was removed.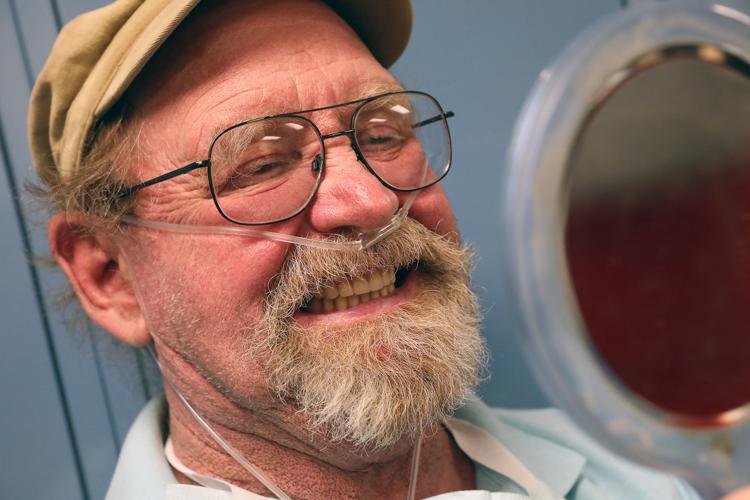 "It was really nice that they had this event. I got to see the oral surgeon that North Country [HealthCare] had referred me to. I couldn't afford him, but then they had this," Mauro said.
Rebecca Swanson heard about the event through her daughter, who had an infection but no insurance to help cover the cost of treatment. Though Swanson said she has dental insurance through her employer, she joined the line with her daughter and had a cleaning, filling and basic eye exam.
"It was amazing. Everyone was great, for sure," she said.
The experience was also beneficial for volunteer dentists.
"I live for stuff like this and I think most of the dentists that are here today are exactly the same way," said Dr. Bradley Henkenius, a dentist at Village Dental Care. "I don't know a single dentist that hasn't had a respect for the need and hasn't had a joy for volunteering and for helping others. I think it's kind of in our blood."
Dr. Henkenius is a regular volunteer at the Poore Medical Clinic's Sid Davis Dental Clinic, where there is currently a six-month waitlist for patients to receive primary dental care. He said about a third of all Americans have never been to a dentist or do not regularly see the dentist.
"There are so many people that have a barrier to care. We have a lot of need up here in Flagstaff because it is the city on the hill, where we draw from rural communities throughout northern Arizona," he said.
Prevention and treatment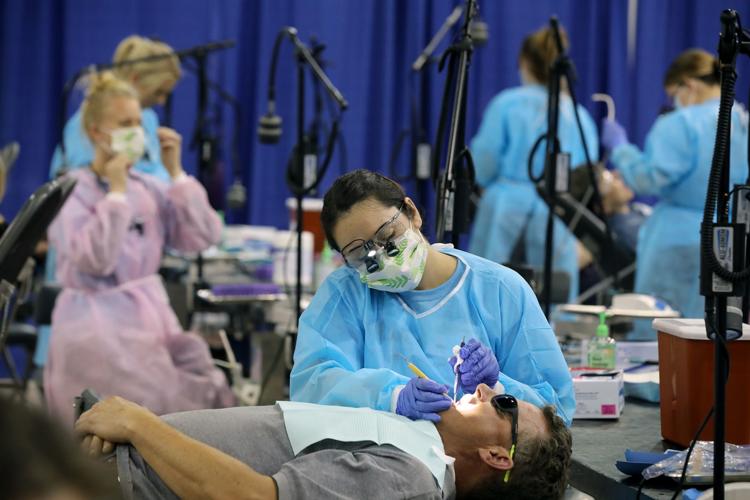 In addition to providing physical services, Dr. Kirk Robertson, a pediatric dentist at Around the Mountain and president of the Arizona Dental Association, said the event also serves to educate the public on the hygienic and dietary practices needed to prevent dental diseases.
He warns people to stop drinking sugar and minimize consumption of carbohydrates because they can easily rot teeth. One of his Dental Day patients had cavities in nearly every tooth, with many rotted down to the gums, because of oblivious sugar consumption.
More than 50 total crowns were provided during the event.
"This event is a great event. It helps people get out of pain and get them functioning again. But this is all preventative. Going to the dentist to get exams, checkups and cleanings is fairly cheap when you compare it to doing surgical and restorative procedures," Dr. Robertson said.
In addition to the hundreds of patients and volunteers, the event also attracted other figures and organizations from throughout the state.
Global Denture Alliance, a Payson-based organization that partners with CADSF, brought its unique premade dentures and team of technicians to the event to give new smiles to more than 60 patients.
By using one of five sizes of malleable dentures and an impression of the patient's mouth, these custom dentures can be created and placed in patients' mouths in an hour.
Jay Smith, founder and CEO of the company, said during the last event in Phoenix, his team provided 152 dentures in two days, more than any event nationwide.
"For me, to give a day or two of my time to change lives for years, I feel privileged to have that opportunity to do that. It's pretty amazing," Smith said.
Congressman Paul Gosar, former president of the Arizona Dental Association who now represents Arizona's 4th congressional district in the U.S. House of Representatives, also dropped in to see the Dental Day turnout. Prior to his political career, he was a dentist for 25 years at his own practice in Flagstaff.
"It's a great start to an event that I'm sure will return and will hopefully expand to maybe Tucson and the reservation," he said Friday morning.
Get local news delivered to your inbox!
Subscribe to our Daily Headlines newsletter.