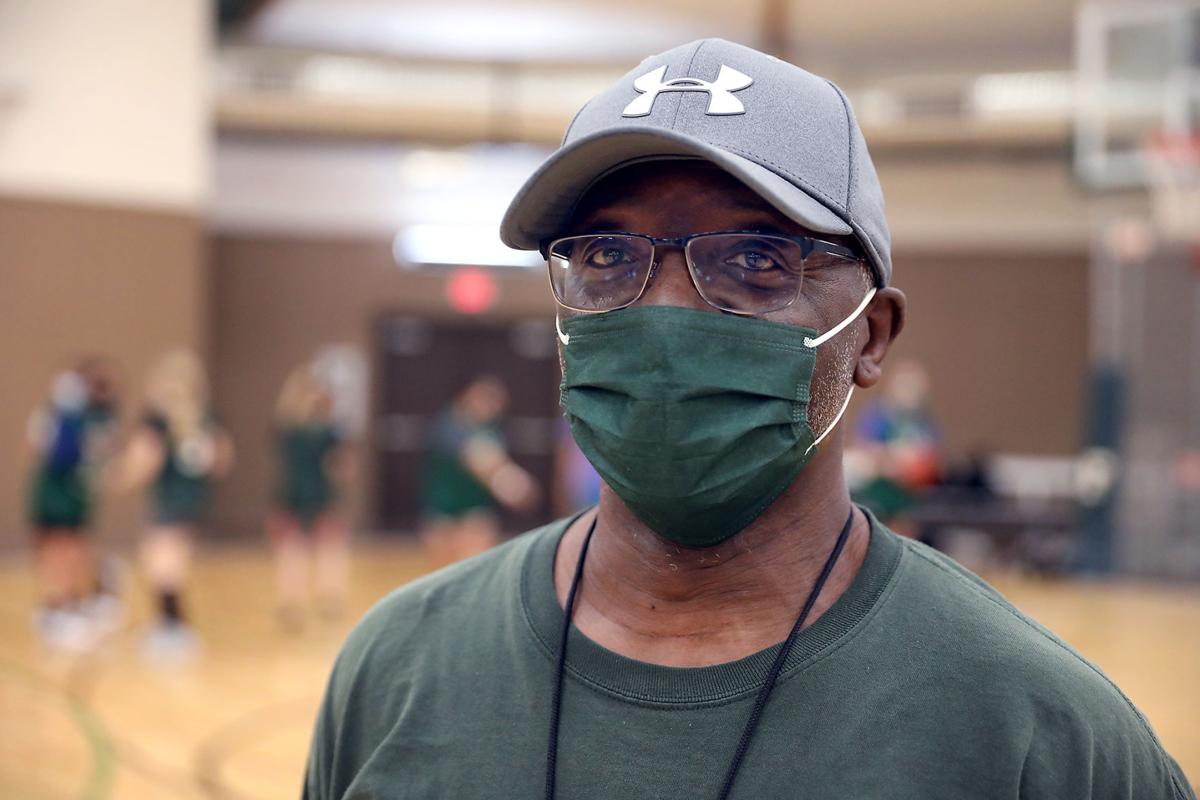 What Danny Neal gave Coral Evans, back in the day, was an ear and his undivided attention when she sought him out — which was often. A chance to practice her jump shot, too, which needed a lot of work.
What Evans gave Neal, in her waning days in office as Flagstaff's mayor, was a key to the city in recognition of his decades of toil as a mentor, coach and father figure to generations of Flagstaff youngsters, Evans included.
As her term was coming to a close in November, Evans embarked on a project to honor citizens she felt made the city what it is but fell under the radar. She planned to honor 67 Flagstaffians with keys to the city — some 35 have already been announced and presented — but perhaps none were as close to her as Danny Neal, whom she has known and admired nearly all her life.
Neal, 66, retired three years ago after 33 years as director of the Hal Jensen Recreation Center and the Siler Homes Activity Center, where he gave kids, many from low-income homes, an outlet to play sports and a place to belong. Now, in "retirement," Neal still can be found coaching the Flagstaff High School JV girls hoops team and running the Flag Hoops youth program.
But when the physical "key" arrived in the mail three weeks ago — a formal city hall ceremony was nixed because of COVID-19 — Neal shook his head in wonderment. He perhaps is too modest to acknowledge it, but the honor is considered by many, including Evans, as the capstone of a long career working for the city and its youth.
"When I retired (in 2018), somebody came up to me and said, 'Hey, man, they're probably going to give you the key to the city,'" Neal recalled. "I'm like, 'Nah, that was too huge to think about.' So, now, I'm very surprised."
He shouldn't be. Evans credits Neal with helping to forge her identity at a young age when she and her brother, Ben, were being reared by a single mother. She speaks in almost reverent tones about his influence on her life.
"I had an opportunity to go (to the recreation center) as a youth and later had the opportunity to organize in that area, and Danny was always there," Evans said. "Always. Danny always looked out for the kids. He was like an uncle or a big brother, teacher and mentor. He's been that to all of us. As I grew into a young adult and adult, I still considered Danny as my mentor."
What Flagstaff kids found when they approached Neal at the rec center was a man always willing to lend a hand, solve a problem, shoot hoops with. Evans said his steadying presence was invaluable to her growing up.
"Just knowing that you have an adult that cares about you in the community is huge," Evans said. "If there's something going on, you could go over there and have a conversation with Danny, go shoot hoops with him. As an adult, I went to the rec center several times and said, 'Hey, can I pick your brain about something?' I knew I could go over and have a conversation with him at any time about anything. And there wasn't going to be any judgment. He wouldn't necessarily try to fix it, but he did have some good insight into what was going on. He listened. And he took the time to listen."
Neal, for his part, said the ability to listen and relate to children and adolescents was simply in his job description. He may have been slightly closer to Evans and her brother because Neal's aunt was best friends with Evans' mother, but to Neal, she was just another kid who needed his attention.
"Coral's been very supporting to me and I've tried to support her, and, really, our lives have been intertwined," Neal said. "That was my whole motto at the rec center. We're going to demand respect from every kid that walks through here, but we're going to demand that we give them that same respect right back. It's not that, just because you're younger than me, I can't learn anything from you. Coral was just one of those kids, she and her brother Ben, who's now a doctor."
Did Neal foresee a day when the whip-smart little girl with a poor jump shot would someday become mayor of his city?
"I didn't," he said, unleashing a deep-bass laugh. "I'm not going to lie. I didn't. But when she hit the scene, she just blew up. Because I've known her for so long, everything was always so down-to-earth and you don't think that person's going to be mayor. Coral, to me, is still just a rec center kid. She's done good and I'm so proud of her."
As for his attribute as a good listener, which Evans noted, Neal shrugged and scratched the beginnings of a salt-and-pepper retirement beard. No big deal, he said.
"People make things so hard," Neal said. "It's simple. Use common sense, man. Seriously. You got to listen to both sides. Situations can get distorted or people see things in different ways, and you just listen to both people and use common sense. Nine times out of 10, if you just do what you know is right with common sense, and as long as you communicate that you understand their point of view, I can feel good about myself at the end of the day.
"I know, for a fact, that in my life I've never tried to hurt one person. Ever. Rec staff used to laugh at me because I won't even kill a spider, I won't step on an ant. I was like, 'Leave 'em alone.'"
When the recreation centers reopen after the extended COVID closure — no date as of yet — Neal said he plans to volunteer his time on the "temp" staff. He can't stay away.
Plus, he wants to keep up with the kids he's mentored and, now, their kids who come to the same rec center.
"I've got over 2,600 friends of Facebook, and 2,000 or so are probably rec center kids," he said. "I may be exaggerating a little, but I do have so many kids who hit me back."
The key to the city is nice and all, but those relationships are what Neal considers his biggest honor. Still, he said he'll let his wife, Janie, frame the key and put it up somewhere in his house.