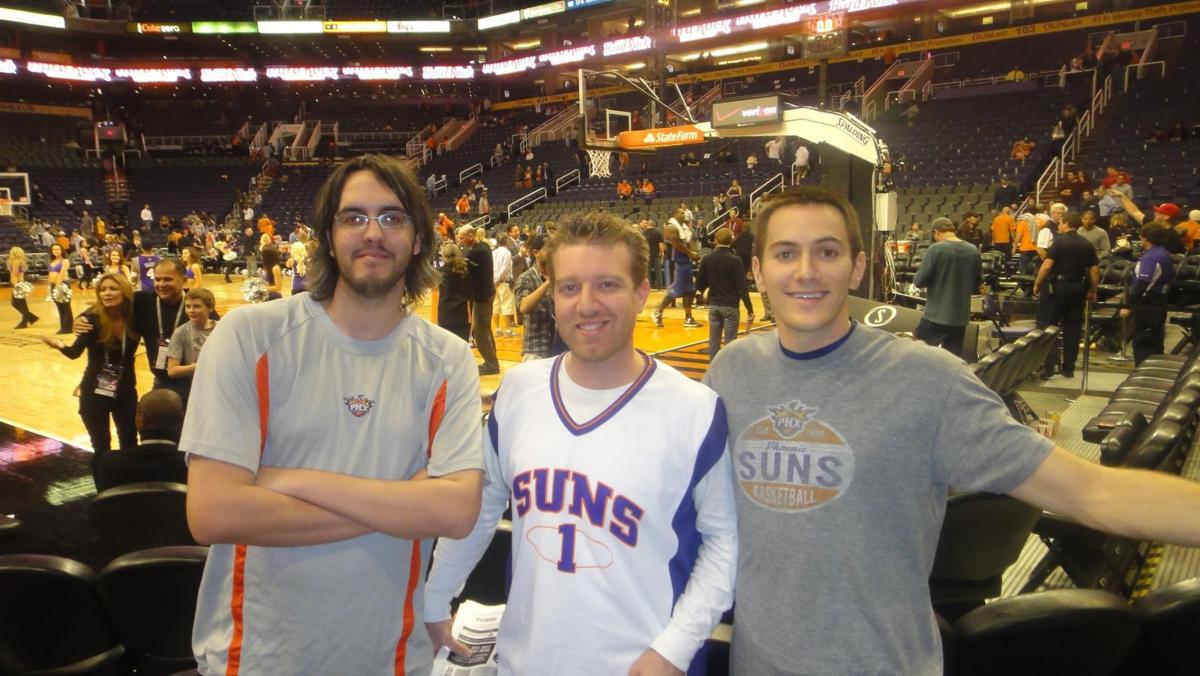 The Arizona Daily Sun appointed a new managing editor this week.
Chris Etling, who will mark 10 years at the newspaper in November, was named to the position following the untimely death of editor Randy Wilson in July.
"Chris is a talented editor who has a decade of experience at the Daily Sun. He is well established in the community and understands the issues that are important to our readers," said Don Rowley, the publisher of the Daily Sun."Chris will be instrumental in furthering our online and social media presence while maintaining a strong print product. I'm confident the Daily Sun will move forward in a positive way under Chris' able leadership."
Etling will oversee newsroom content and stories in addition to managing page designs and editing copy. Many reporters over the years remember Wilson's light burning in his office late into the night, and Etling said he hopes to follow in those footsteps with equal zeal and dedication -- but a little earlier in the evening.
Etling started his career at the Daily Sun in November of 2008 as a copy editor and page designer and worked his way up to associate editor — a position he accepted in 2015. A resident of Flagstaff for nearly 15 years, Etling underscored his commitment to local journalism and the Flagstaff readership and community as a whole.
"I think [even] small newspapers have a tremendous importance for the community -- they can help spread information and hold local officials accountable when necessary," Etling said.
Etling was present during some of the Sun's most pivotal moments, ones that put the notion of spreading information to the test. During the 2010 Schultz Fire — a nearly 15,000-acre blaze impacted numerous homes northeast of Flagstaff — Etling was one of several Sun staff members in the newsroom committed to informing the public throughout every phase of the fire.
"It was sort of a transformative experience because everyone came together to cover everything and get out information in the best way possible, even as some people were personally affected themselves," Etling said.
Etling accepted the position even though he never imagined himself in the role of managing editor, at least not so soon. And he described a plan to "ensure the integrity of all the stories going to print and making the pages look as pretty as possible," despite hurdles that news organizations face across the country.
"One of the challenges we face is the same that newspapers are facing nationwide, which is a difficult climate for journalism both financially and in public perception," he said. "Beyond that, the toughest task will be covering as much of what matters to Flagstaff as possible."
Etling, who was also copy editor and editor-in-chief at The Lumberjack during his undergraduate years at Northern Arizona University, had not planned to go into journalism initially.
"I always wanted to be a baseball broadcaster," he said. "But then I realized that there were only 30 teams, and I wasn't on the best career path."
Along with a "beloved, kooky priest" and English teacher at his high school, Brophy College Prep in Phoenix -- where he grew up -- Etling said senior lecturer and Lumberjack faculty adviser Annette McGivney inspired him to pursue journalism.
"I would say he was so devoted to accuracy and just loving the newspaper so much. I was also his teacher in journalism and he would a lot of times miss class just to work on the paper," McGivney said.
Although Etling realizes there are big shoes to fill at the Sun, he said, Wilson showed him a great deal in preparation for the job.
"Randy taught me a lot of things along the way: to do more with less; to dig into stories when necessary; to listen to readers as much as possible; to solicit advice from those around you."
McGivney said she thought Etling would be a good fit for the position.
"He is so intelligent and so dedicated to accuracy and so fair. Compared to other journalists he's very level-headed and he's able to really look at things and to push back from something that's very heated where other people get caught up," McGivney said. "I think his judgment is great, so to be editor of the Daily Sun, to have someone with his devotion to accuracy and his level-headed judgment and deep understanding of journalism, is perfect."
"I am so happy he stayed in Flagstaff," she added. 
Get local news delivered to your inbox!
Subscribe to our Daily Headlines newsletter.