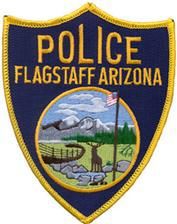 From scary to just plain strange, here are some of the top "Police log" entries of 2015:
2. Sword-wielding man: Flagstaff police arrested a patron inside the restaurant at Little America Hotel after other diners complained he was waving a sword around and talking about cutting people's heads off.
3. Bomb threats: At least three Flagstaff stores received bomb threats in a single day.
5. Felony shoplifting: Four men were suspected of shoplifting more than $22,000 worth of merchandise from Flagstaff's two Walmart locations in less than an hour.
6. Public sexual indecency: A man was arrested after he performed sexual acts on himself in front of several adults and children at a rummage sale.
7. Knife pulled over pizza: A man was arrested for attacking his roommate with a knife during an argument over pizza dough.
8. Drunken driving: Flagstaff Police officers had to call BNSF to stop trains coming through downtown Flagstaff in order to clear the tracks of a van belonging to an intoxicated driver.
10. Nude children photographed in locker room: Flagstaff police investigated a report that a teenager illegally photographed two nude children while taking a "selfie" in a locker room and then distributed the photo on social media.
12. Marijuana robbery: A woman had her medical marijuana stolen as she was exiting a Flagstaff dispensary.
13. Adult toy stolen: Flagstaff police investigated the theft of an unusual item from a local business.
15. Bizarre break-in: A man destroyed the inside of a Flagstaff couple's house after forcing his way inside.
16. Fraternity party: At least five young women were arrested for underage drinking during a fraternity party at the Aquaplex.
17. Shots fired: A Flagstaff man was arrested after police say he fired a gun during an argument with a neighbor over a parking spot.
18. Up-skirt photos: A man was suspected of secretly taking up-skirt photos of an unsuspecting woman inside a store at the Flagstaff Mall.
19. Animal cruelty: A Flagstaff man was charged with animal cruelty for shooting his neighbor's dog with a BB gun.
20. Auto theft: A man pretending to be a Good Samaritan was suspected of stealing a Flagstaff woman's car.