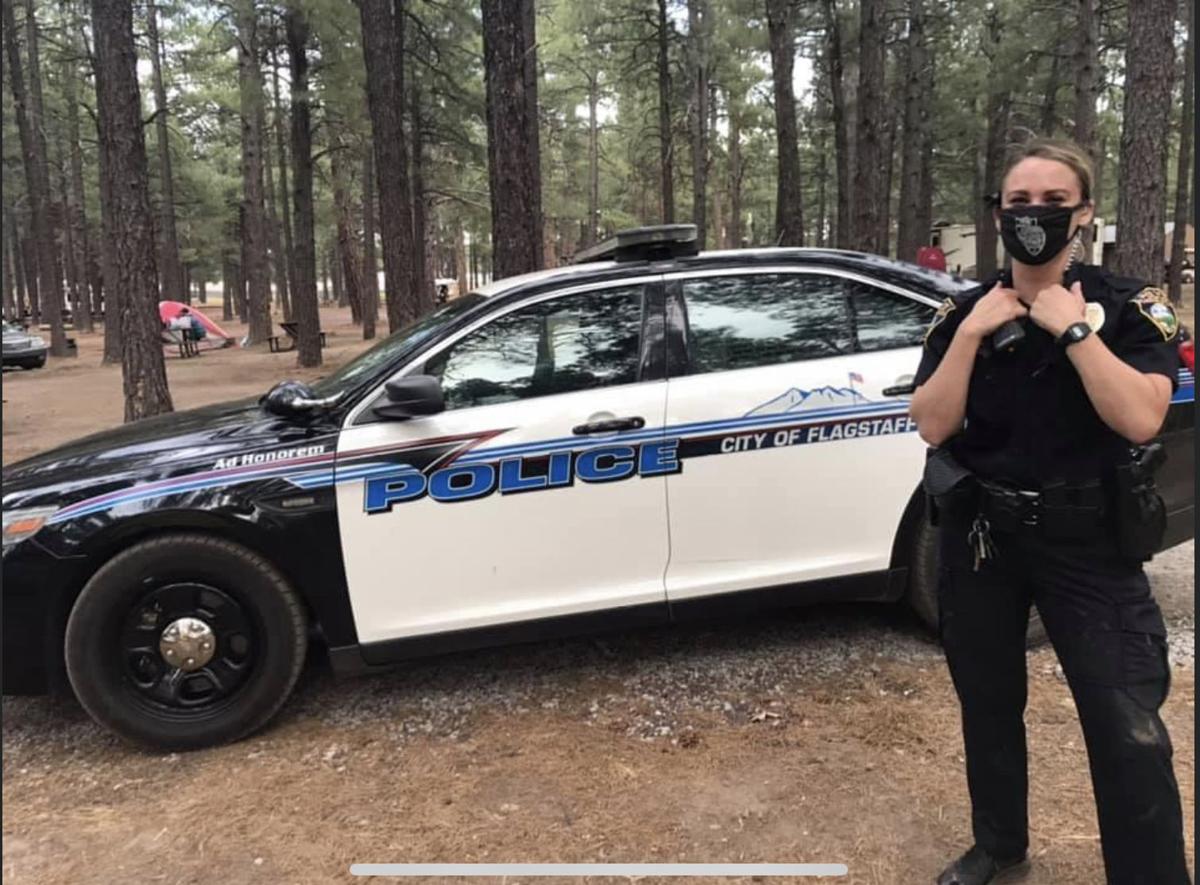 "It was not a matter of if, but when," said Flagstaff police officer Bethany Hyde, recounting on-duty exposures to the COVID-19 virus. She tested positive for the virus in early December after a family camping trip.
She had only been working for the department for about a year when the pandemic swept the nation. She realized fairly quickly the risks of exposure posed by her new career, but as calls for service kept coming, she continued to show up.
Encountering the virus became unavoidable as COVID-19 cases continued to spike in Arizona. Hyde's job exposed her on a weekly basis over the summer, she said, whether at work, conducting traffic stops or responding to routine calls for service.
While Hyde is "usually pretty optimistic," the nature of police work led to an expectation between her and her colleagues that they would eventually test positive.
Hyde detailed a few specific interactions that left her concerned, but contracting the virus felt like a "guarantee" after being spit on by a man who had the coronavirus. Even after washing her face, the two spent over an hour in close contact while the suspect was transported and booked into jail.
"He had tested positive, so I washed my face as soon as I possibly could," Hyde said.
Identifying individuals who are carrying the virus is a semi-anonymous system that sometimes involves confirmed tests, Hyde explained. But often it comes down to an officer asking during an interaction if the person has tested positive.  If the answer is "yes," the officer will take extra precautions to avoid contact.
Avoiding contact is not always a simple task, however, when an incident requires the use of physical force.
One troubling experience faced by officers is the waiting period between an exposure and the opportunity to wipe clean, creating a situation that is unavoidably stressful. At times, it becomes difficult or impossible for an officer to stop and sanitize their hands, face and equipment while making an arrest.
"It can get nerve-wracking. I'm thinking, 'Oh, shoot, I can't get this off me,'" Hyde said.
The man who spit on her was never charged with an offense, Hyde said, and "amazingly" she did not contract the virus from the interaction. In order for the man to be charged, Hyde would have had to prove he did it with intent -- which was difficult as she had her back turned when it happened. He also did not make any verbal threats.
"I didn't charge him with it just because it did not necessarily appear that he did it on purpose." Hyde said. "As opposed to someone, you know, who stands up purposely with their fist in your face and says, 'I hope you get COVID,' or something like that. That would be a different situation."
Requesting backup
Last April, the City of Flagstaff's prosecutor's section of the city attorney's office began pursuing substantially elevated fines and jail sentences for those threatening to intentionally expose first responders to COVID-19.
The city prosecutor's office works with the county attorney's office to pursue felony charges for aggravated assault on a healthcare worker or law enforcement officer, as the situation dictates.
Further, the city prosecutor's section has coordinated with the Flagstaff Police Department to encourage filing disorderly conduct or threats and intimidation charges for those threatening to expose officers to COVID-19.
If an officer has been exposed while on duty, the department requires officers to report encounters deemed high or medium risk to a supervisor, who will then report the specific circumstances, FPD spokesman Charles Hernandez said. It is also required that an infectious exposure report is completed and that officers monitor their own health.
After dozens of exposures, Hyde was surprised when she returned from an isolated 10-day camping trip with her immediate family and was getting sick. Her husband returned a positive first, she was next, and finally, her toddler son, who have all fully recovered since.
Hyde stopped working immediately. Though she was borderline asymptomatic, her isolation began the day her results were returned.
FPD protocol dictates that a positive test result requires a mandatory quarantine. After the 14-day period, officers may resume normal duties, barring persisting symptoms. Additionally, an officer will not be cleared for duty until they have been free of a fever for 72 hours without using fever-suppressing medication, according to Hernandez.
Hyde said her supervisor and colleagues were supportive during the process. The department told her to "take care of herself" and looked forward to her return. She was back on duty two weeks later after testing negative.
Since the onset of the virus, the FPD has taken steps to mitigate transmission in such events. Officers are given "COVID-19 kits" containing multiple sets of gloves, bacteria protection masks, goggles and antibacterial wipes.
"Having officers wear a mask is super important in setting an example when we step out in in public," Hyde said.
Hyde has not personally encountered an officer who was obstinate about wearing a mask, but said there is a 50-50 split when it comes to officers who are "extremely cautious" in avoiding transmission, whether concerned about getting sick themselves or spreading it to their family.
Most officers are "pretty good" about using their equipment, Hyde said, but some go the extra mile, such as sanitizing their patrol vehicle daily. There is a station set up outside the department with cleaning supplies that officers can use to keep their vehicles sanitized, and an entire system is in place for sanitizing and quarantining cars that have come into contact.
"I see officers using that station all the time -- which is good," Hyde said.