Sasha Krause was found dead face down in the cinders near the Sunset Crater National Monument just outside of Flagstaff. Her hands had been bound by patterned duct tape and a .22-caliber bullet had been fired into the back of her skull.
As opening arguments commenced Friday in the Coconino County Superior Court, attorneys say those details will be important during the three-week trial to determine the guilt of her alleged killer.
Krause disappeared from her Mennonite community outside of Farmington, New Mexico, on Jan. 18, 2020. Her body was found hundreds of miles away more than a month later by a camper searching for firewood.
The prosecution has presented a largely circumstantial case against 22-year-old U.S. Air Force airman Mark Gooch, tying him to the crime using cellphone records, financial statements and surveillance footage.
Gooch is accused of kidnapping Krause from the community before murdering her and discarding her body in a forest clearing.
A point of contention between the two sides exists in the weapon used to fire the bullet into the back of the victim's head.
The prosecution claims forensic evidence is conclusive that the bullet was shot from a rifle that Gooch owned. The defense, however, says it will prove through expert testimony that the gun markings imprinted on the bullet cannot be tied to the defendant's firearm with certainty.
In his opening statement, defense attorney Bruce Griffen pointed to a lack of direct evidence in the state's case -- which includes no eyewitnesses. The defense attorney also questioned whether there was a motive for Gooch to commit the act of violence, painting the defendant's character as "peaceful and nonviolent."
Both sides agree that there is no indication the two knew each other prior to the incident. But the prosecution says it will argue that Gooch fostered a hatred toward Mennonites after being raised in the faith.
Prosecutor Ammon Barker argues that under the cover of darkness and traversing remote parts of the country, it is unsurprising that the crime was carried out with no eyewitnesses.
Griffen pointed to the unique graphic patterns on the duct tape that was used to bind Krause's hands and feet, claiming an investigation into where that specific type of tape was sold produced no investigative leads and could not be tied to Gooch's financial records.
Authorities allege Gooch's financial records show he stopped at a gas station and a McDonald's as he drove seven hours from Luke Air Force Base to the community in Farmington to kidnap Krause.
Gooch admitted to detectives in an interview that he had traveled to Farmington, but claimed to have been in search of fellowship at a Mennonite church. The defense contends that Gooch left the community after realizing the church did not offer a Saturday service.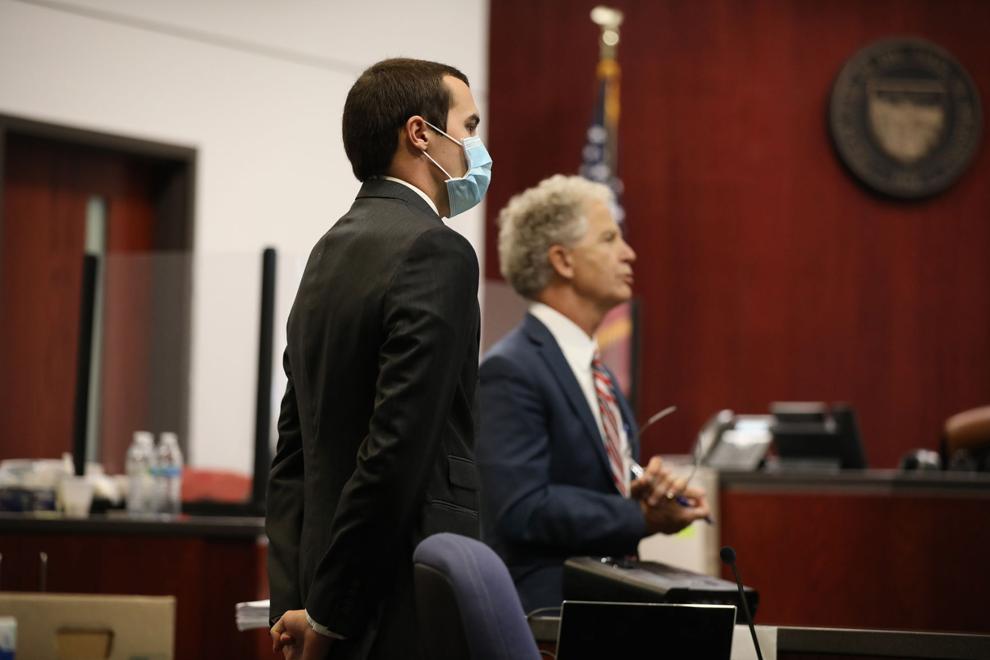 The prosecution claims Gooch did not identify himself to anybody after arriving in the Mennonite community, and that nobody knew he was there. Barker told the jury Gooch attempted to "cover his tracks" by discarding evidence and deleting location data tied to his Google account.
"Unfortunately for the defendant, deleting his Google account's location history had no effect whatsoever on his AT&T location history retained by that provider. In that sense, the defendant didn't cover his tracks. He highlighted them," Barker said.
Authorities say they were able to track Gooch's cellphone as it pinged cellular towers heading toward the scene of the crime. Investigators first tracked cellphone data from Krause's phone and eventually matched the times and locations to Gooch's phone number.
Gooch is alleged to have returned to the scene of the crime on Jan. 19 and stayed for about 30 minutes. Authorities claim Gooch made no detours as he traveled five hours to the area outside of Sunset Crater, and that it is unclear if he located the body on the subsequent trip.
Further evidence that will be presented in trial includes text message exchanges between Gooch and his brothers where he talked about surveilling Mennonite churches in metropolitan Phoenix and praising one for ticketing a Mennonite during a traffic stop.
Griffen also told the jury there will be evidence of a third unknown car that was seen in the community during the relevant period of time that did not belong to Krause or Gooch.
As the trial continued Friday, the prosecution called another Farmington resident and one of Krause's roommates to the stand to testify. The witness said they grew concerned after Krause left on Jan. 18 to pick up Sunday school supplies from the nearby church and never returned.
Worried, the witness said they joined other members of the community to search the church and found Krause's car unaccompanied in the parking lot. The witness said it was unlikely that Krause would have left the community unannounced.
Krause moved to the community near Farmington in 2020 from Texas, where she taught school. Her time in Farmington was spent working at Lamp and Light Publishers, where she produced religious texts. She spoke Spanish and French.
Krause's parents and members of her community in Farmington were present for the trial Friday. Others interested in the case were listening in via telephone.
Gooch faces up to life in prison if he is convicted of first-degree murder and other charges in the disappearance and death of Krause.
Opening arguments heard in trial of Mark Gooch
A U.S. Air Force airman on trial on charges of kidnapping a Mennonite woman in New Mexico, fatally shooting her and dumping her body in northern Arizona, had tried unsuccessfully to cover his tracks after the January 2020 killing, a prosecutor told jurors Friday in opening statements.
The Associated Press contributed to this report.