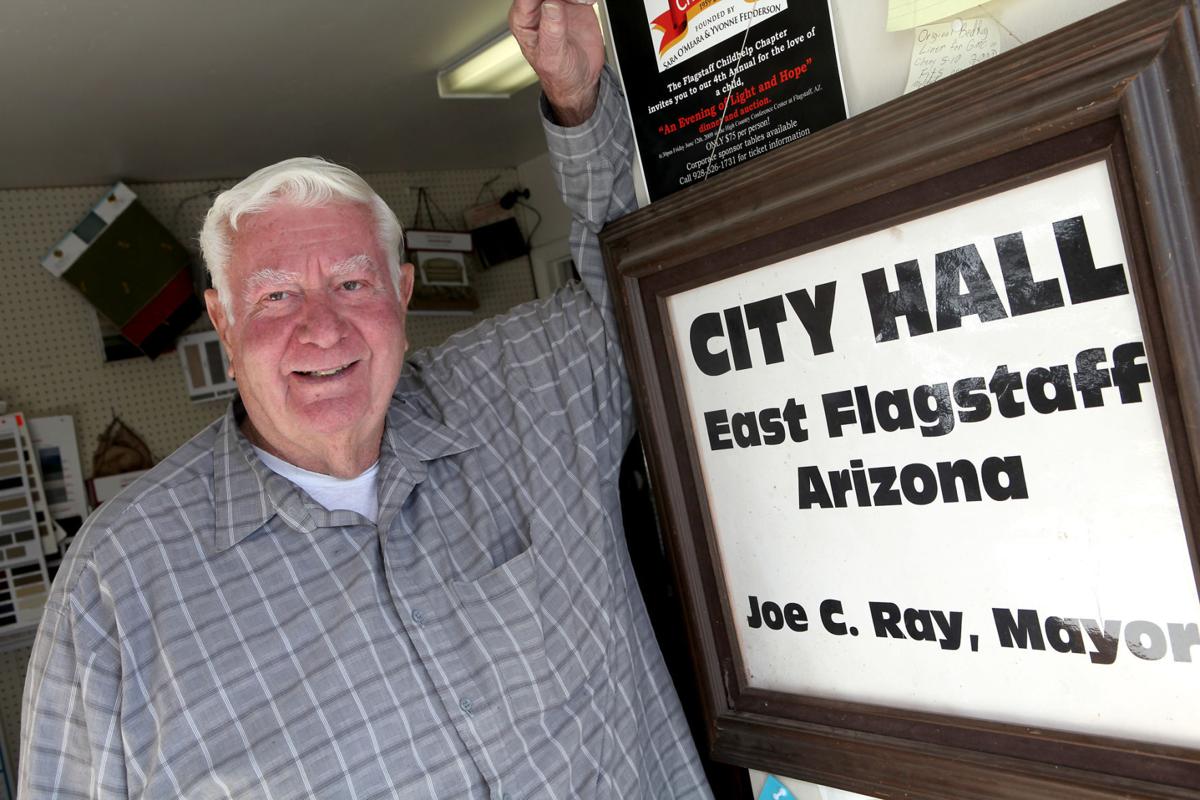 One neighborhood that has been fighting the "high-crime" label for years has become the local poster child for crime prevention partnerships between community members and their police officers.
Coral Evans, a Flagstaff City Councilmember and active member of the Sunnyside Neighborhood Association, said the crime rate in Sunnyside is at an all-time low.
"We met with the chief of police in January and he told us that Sunnyside has one of the lowest crime rates in the entire city," she said. "The reason why is because we have an active citizenry, an active neighborhood association, active residents who are actively engaged with the community."
According to police officials, Sunnyside, historically, had one of the highest crime rates of any neighborhood in the city. A Daily Sun estimate in 2003, based on crime reports, revealed that between 13 percent and 23 percent of the various categories of crimes in the city took place in the neighborhood.
At SNA's last meeting with the police, the rate was about 6 percent. Evans said that figure is particularly impressive considering Sunnyside is the most densely populated neighborhood in Flagstaff and is home to about 10 percent of the city's population.
Evans credits the low crime rate and community activism to a number of local neighborhood programs including Radio Sunnyside, the Market of Dreams, the Sunnyside I AM Youth Program and a new neighborhood health program. She also pointed to the King Squad.
The biggest boost to the neighborhood was been the U.S. Department of Justice's Weed and Seed Program grant, Evans said. The neighborhood was able to get funding for 11 years through the program, which helped neighborhoods and local law enforcement create five-year plans to "weed" out bad elements in a neighborhood – crime, drug abuse, gang activity – and "seed" in new programs that residents wanted to see in their neighborhoods.
SNA members said Weed and Seed helped improve the relationship between the neighborhood and local law enforcement, encouraged redevelopment, attracted new organizations that have helped revitalize the area and got neighbors more involved in their community.
"Before Weed and Seed, this community especially was very standoffish with the Police Department, said SNA Board President Joe Ray, who has lived in Sunnyside since 1956. "The first thing we realized after we received our grant was that we needed to slow the police down."
SNA bought the King Squad officers bicycles and they started knocking on doors to meet the residents. Ray said children, particularly, went from believing they should stay away from to police to being so comfortable with them that they wanted the King Squad officers at all their community events. The officers still play basketball with Sunnyside kids every month.
Runge agrees that Sunnyside has become safer since Weed and Seed began. He said the Police Department still identifies it as one of the neighborhoods with a high number of crime reports, but part of that may be a side-effect of the King Squad. He also said the police now tend to catch more of the low-level crimes in Sunnyside before they escalate into felonies or ongoing problems.
"When you have a specialty police squad in an area, they tend to find things," he said. "They're getting high police focus. And when they find things, they're finding everything and they're reporting it all. In other neighborhoods, crimes may go unreported or unnoticed."
Ray said the relationship the police have built with the community means people are no longer afraid to call when they see something suspicious.
"That makes the (high number of) telephone calls look bad, but to us it looks good," he said. "We want the people to call."
IMPROVING NEIGHBORHOOD SAFETY
Runge said there steps any neighborhood can take to be a little safer. Flagstaff police have a sergeant trained to make recommendations to neighborhood associations, landlords and citizen groups about how they can improve environmental design to prevent crime.
"When you have decreased lighting, decreased visibility, high bushes and stuff like that, it can increase the likelihood of crimes being committed because people have a place to hide," Runge said. "Most of our break-ins are through back doors in fenced areas, even in nicer neighborhoods."
The most important way to avoid being a victim of violent crime, he said, is to maintain an awareness of your surroundings.
"A lot of the people that are victimized with violent crimes are inebriated at the time that they are victimized," Runge said. "That's true whether it's sexual assault or a robbery or a fight or aggravated assaults in the parks."
Making sure people can see their neighbors in public areas where they might otherwise be cornered by a potential attacker and making sure the community does not get pushed out of any areas by criminal activity have also proved helpful.
"We saw right off that we need to take our parks back (in Sunnyside)," Ray said. "Even the people that are living around the parks now watch those parks because when they see somebody loitering around and drinking and stuff like that, they don't hesitate to call the police."
The is one big thing Runge said all residents should do to prevent property crime in their neighborhoods: Lock their doors.
"A lot of people will go check a number of doors until they find an unlocked one and they will steal what's unlocked," he said. "I know it's a common perception in the community that if I lock it, they're just going to break a window. Not necessarily. That's the biggest thing that people can do to protect their property."
The other thing people can do is make an inventory of their property with descriptions, photos, values and serial numbers. The police can enter certain property into the FBI's National Crime Information Center database so it can be easily returned to the owners if it's recovered, but only if it has a serial number and a description.
When in doubt, Runge said, call the police.
"We need the community," Runge said. "The people have the information that we need. The people know where the drug houses are in their community. They know who's stealing things and who's not."
Sign up for our Crime & Courts newsletter
Get the latest in local public safety news with this weekly email.