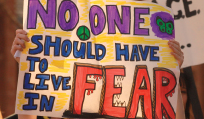 Back in February, a Northern Arizona University freshman told campus police she believed she had been sexually assaulted by a male student in a dormitory room.
Police arrested the suspect on sexual assault charges and he spent three days in jail.
But he was then released and the Coconino County Attorney's Office declined to prosecute the case.
"We have concluded that we cannot go forward with prosecution because there is not a reasonable likelihood of conviction at trial," said Senior Charging Attorney Jane Nicoletti-Jones. "In (this case), the statements of a witness other than the suspect or alleged victim were an important part of our decision."
Although officials declined to comment on this case specifically, it illustrates some of the hurdles that accusers and their advocates face when filing sexual assault complaints.
According to the NAU Police Department report, the young woman had been drinking alcohol with a female friend and two young men inside a dormitory on the night of Feb. 1. She told police she remembered kissing one of the young men before blacking out due to her high level of intoxication.
When she woke up the next morning, her friend explained that the young woman had had sex with the young man she had been kissing earlier in the night. NAUPD officers interviewed the young woman, the suspect and the two other witnesses who were in the room with them, but got conflicting stories. The suspect admitted to them that the young woman had probably been too drunk to consent to having sex, but other witnesses disagreed.
The Feb. 2 case is one of only two sexual assault allegations reported to NAUPD so far this year. According to the 2013 Annual Campus Security and Fire Safety Report, only 16 forcible sex offenses were reported to NAUPD or NAU officials on the Mountain Campus in 2012, the most recent year for which such crime statistics are available.
But research shows the number of sexual assaults that are not being reported on the NAU campus is likely significantly higher. A National Institute of Justice report found roughly 20 percent of college women - one in five — and 6 percent of college men become victims of sexual assault or attempted sexual assault. Extrapolating from the survey, that means 2,125 women and 530 men currently attending NAU in Flagstaff will become victims before they graduate.
In light of what President Barack Obama has described as a nationwide epidemic, a White House task force formed in January to protect students from sexual assault issued a series of recommendations for American universities this past week.
"The White House report, which came out just a few days ago, makes an important contribution to the public discourse about sexual assault," said Coconino County Attorney David Rozema.
The report has prompted NAU officials to take a closer look at the school's sexual assault policies.
Perhaps the biggest challenge facing NAU officials is determining just how many sexual assaults are happening on the Mountain Campus every year. According to a Bureau of Justice Statistics report, only about a third of sexual assaults and attempted sexual assaults that occur in the United States are ever reported to law enforcement. The report cited self-blame, shame or embarrassment, fear of the perpetrator, fear of other individual's perceptions and fear of not being believed as a few of the reasons victims gave for not coming forward.
"There's still, even in 2014, a huge stigma attached to sexual assault in regards to the victim or survivor being blamed for it," said Sydney Tolchinsky, Northland Family Help Center's community education coordinator. "It doesn't have to be blatant, but people ask questions like, 'What were you wearing?' or 'What were you drinking?' or 'Why were you drinking?'"
With so few victims reporting their sexual assault, the White House task force is exploring ways to require all colleges and universities to conduct climate surveys to identify the scope of the problem.
NAU Assistant Director of Public Affairs Cynthia Brown said the university was already on board with that idea long before the task force was created. She said the university has surveyed its students for several years using the American College Health Association National College Health Assessment II, which surveys students on a variety of topics including sexual assault.
"Those results are used to tailor the university's education efforts," she said
According to NAU's Health Promotion Office, a 2013 survey of NAU students found less than 5 percent of students reported various forms of sexual conduct without their consent.
Whether those figures accurately represent the prevalence of sexual assaults on campus is expected to become clearer when the White House task force releases its guidelines for campus climate surveys to universities for the fall semester.
"One of the opportunities presented by the White House Task Force proposed 'toolkit' for climate surveys will be the opportunity for consistent data to be compared among like institutions," Brown said.
Although individuals do not have to prove they were sexually assaulted in order to access counseling, medical care and a long list of other resources, the Feb. 2 case at NAU highlights the difficulty many face when they buck the trend by reporting sexual assault allegations instead of staying silent. Even if law enforcement finds probable cause to arrest a suspect on suspicion of sexual assault, there is no guarantee that suspect will ever be formally charged with a crime.
In Coconino County, the decision to bring sexual assault charges against a suspect falls to a three-person panel that consists of Nicoletti-Jones, Rozema and County Chief Deputy Attorney Michael Lessler. They weigh factors including the physical evidence and witness statements gathered during the investigation, and the reliability of witnesses, the suspect and the victim.
"These factors are similar to those we consider in deciding whether to pursue any felony case, and they are considered in light of the charging standard used by most prosecutors' offices throughout the country: whether there is a reasonable likelihood that a unanimous jury would find the defendant proved guilty beyond a reasonable doubt," Nicoletti-Jones said.
So far, the panel has made a decision on 15 of the 20 sexual assault cases submitted by law enforcement from all over the county in fiscal year 2014, including four cases from NAUPD. Only seven have been charged. Two were NAUPD cases.
"Often, the decision regarding whether or not to prosecute a given case can be a very difficult one to make," Rozema said.
In the Feb. 2 case, the panel identified several factors that opened the door for reasonable doubt. There were conflicting statements from the witnesses, the young woman admitted to "making out" with the suspect before she reportedly blacked out and she waited about 14 hours to report the incident after it happened. The criminal case was over.
The County Attorney's Office treats allegations involving NAU students just like any other sexual assault case.
"Any sexual assault at NAU is too many," said NAU Director of Public Affairs Tom Bauer.
Under Title IX of the federal Education Amendments of 1972, all universities are required to protect students from sexual assault. Many of the recommendations the White House task force made this week to help universities meet that goal are already in place at NAU, such as a confidentiality policy, a reporting policy, options for students who may not want to file a formal complaint right away and specialized training for employees who provide services to victims.
NAU's ongoing involvement with community coalitions that respond to sexual assaults, like the Sexual Assault and Relationship Violence Task Force and County Coordinated Response Team to Domestic Violence and Sexual Assault, also put the university ahead of the curve when it comes to meeting the White House task force's recommendations.
NAU has its own sexual assault protocol that dictates how university officials must respond to such allegations.
"If an incident of this nature occurs, multiple university offices — including the Police Department, Student Life, Residence Life, Affirmative Action and Equal Opportunity and Campus Health Services — may be involved in addressing the issue," Bauer said. "Some redundancy is built in so that the victim has multiple opportunities to learn about resources and options."
One option that is unique to student-on-student sexual assaults is the ability for a victim to ask the school to investigate the allegation. NAU's Office of Student Life then investigates the sexual assault complaint in consultation with the Affirmative Action Office not as a criminal act, but as a violation school policy. NAU has just begun to review its investigative and adjudicative procedures in response to this week's guidance from the White House task force.
Students found to have violated the prohibitions against sexual assault in NAU's Code of Conduct or Standards of Residence can face punishment ranging from a warning to suspension of expulsion.
It is unclear whether the student accused in the Feb. 2 sexual assault report will face punishment.
"We do not comment on cases that are still pending," Brown said.
What is certain is that the woman who reported the sexual assault was able to get orders prohibiting the suspect from contacting her or entering certain buildings where she would be. Such orders, which are issued by the Office of Student Life, are just a few of the resources available to students who report a sexual assault.
Other options include access to medical attention and counseling, support groups, class schedule changes, and the option to have Northern Arizona Center Against Sexual Assault conduct a sexual assault examination. Students can also choose to have an advocate from Victim/Witness Services of Coconino County assist them through the process and guide them to resources regardless of whether the case ever goes to trial. All students who report being victims of sexual assault receive a resources letter from the Office of Student Life.
Any students who are not satisfied with NAU's response to their sexual assault report have the option to go to the university's Office of Affirmative Action/Equal Opportunity and ask for a federal Title IX investigation. On Thursday, the White House released a list of 55 universities and colleges that are currently under investigation. NAU was not one of them, although ASU was.