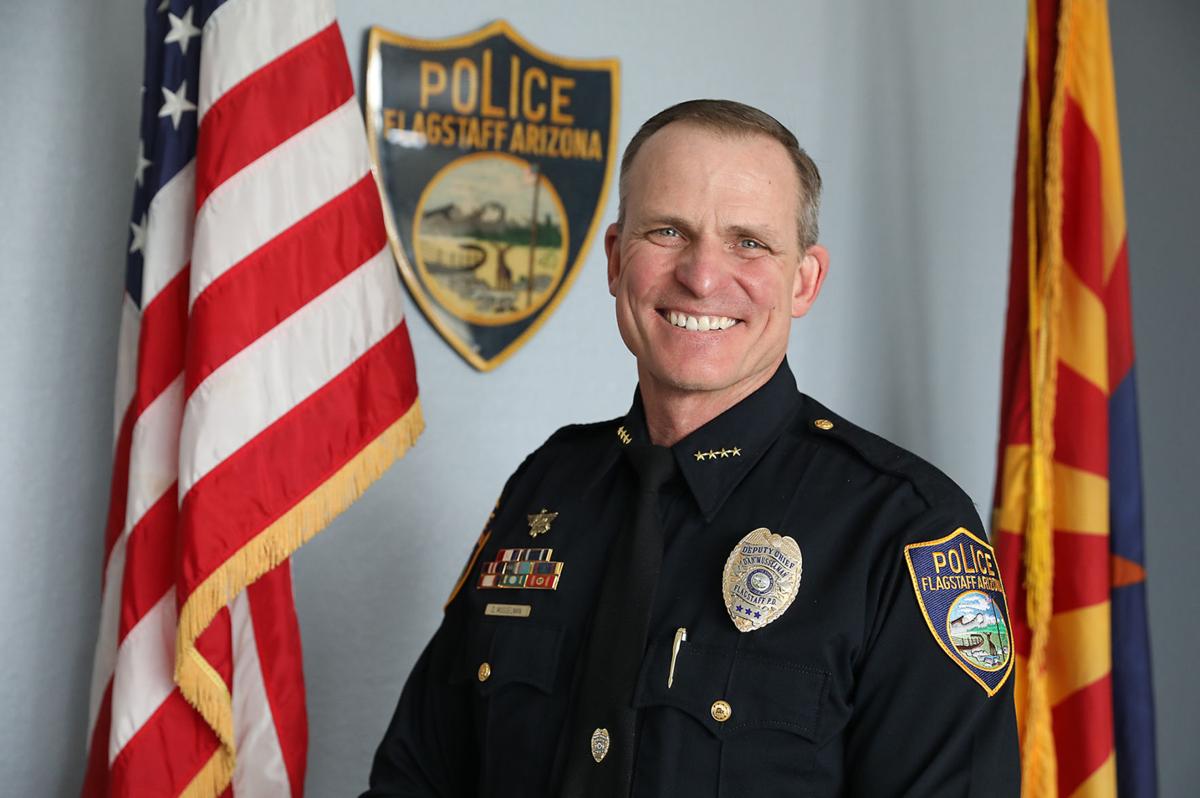 Dan Musselman, newly named police chief for the Flagstaff Police Department, has high hopes for the department during his tenure.
Musselman has held the position as an interim since June, when former Chief Kevin Treadway retired. The search for Treadway's replacement attracted 35 candidates and "was a very competitive recruitment process," Flagstaff City Manager Greg Clifton said.
Musselman said the decision represents continuity for the department and that he plans to sustain the progress made by his predecessor. Treadway ran a very "ethical and competent department," Musselman added, and the department will continue Treadway's practices of transparency.
"I've been here for many years and most of the issues I have a working knowledge of," Musselman said. "I have a good idea on the issues we need to work together and solve."
Musselman is a veteran police officer and administrator, having worked for the FPD since 1995 and acted as a deputy police chief since 2012. Raised in Phoenix, he is also a Northern Arizona University graduate.
"I became an officer due to my desire to help people," he said.
As he enters the position, Musselman said, there are several key issues the department is facing, including attracting quality personnel, rising costs of policing technology and increasing efficiency within the department.
Talking transparency and tech
Musselman also takes on the role during a time when there is more scrutiny on local police departments. Last year, activists in Flagstaff and across the U.S. called for reductions in police funding following the killing of George Floyd by Minneapolis police officers.
Musselman said his department took those protests as an opportunity to meet with residents and create a dialogue. This type of dialogue is important even if they might not always agree, he said.
And Musselman believes the department has done the right thing in the most difficult situations.
"Our officers have been justified when they have used deadly force, the same way citizens would be justified when they have to use deadly force," he said.
Musselman added that he believes law enforcement is lucky to have support from the community, despite some calls for defunding.
"We've been pretty lucky to enjoy the support of the community. That's because we've worked on building trust and being transparent," Musselman said.
"Transparency" was a word that Musselman brought up frequently as he spoke of his department's relationship with the community. One way the FPD practices this, Musselman said, is through a willingness to go over body camera footage and talk through issues with those who have submitted a complaint.
Musselman added that the department frequently publishes information on high-profile incidents, officer demographics and other types of data. On the topic of transparency, he said there is still work to be done, circling back to the limitations of the records department.
"There is definitely room for improvement in the area of transparency. Our records department was a little bit limited," Musselman said.
Currently, his agency is working on upgrading the technology in the records department and in officer dispatch. An improvement to the records system will allow the department to extract new types of data that the public "likes to see," Musselman said.
He said there have been many advances to technology in recent years, but implementing that technology can be expensive.
He noted the robust radio system used by his officers -- which he said is effective, but "a huge budget impact" to sustain. At times, there is an expectation from the public that the department is keeping up with technological advances.
"Everyone watches TV and sees these great computer programs that can match the paint on a car and have the suspect in custody within an hour," Musselman said. "There's all kinds of neat programs out there, but they cost a lot."
Personnel challenges and efficiency
FPD has faced challenges recently that come with bringing in qualified new officers, Musselman said, noting that many of the concerns his department faces are not unlike those faced by the rest of the Flagstaff community.
"We struggle with everything everyone else does in our community: cost of living, lack of affordable housing, limited compensation, and a somewhat limited job market for trailing spouses and partners," Musselman said.
One way the FPD is looking to address these challenges is by making sure officers are compensated in ways beyond pay, such as tuition reimbursement, uniform reimbursement and the city's first-time homebuyer program.
"It may not be hourly compensation, but we are looking at other compensation that helps keep people here," Musselman said.
Musselman added that training a new officer involves a yearlong process and costs his department nearly $100,000. Further, the selection process is rigorous -- requiring a large pool of applicants as the department only hires about one out of 17 applicants, a number that reflects national averages. Because of this, he said, it is disappointing to lose officers to other departments.
"We expect more out of our people. We don't like training great people to have them go to another agency," he said.
Musselman said the increased scrutiny on officers following national tension between law enforcement and citizens has also been a factor when hiring personnel.
"At many jobs, if you make a mistake at work, that's between you and your supervisor. As an officer, if you make a mistake at work you could find yourself on the front page of the paper," Musselman said. "It makes it all the more challenging to find a good applicant."
While avoiding mistakes is the goal, Musselman said the department does have to let go one or two officers each year because of policy violations. He asserted that these are not the "caliber" of officers he wants to represent the FPD.
A report in 2019 found that Flagstaff gets 581 calls per 1,000 people, compared to 30 other benchmark cities that have an average of 433 calls. During a Flagstaff City Council meeting in October, former Flagstaff Mayor Coral Evans asked Musselman about the high call volume, to which he asserted is likely related to the city being a "college town," meaning the age demographic suggests more social interaction and thus more interaction with the police.
When recently asked about how the FPD can mitigate the impacts of a high call volume, Musselman said it is all about being more efficient. One way Flagstaff law enforcement has sought increased efficiency is by utilizing their community partners.
One example Musselman gave was the work of Catholic Charities in Flagstaff that helped officers transport homeless people to shelters during the recent cold weather snap. Utilizing transport and shelter services takes a sizable, and expensive, burden off the department, he said.
"We learned that Catholic Charities usually staffs a van most nights and is willing to make those transports," Musselman said. "In the past we've had people come up to our officers and ask, 'What can I do to be arrested so I have somewhere to stay the night?' Getting these people housed in shelters really takes a burden from us."
Musselman is also looking for "creative ways" to handle emergency calls effectively, such as implementing alternate response models to mental health calls and public intoxicant calls.
"If someone is experiencing depression and they dial 911, hopefully instead of sending an officer to speak with them, we try to screen those and ask if they are willing to be transferred to a crisis line," he said.
Musselman has been encouraging the public to use online reports for matters such as lost or stolen items in order to free emergency response phone lines.