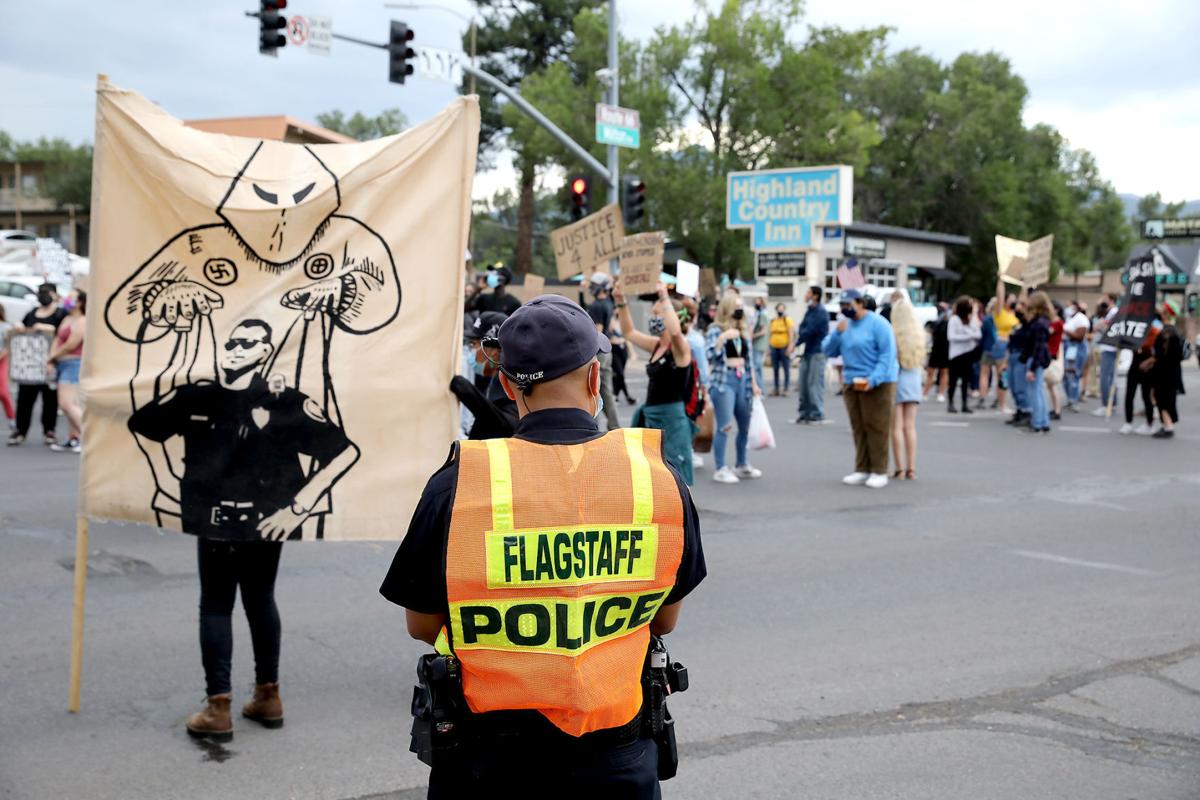 The Flagstaff Police Department was invited to explain its policies, procedures and operations to the Flagstaff City Council during Tuesday night's meeting.
The meeting was the first of three the council plans to have with the department to learn about current policies and procedures. The next meeting will look at what other cities are doing to respond to mental health and public intoxication, and the third meeting will discuss the possibility of a new system for responding to mental health and public intoxicant calls as well as information on a Public Safety Commission.
Councilmember Jim McCarthy invited police for the discussion after local protests against high-profile police killings of people of color nationwide.
Many local protesters called for the defunding of police budgets after months of Council's work for the 2020-21 fiscal year budget in June. Despite the flood of comments both supporting and asking to defund the police, Council decided to push the controversial question to the next budget cycle.
Dan Musselman, interim police chief, said the department understands the current climate and has heard many concerns, having met with representatives of some protest groups in June. Musselman said the department seeks to police with compassion and within the bounds of the law.
"We established our progressive culture through praise, training, awards, promotions and of course discipline," Musselman said at the beginning of the three-hour session. "We do not condone racial profiling. We accept and investigate community complaints, and we seek to keep our officers well trained in the best practices of policing."
Musselman was appointed to the position of interim chief of police after Police Chief Kevin Treadway retired in June. The council delayed selecting a full-time chief due to the financial hardships caused by the coronavirus, but expects to revisit the hiring process in January.
Hiring officers
To best police the city, Musselman said, the department strives to hire quality officers for their department.
To illustrate that point, Musselman said their agency is only able to hire one of every 17 applicants. That number reflects national averages, and officers have previously attributed hiring difficulties to the rigorous background checks. During that process, police hope to understand their applicant's heart, biases and past actions to help determine if the applicant is a proper fit for their department.
The department has also taken multiple steps, including advertising job openings on nearby reservations and reaching out to local schools during career day to attract more diversity among their staff.
Out of their 114 sworn officers, according to their 2019 report, the department has 93 white, one Middle Eastern, three Native American, 14 Hispanic, and two Asian officers. Women account for 5% of their sworn officers.
Despite the scrutiny placed on applying officers, Musselman said one to two officers still leave their agency every year because of policy violations.
"We take appropriate discipline measures when officers are not abiding by our values, mission or policies," Musselman said. "We do see one or two officers leave our agency every year for policy violations or during the disciplinary process."
He asserted that officers are not taught to racially profile people, and instead police based on criminal and driving behavior. Additionally, officers must outline probable cause for charges to be taken to court, at which point prosecutors or public defenders can dismiss cases.
Officer performance is not judged by the amount of arrests, and complaints are investigated relying upon body camera footage.
The administration also sits down with officers who have five or more complaints, are involved in more vehicle pursuits, internal affairs or excessive use of force reports turned in to figure out the problem.
A college and border town
Part of what makes Flagstaff's crime problem unique is because it is a border town and a college town, Musselman said.
Musselman brought up the department's arrest records that were cited by many protesters during allegations of racial bias.
The information shows 52% of the department's arrests being Native American, despite the ethnic group making up 12% of the public's overall population, according to the 2010 census.
Additionally, they broke the statistics down by local residents versus non-local residents, showing 36% of Native American arrests were local residents while the rest were from out of the city.
Musselman pointed out a substantial part of Flagstaff's street population includes Native American people. This is true for many parts of Flagstaff's social services, including homeless shelters and school districts.
He then cited an article from Assessing Race Relations that said an estimated 75% of every Navajo dollar is spent in border towns.
"We know we're seeing more people in and out of our community. Unfortunately those involved in homeless, poverty, substance abuse and mental health are most susceptible to the criminal justice system," Musselman said.
These factors are often discussed at the county's Criminal Justice Coordinating Council, a collection of local criminal justice leaders.
Flagstaff Mayor Coral Evans asked if there was anyone on Council to solely represent the interests of Native American people during the council's discussions. While people who are Native American have served on the council, Musselman explained, no agency is appointed to advocate for Native American people.
Along those lines, people within the city also rely upon the department more than citizens in other similar-sized cities. Flagstaff gets 581 calls per 1,000 people, compared to 30 other benchmark cities that have 433 calls per 1,000 population.
When Evans asked Musselman why the city has more calls, the interim chief couldn't say exactly, but gave some thoughts.
"I would venture to guess it's because we're a college town and we have a very large transient population. We have a lot of liquor establishments compared to others," Musselman said. "Those 30 benchmark cities we compare ourselves to, not all of those are college towns, certainly not all of those are border towns."
He added: "They have a lot of benchmarks that we beat them on; like our response time is quicker. Unfortunately we make two-and-a-half times more DUI arrests than they do."
Use of force
Marianne Sullivan, the Flagstaff Police Department's legal advisor, reviewed how officers are instructed to use both force and deescalation tactics.
Despite how much the department incorporates deescalation tactics into every part of use of force training, deescalation isn't always possible if people are not willing to cooperate. Additionally, officers are tasked with enforcing laws to maintain order in a society where many people would rather avoid spending time in jail.
Sullivan said she hears many misunderstandings outside of work from people about the laws of when force is legal and illegal, citing the U.S. Supreme Court ruling in Graham v. Connor in 1989 that defines reasonable uses of force.
Judges must consider the severity of the crime, whether the suspect poses an immediate threat to the safety of the officer or others, and whether the suspect is actively resisting arrest or attempting to evade arrest.
Whether an officer's use of force is reasonable must be judged from the officer's perspective from the moment of their decision where circumstances are tense and uncertain. It must also be judged from the perspective of a "reasonable officer" as opposed to the perspective of an average civilian with hindsight.
Sullivan then brought up how the department addresses officers willing to protect their own from discipline as opposed to reporting violations to superiors. Flagstaff officers are expected to stop another officer from using illegal force, and required to report any perceived illegal action to supervisors.
The department tries to frame reporting and stopping another officer's unlawful use of force as helpful for everyone. If an officer interferes when a colleague is frustrated or having a bad day, it could stop an unlawful use of force from happening and protect the officer and the entire department in the long run.
"If you look over and see something you think is unreasonable, the courts under Graham v. Conner standards are going to think it's unreasonable, [the officer is] going to lose their job. They're going to get fired. They may get sued. They may get charged with a crime," Sullivan said. "Interceding and preventing any of that from occurring is a very positive thing."
McCarthy asked about Flagstaff's policies within the context of the George Floyd killing.
Derek Chauvin, the officer who pressed his knee against Floyd's neck for eight minutes, and the three other officers involved with Floyd's arrest were fired and charged for their actions.
Sullivan said officers are allowed to use force to control threats to officers or other people, but once a suspect is under control "everything changes."
Officers are trained and expected to provide medical aid to suspects in need once the person is placed in handcuffs or a threat is negated.
Sullivan said the department's most recent yearly review of its use-of-force policies occurred soon after the killing of Floyd. At the time, she said, officers discussed their shock when they saw the footage of Floyd's death, believing that would not happen in Flagstaff if an officer followed their policies.
On Oct. 13, the council will discuss alternate response option for non-violent public intoxication in nearby cities, and on Oct. 20 the council will discuss a new public safety commission.
Sign up for our Crime & Courts newsletter
Get the latest in local public safety news with this weekly email.