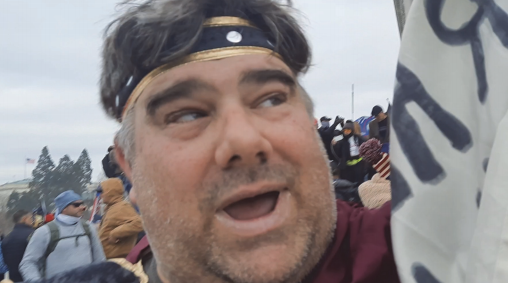 A Cottonwood man charged with breaching the U.S. Capital on Jan. 6 is set to make an appearance in Flagstaff's federal magistrate court on Tuesday.
Nathan Wayne Entrekin, 48, wore a gladiator costume as he used his cell phone to document videos of the riot for his mother, federal investigators say.
On Thursday, Entrekin was arrested in Cottonwood by the FBI on two misdemeanor charges, according to court documents.
"Here comes the riot police, Mom," Entrekin said in a video he filmed outside of the Capitol, according to a criminal complaint.
Tuesday's preliminary hearing will be held in front of U.S. magistrate judge Camille Bibles and will determine whether there is probable cause to go to trial.
Entrekin said he felt called by former U.S. President Donald Trump to attend the Jan. 6 rally, compelling him to drive more than 2,200 miles to get to Washington D.C., according to the complaint.
The document states Entrekin was interviewed by federal investigators on February 2 at his Cottonwood residence, during which he gave consent to search his phone.
He told authorities that after missing then-President Trump's Jan. 6 speech near the White House, he followed a "mass of people walking towards the capitol."
A tipster alerted the FBI of Entrekin's identity in January after identifying him through publicly available photographs, many of which had been widely shared on social media.
Entrekin claims to have been unaware that he was not allowed to enter the Capitol building, describing that he felt the crowd was "herded" inside, according to investigators.
But a security video shows Entrekin did not appear to be pushed into the Capitol as he ignored a "blaring alarm," the FBI said.
Investigators further disputed the claims using videos obtained from Entrekin's phone, citing verbal comments suggesting he was aware that rubber bullets and tear gas was used on the crowd.
"Still, he pushed forward and entered the Senate Parliamentarian's office," according to the complaint.
Once inside, authorities say Entrekin videotaped papers strewn across the floor and broken windows. Distressed, he exited the building but reentered a short time later to join in "USA" chants.
"Wow, Mom. I wish you were here with me. It's really exciting here. It's joyful and it's sad at the same time," Entrekin said as he entered the crypt inside the Capitol, according to court documents.
Court records did not list an attorney representing Entrekin, and a listed phone number for Entrekin could not be located.
Online images of Entrekin on Jan. 6 show he was dressed in a gladiator costume. In the cell phone videos, Entrekin said he was dressed as Captain Moroni, a military commander in the Book of Morman who raised armies to fight for freedom, according to court documents.
Entrekin is depicted in photos of the attack carrying a white flag with hand-written scripture from the Book of Mormon, which states "In memory of our God, our religion, and freedom, and our peace, our wives, and our children. Alma 46:12"
In the complaint, an investigator connected his attire to an identical "Roman gladiator" costume listed for sale by an online retailer.
Entrekin is facing two charges: knowingly entering or remaining inside a restricted building, and violent entry and disorderly conduct on Capitol grounds. He is among more than 500 individuals that have been charged with federal crimes in the Jan 6. insurrection.