The city of Flagstaff is once again bracing for the annual morning drinking event known as Tequila Sunrise that last year resulted in 41 arrests and the emergency closure of some downtown streets.
The event comes against a backdrop of more than 200 nuisance party notices issued by city police in the past 15 months.
On Saturday, more than a dozen bars in the downtown and Southside neighborhoods will open their doors at 6 a.m., giving thousands of students, alumni and out-of-town visitors the chance to tie one on before Northern Arizona University's homecoming parade and football game. Two dozen police officers are assigned to the event, which last year cost the city $1,000 in extra pay and other expenses.
At a city council work session in August, representatives from the Flagstaff Police Department, the Arizona Department of Liquor, downtown businesses and NAU discussed plans to mitigate dangerous situations during this year's Tequila Sunrise, as well as incentives for people to attend events on NAU campus.
FPD Deputy Chief Walt Miller, who hosted a series of working group meetings about the event throughout the year, emphasized there is no special permit required because Tequila Sunrise is an unsanctioned and unsponsored event, and establishments are within their rights under state law to open at 6 a.m. to serve alcohol.
"There is not much we can do, if anything, to prohibit the establishment from opening their doors at 6 a.m. to partake in the Tequila Sunrise," Miller said.
This is the second consecutive year NAU has decided to hold its homecoming parade on campus rather than downtown. That means the streets will not be automatically blocked off when Tequila Sunrise patrons arrive Saturday.
Miller said the event lieutenant at Tequila Sunrise last year made the decision to close the streets as a safety precaution after revelers began spilling off the crowded sidewalks. He said that decision can be made on the spot even though a street closure usually requires advance permission from the city council. Miller said the police have made the decision in the past to close the street for events like a concert letting out at the Orpheum.
"We've found it is safer to close the street than try to keep a large number of pedestrians on the sidewalk," he said.
Miller said officials were hoping that because Dorados Coastal Mexican Grill had closed, there might be a smaller crowd this year.
Councilwoman Coral Evans said she was concerned about bars overserving patrons and serving alcohol to intoxicated people. She said in years past bars and convenience stores have been seen selling alcohol to people who were obviously intoxicated.
Herb Carruthers, an investigative officer with the Arizona Department of Liquor, said in order to cite or prosecute a bar or bartender for overserving, officials must be able to prove the person knew the patron was already intoxicated. The only bar to get in trouble during homecoming weekend in 2015 was Monsoon. It was cited the night before Tequila Sunrise for accepting an unauthorized ID, according to the Department of Liquor Licenses and Control.
City Manager Josh Copley said 24 police officers, four liquor control officers and one state officer will patrol Tequila Sunrise looking for violations by bars and patrons alike north and south of the railroad tracks.
"Every year, we have extra enforcement efforts downtown," said FPD Sgt. Cory Runge. "We cite and release or we take people to jail for different violations. Those might include urinating in public, underage drinking, fighting, disorderly conduct, party disturbances -- those kinds of things."
The officers should have their hands full. According to Flagstaff police records, officers made 41 arrests during the Tequila Sunrise and Homecoming Weekend patrol in 2015. Underage drinking was the most common offense. About a quarter of arrests were for violent behavior, including misdemeanor assaults and fights classified as disorderly conduct.
There were also numerous reports on social media of people vomiting and urinating in the streets all over the downtown area, despite the Downtown Business Alliance's efforts to bring in enough portable toilets to handle the crowds. However, officers only charged four people for obscene conduct. The remaining arrests were for a variety of crimes, including theft, trespassing, property damage and criminal littering.
He said the officers will also be on the lookout for anyone who may need medical help due to their level of intoxication.
"We have problems with over-intoxication every year," Runge said.
Flagstaff police patrols will be primarily for the Tequila Sunrise crowd. In addition to the downtown bar areas, Runge said, officers will keep an eye on parties at The Grove, Rio Homes and the Franklin corridor, where officers made some of the alcohol-related arrests during the Tequila Sunrise patrol last year.
In July 2015, the city adopted a new party ordinance law that allows the police to fine landlords for repeat nuisance parties that occur within 90 days at their properties. Party hosts are issued citations with fines that rise with repeat violations.
As of the end of this September, Flagstaff police had issued nearly 200 nuisance party notices since the ordinance took effect in mid-June 2015. There were 25 first notices and one second notice from July to September 2015, compared to 44 first notices and two second notices during the same three months in 2016.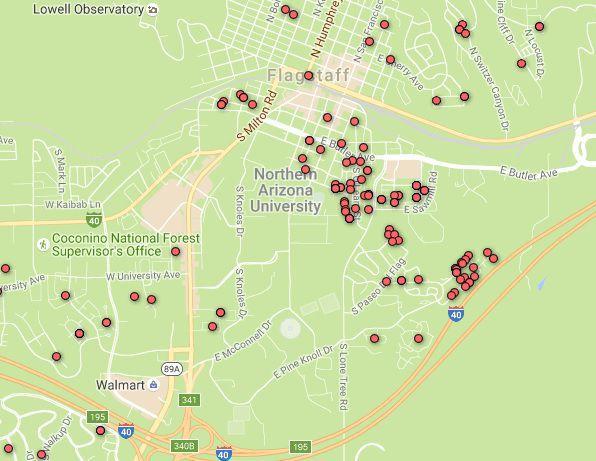 Most of the nuisance parties cited were close to the NAU campus in the Lone Tree and Franklin corridors. The only residence to receive three nuisance party notifications within 90 days was an apartment located at 262 E. Franklin Ave., known as The Courtyard. That complex is where Colin Brough, 20, lived and was partying with his fraternity brothers before Steven Jones, 18, shot him and three other people Oct. 9, 2015.
Runge said FPD has started working with NAU to educate students and staff about the nuisance party law, alcohol use, sexual assault and other public safety concerns. He also said FPD shares information with NAU and NAUPD when it identifies a problem.
The police department has also modified its data entry system within the past two years to allow officers to include that a suspect, witness or victim is an NAU student. Runge said FPD is still training officers to ask the people they contact whether they are students.
"Sometimes, those things take a little while to develop that into the routine," he said. "Once we have that data, we'll be able to start saying, 'This is how many problems we're having with particular students.'"
NAU Dean of Students Cynthia Anderson said the university is continuing to have the parade and other homecoming events on campus, and said they are increasing the number of activities to encourage people to convene on campus, rather than downtown.
Anderson said club and fraternity and sorority reunions were being hosted on campus so that alumni will be able to find their friends in a different atmosphere than downtown. She said the student tailgate section will be fenced and have paid security officers checking students for age and sobriety.
"If they are drunk, they will be denied access to the tailgate," she said.
NAU spokesperson Kim Ott said that NAU metes out discipline for off-campus code of conduct and alcohol violations on a case-by-case basis, with discipline varying depending on the behavior by off-campus students, who are still subject to city citations and arrest.
On campus, most first-time liquor law violations such as underage drinking that would be handled off-campus by police as criminal offenses are instead referred to the Dean of Students for discipline.
In NAU's 2016 Clery Report on campus crime, liquor law violations were down last year, with a total of 670 compared to 970 referrals in 2014. The violations must be recorded as crimes but are not required to be prosecuted.
Kirk Sitch, director of Clery compliance, said that number could have gone down for a number of reasons.
As a fulltime Clery person in the NAU Police Department, "I can dedicate a lot more time to review each alcohol report filed by Student Life and make sure the ones we count are only for liquor law violations," he said.
With the previous system, Sitch said that some of the cases reported by Student Life were later found to include students who were of age to drink but had violated non-criminal alcohol rules on campus.
The low numbers could also be a result of students just not breaking the code of conduct as much.
"Students are getting the message that alcohol for the most part is not allowed on campus," Sitch said. "Most of the dorms are dry dorms and you have to be of legal drinking age (to have alcohol in non-dry dorms)."
All of the Freshman Connection dorms are dry, including Mountain View Hall where Greek Life is housed. The upper-division halls where residents over the age of 21 are allowed have alcohol include Campus Heights, Pine Ridge Village, Gillenwater, McDonald, Raymond, McKay Village, Roseberry and South Village Apartments.
"No alcohol is allowed in any public area of any building, freshman or upper-division," Ott said. "Any signs of alcohol noted by staff are addressed through the conduct system."
The Department of Housing and Residence Life's Standards of Residence outlines where alcohol can be stored in dorms. Even though dorms like McKay Village house a mix of lower- and upperclassman, the policy in place still aims to keep those under the age of 21 out of the presence of alcohol. Students of age with younger roommates must keep any alcohol or empty bottles on their side of the room. Common source containers such as a keg are prohibited in university housing.
This week, Jacki Lenners, the marketing manager for NAIPTA, announced that Route 10 and Route 10a, which service the Woodlands Village neighborhood, downtown and NAU, will be free for riders on Saturday. Both routes will follow a detour due to the on-campus parade. During the detour, both routes will be combined into one and have two buses running. Buses will divert to Milton Road instead of traveling through campus from 10 a.m. to noon.
Last year, Miller reported that the city spent $1,078 on pay for 22 officers, one additional dispatcher, two public works employees and equipment to block off downtown streets Oct. 23 and 24, 2015. That cost included 10.5 hours of overtime pay for five officers and one dispatcher.
Runge said the department will rearrange officers' schedules to minimize overtime, which is how FPD kept overtime costs low in 2015. He said some officers will get overtime pay but part of it will be covered by grants.
Terry Madeksza, the executive director of the Downtown Business Alliance, said participating businesses have agreed to pitch in to pay for portable toilets to be placed in downtown for the event, as well as extra garbage cans and contribute to litter pickup during and after the event.
Madeksza said more establishments have agreed to offer food options this year to help mitigate the effects of people drinking only alcohol without eating any food. She said businesses are also planning to hire extra security Saturday to enforce laws against overserving and underage drinking.
Madeksza also said volunteers will be helping to ensure participants can walk safely across Route 66 when trying to leave downtown.
"My desire is to make downtown safe and welcoming for everyone," Madeksza said. "There will be many families here this weekend who will not be participating in Tequila Sunrise, and we want to make them feel welcome as well. We are doing what we can to keep it clean, safe and welcoming."
Sign up for our Crime & Courts newsletter
Get the latest in local public safety news with this weekly email.