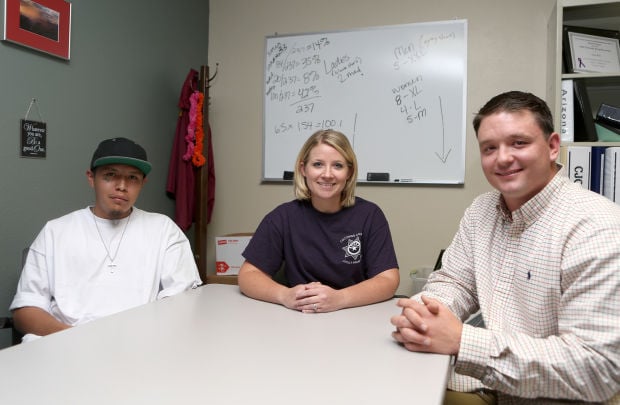 First of a two-day series
Flagstaff resident Justin Benjamin, 33, was sentenced to four years of probation in 2007 for a felony DUI conviction.
"I didn't think I was going to make it," he said.
He was in a cell for nine months before being put on probation. As soon as he began his term of probation, he drank alcohol and violated the terms of his probation. His probation officer called him in and they had a conversation. The choice was simple -- prison, or a new life.
"That was the first time I had been given an 'or' and I could feel that they didn't want me to go to prison," Benjamin said. In his whole life, there had been few, if anybody who cared what happened to him. But his probation officer did, and he could see it. It made him want to try.
"It was an opportunity to turn my life around, but I didn't know how," he said.
The county's Adult Probation Department taught him.
And it is through what is termed "evidence-based practice" that the department has brought down the probation violation rate in the county consistently over the past several years. And several of the department's probation officers have gone on to win state and even national awards for their work.
Benjamin now works as a mental health technician at Flagstaff Medical Center. He is married, has three children and a home. He coaches Little League baseball, is the children's coordinator at his church, plays football, lifts weights and is working on a college degree. He's been off probation for three years now.
"And I'm still sober," he said. "The life I have now, I couldn't imagine it. It's not a life I would have pictured for myself. It's a better picture than I could have ever painted. My story before was ugly. I had a bad run. But it's not like that now."
His journey began with the "little victories."
He was accepted to live at a Flagstaff halfway house. He would pass his urinalysis tests. He got a job. He would show up at his appointments, attend the mandatory classes. He attended 12-step meetings. He began to build relationships with his peers and those relationships grew into a fellowship, a support system in sobriety.
His life before probation: He considered himself an orphan, homeless and squatting in abandoned homes at the age of 15. He has been in prison several times between the ages of 17 and 27 and was used to it.
Now, he works with people in trauma and abuse, domestic violence and addiction.
"I can really use my story as a level of hope," Benjamin said. "I try to convey hope to those who feel hopeless."
Probation gave him four years to change his life rather than sit in prison.
"What probation helped me realize was my story wasn't going to save some kid's life, it was going to save my life," Benjamin said. "I had to grow up and learn from my mistakes and probation gave me that chance.
"Today, it's not a bad story because I'm clean today," he said.
The skills he was taught were important, without a doubt, Benjamin said, but the whole system also had much to do with the success he has found. The 12-step program, the Adult Probation team, his church, the community, all contributed. All he had to bring to the show was a sober mind, he said.
Cindy Winn, chief probation officer for the county, said that the key to success for any probationer is "willingness." Often, the probationers are unwilling and the probation department tries to motivate that willingness.
"But some people don't get to that place," she added.
Probation is an alternative to incarceration, she said, and has an inherent incentive. Yet, some people are so mired in addiction and a destructive way of life, they don't see it.
A particularly high-profile case in Coconino County that demonstrates failure of a probationer to comply with terms of probation was that of Shaun Price, a young man on probation for a felony DUI conviction. In April 2005, while on probation, he drove drunk and hit and killed a cyclist, Matt Kelly, on Cedar Avenue near Buffalo Park.
Price had his probation revoked after Kelly's death, and he was sentenced to seven years in prison. Price was also charged with new crimes in Kelly's death and pleaded guilty to several charges that included second-degree murder. He was sentenced to an additional 38 years in prison.
Before he had killed Kelly, Price had violated his probation more than a dozen times and had not had his probation revoked. In the wake of Kelly's death, the courts and probation department instituted changes to prevent cases like Price from happening again.
In 2008, "evidence-based practices" were introduced. Probationers are no longer told to just behave with a "one size fits all" approach to rehabilitation; they are given specific education and treatment to change from the inside out based on individual needs.
Winn said that in 2008, with the implementation of those practices, results began to be apparent. From that baseline year in 2008, the county has reduced revocations to prison by 54.8 percent. And new felony convictions by probationers while on probation have gone down 68.3 percent.
The focus is on the person and what that person needs to be successful in life. Emphasis is placed on education and treatment: Education to develop better coping skills, and treatment to remove the impacts of substance abuse and other mental health issues that affect probationers. Good behavior is rewarded. Bad behavior ends in sanctions that run the gamut of writing an essay to spending time in jail or prison.
The county currently has 1,184 people on probation, 658 of whom are on standard probation and 151 of whom are on the most stringent "intensive" probation. The probationers are overseen by 22 probation officers and three surveillance officers. The department's budget runs about $4 million and is supported by state and county funds and fees collected from the probationers.
Winn said that the probation department also coordinates with the county's specialty courts -- DUI/Drug Court, Mental Health Court, Veterans Court -- to come up with plans to help probationers successfully make it through probation and avoid prison and jail.
Training in new programs is ongoing, Winn said.
Probation saves taxpayers money by not having to support the cost of putting somebody in prison. Prison, according to a 2012 estimate of the Administrative Office of the Courts, costs $53.17 a day in Arizona -- more than $19,000 a year per person. Probation, on the other hand, costs, according to federal estimates, about a sixth of what it costs to house an offender in prison.
Sarah Douthit, chief deputy probation officer, said, "When someone doesn't go to prison and are successful, they pay taxes, raise families, become a part of the community. They are not just numbers, but individuals with impact on how a community functions."
Coming Tuesday: Probation officers winning nods for good work.
Sign up for our Crime & Courts newsletter
Get the latest in local public safety news with this weekly email.